Dear Friends,
As he approached Jericho, a blind man was sitting by the roadside begging. When he heard a crowd going by, he asked what was happening. They told him, "Jesus of Nazareth is passing by." Then he shouted, "Jesus, Son of David, have mercy on me!" Those who were in front sternly ordered him to be quiet; but he shouted even more loudly, "Son of David, have mercy on me!" Jesus stood still and ordered the man to be brought to him; and when he came near, he asked him, "What do you want me to do for you?" "He said, 'Lord, let me see again." Jesus said to him, "Receive your sight; your faith has saved you." Immediately he regained his sight and followed him, glorifying God; and all the people, when they saw it, praised God (Luke 18:35-43).
Our disappointments with God and struggles in our spiritual lives are rooted in the timid, even craven hearts that we bring to our prayers.
We can snivel for a few coins to get us through the day or rail on about the injustice that cripples and oppresses us. We pray, "If I can't have answers, Lord, as to why I am suffering then at least give me something to get me through until tomorrow." Or "Why am I left in the dark while shallow and sinful people all around me are enjoying the sights?"
The blind beggar is way beyond wanting a mere prolongation of his miserable, crabbed existence or seeking to know the reasons for his suffering.
He roars to the Lord for mercy. He refuses to defer his need to the wishes of the crowd. He seeks nothing less than wholeness. He knows who can give it to him.
Jesus hears the cry of this audacious beggar out of all the alms-seekers, favor-askers, questioners and "Looky-Lous" that press him.
The connection is made. The beggar receives opened eyes and because of his faith in Jesus, he receives salvation too.
What do you want from Jesus?
"O taste and see that the Lord is good. Happy are those who take refuge in him" (Ps 34:8).
Under the mercy of Christ,
Kent
————————–
Please note that the content and viewpoints of Mr. Hansen are his own and are not necessarily those of the C.S. Lewis Foundation. We have not edited his writing in any substantial way and have permission from him to post his content.
————————–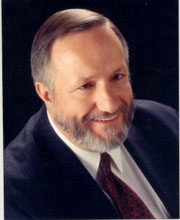 Kent Hansen is a Christian attorney, author and speaker. He practices corporate law and is the managing attorney of the firm of Clayson, Mann, Yaeger & Hansen in Corona, California. Kent also serves as the general counsel of Loma Linda University and Medical Center in Loma Linda, California.
Finding God's grace revealed in the ordinary experiences of life, spiritual renewal in Christ and prayer are Kent's passions. He has written two books, Grace at 30,000 Feet and Other Unexpected Places published by Review & Herald in 2002 and Cleansing Fire, Healing Streams: Experiencing God's Love Through Prayer, published by Pacific Press in spring 2007. Many of his stories and essays about God's encompassing love have been published in magazines and journals. Kent is often found on the hiking trails of the southern California mountains, following major league baseball, playing the piano or writing his weekly email devotional, "A Word of Grace for Your Monday" that is read by men and women from Alaska to Zimbabwe.