Dear Friends,
I am blessed with a number of friends with young families. It is a joy to watch the milestones of first words and first steps of their babies.
Learning to walk is one of the fundamental developments of infancy. Being able to stand on one's own and take steps towards a goal means both autonomy and the ability to join others in activity. It is a mark of developing maturity.
Recovering from injury to my legs in college required me to learn to walk again after major knee surgery. This was very awkward, but I kept swimming, biking and pushing myself until I was able to walk without a limp.
The surgeon who put my dislocated right hip back in place the day of the accident told me that he hoped there had been no disruption in blood flow. He said if there was, there could be a gradual deterioration of the head of the bone and osteoarthritis. X-rays showed some bone chips in the hip socket, but I experienced no pain in years of distance running and hiking.
My left knee continued to give me problems until it was replaced seven years ago. Before it was replaced, I was reduced to walking with a cane and every step felt like my knee was a sponge coated with broken glass and sharp gravel. It has given me no pain since replacement.
The circulatory system in my legs was mapped with ultra-sound two years ago. The only problem noted was a mysterious atrophy in the muscles of my right thigh. Except for the fact that it is hard to lift and cross that leg to put on my socks and tie my shoe, I noticed no problems.
A few weeks ago, I had to do a household repair that required me to crouch and bend at the hip on my right side over and over for hours. The hip became painful and stiff and my range of motion has been reduced to the point that walking any distance is an ordeal. I have to give careful thought to my walking destinations and each step I take to get there.
It appears that the surgeon's warning of 45 years ago is becoming a reality. It is likely my hip will need replacement too and I will need physical therapy and exercise to regain my normal gait.
My physical challenge comes at a time when my prayer life is deepening. I am beginning to notice the close analogy between learning to walk and learning to pray.
Jesus says that it is his Father's great pleasure to reveal spiritual truth to infants, rather than sophisticated adults (Matt 11:25). He says, "Truly I tell you, unless you change and become like children, you will never enter the kingdom of heaven" (Matt 18:3).
This means we learn to walk as spiritual infants. When my son was learning to walk we stayed close to him especially around streets or other places where he could stray into danger. Patricia and I held his hand as we guided his steps, helped him over obstacles and taught him to watch for hazards.
Occasionally, Andrew would want to bolt and run ahead on his own, but we needed to catch up and protect him from harming himself. Eventually, he learned to walk and run on his own with prudence as every human must who hopes to make it to adulthood.
But we never outgrow our need to walk in step with God. A continuous focus on God is required of us to walk in faith. The Apostle Paul writes, "Walk in the Spirit, and do not gratify the desires of the flesh" (Gal 5:16).
Old hymns make the point—
When we walk with the Lord in the light of His Word,
What a glory He sheds on our way!
While we do His good will
He abides with us still,
And with all who will trust and obey.
Then in fellowship sweet we will sit at His feet,
Or we'll walk by His side in the way;
What He says we will do,
Where He sends we will go.
Never fear, only trust and obey.
–John H. Sammis
How about "Just a closer walk with Thee"? Or "I need Thee every hour, most gracious Lord?"
Human parents cripple their children if they don't rear them to be independent. But our heavenly Father cannot be compared to a human parent. He is the source of life and its sustainer. We never outgrow our immediate need for him.
There is no support anywhere in Holy Scripture for the concept of human perfection, except on the day we finally meet our Lord Jesus Christ face-to-face when "We shall be like him, because we will see him as he is (1 John 3:2).
Walking in step with God makes all the difference. "If we walk in the light as he himself is the light, we have fellowship with one another, and the blood of Jesus his Son cleanses us from all sin. If we say we have no sin, we deceive ourselves, and the truth is not in us. If we confess our sins, he who is faithful and just will forgive us our sins and cleanse us from all unrighteousness" (1 John 1:7-9).
In practical terms, walking with God means inviting Jesus Christ into our life and activities, giving him access to our thoughts and needs, and asking him to take control in dealing with them with his power, not for one moment or day, but always.
When we love someone we think of them, desire their company and conversation, and put their interests first. Patricia and I have been happily married 42 years last month and that's how our loving relationship has been sustained. It is even, more so with the God who made us, saved us and raised us to life with his resurrected Son "so that we too might walk (that word again) in the newness of life (Rom 6:4).
Painful as it is, I am giving thanks for my arthritic hip, because each step I take with it reminds me that I am walking by the grace and in the power of my God who loves me.
Two years of praying for friends suffering from cancer, asking the Lord to help them make it through to the next day, has taught me gratitude for each new day. Now I am learning to be thankful for every step and to obey God when I take it.
I am finding out that I am weaker in every way than I thought, and he is proving to be much stronger than I hoped. This is good because I have to lean on him as we walk. I can't do without him.
"O taste and see that the Lord is good. Happy are those who take refuge in him" (Ps 34:8).
Under the mercy of Christ,
Kent
Please note that the content and viewpoints of Mr. Hansen are his own and are not necessarily those of the C.S. Lewis Foundation. We have not edited his writing in any substantial way and have permission from him to post his content.
————————–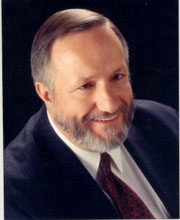 Kent Hansen is a Christian attorney, author and speaker. He practices corporate law and is the managing attorney of the firm of Clayson, Mann, Yaeger & Hansen in Corona, California. Kent also serves as the general counsel of Loma Linda University and Medical Center in Loma Linda, California.
Finding God's grace revealed in the ordinary experiences of life, spiritual renewal in Christ and prayer are Kent's passions. He has written two books, Grace at 30,000 Feet and Other Unexpected Places published by Review & Herald in 2002 and Cleansing Fire, Healing Streams: Experiencing God's Love Through Prayer, published by Pacific Press in spring 2007. Many of his stories and essays about God's encompassing love have been published in magazines and journals. Kent is often found on the hiking trails of the southern California mountains, following major league baseball, playing the piano or writing his weekly email devotional, "A Word of Grace for Your Monday" that is read by men and women from Alask