Dear Friends:
This is the sixth and last of a series of messages on the Book of Haggai.
The word of the Lord came a second time to Haggai on the twenty-fourth day of the month: Speak to Zerubbabel, governor of Judah, saying, I am about to shake the heavens and the earth, and to overthrow the throne of the kingdoms; I am about to destroy the strength of the kingdoms of the nations, and overthrow the chariots and their riders; and the horses and their riders shall fall, every one by the sword of a comrade. On that day, says the Lord of hosts, I will take you, O Zerubbabel my servant, son of Shealtiel, says the Lord, and make you like a signet ring; for I have chosen you, says the Lord of hosts (Hag 2:20-23).

Do not think that I have come to bring peace to the earth; I have not come to bring peace, but a sword (Matt 10:34).
Zerubbabel was the governor of Judah, but he found out that he wasn't in charge.
Six months before he was trying to lead his people through a period of drought and economic stress. They had been called by the Lord and commissioned by King Cyrus of Persia to return from exile to Jerusalem to rebuild the house of God (Ezra 1:1-4). He had been appointed to be their ruler.
The people were distracted from their mission by their efforts to build homes, establish businesses and plant crops. The temple remained in ruins, and for all their efforts the people were only surviving, not thriving.
It must have been humbling to Zerubbabel and Jehozadak, the high priest, for Haggai to announce on a feast day that the hard times were the result of a failure to pursue a mission that they were responsible for leading. The people and their leaders were suffering because of their disobedience.
The truth tested them, the way it always does leaders and followers. What rules when we are confronted with the truth? Pride? Position? Emotion? Convenience? The people's will? The Scriptures? God's will? God?
There are always choices to be made as to whose voice we hear and obey. We agonize and pray for discernment to make the decision, but is that the right way to go?
The Lord's will was plain in the matter. He had told them to rebuild the temple and opened the way for them to do so. So God's will wasn't the issue.
The people hadn't rejected God's will. They had simply asked for more time to get their affairs in order before following through. Given the economic stresses they were experiencing, this request was plausible. It's always tempting for a leader to give the people what they want, rather than do the hard work of bringing them to what the Lord wants.
It might have seemed understanding and compassionate of Zerubbabel to give the people some time to address the issues that were "relevant" to their everyday lives. Not only would this show a "grace orientation" in Zerubbabel, but it would be a convenient compromise between God's demands and the people's needs.
The source and means of God's grace is his sovereign authority as a king and his kingdom is not a democracy. The majority's will does not rule there.
Neither does the Lord treat us like an addled parent counting to three before enforcing his discipline. He expects whole-hearted and prompt obedience. Zerubbabel and his people were suffering because they hadn't obeyed.
You see, grace is so much more than mercy and patience. Grace is not a motivational device for our efforts in self-improvement as in, "I'll do my part, and God will do his part." Grace is the power of God to live the lives that he gives to us and wants us to live (2 Cor 12:9-10; Titus 2:11-14).
"The throne of grace" is where the Word of God tells us to go in complete confidence in our time of need (Heb 4:16). Grace is God's gift to those who make no claim except for God's righteousness and mercy for themselves and their righteousness (1 Peter 5:5-7). "The grace of our Lord Jesus Christ" is Scripture's literal last word on what will get God's people through to Christ's return (Rev 22:21).
Pride and position makes humble dependence upon God's grace a murky struggle for a leader. "Isn't my leadership a gift from God? What's going to happen if I don't lead? The people need me. The project needs me. God needs me." The concern gnaws away in every leaders heart, but if it were true the Cross would have never been necessary. The leader must be emptied of self as must we all. Only crucifixion with Christ will accomplish that (Gal 2:20-21).
Christ, "God with us," is the indispensable element and the only one with the right to rule our souls. He was on the scene in Jerusalem. "'I am with you,'says the Lord" to Zerubbabel and his people when they yielded their hearts in obedience.
Even as the work on the temple progressed, the Lord transformed their thinking about providence, prosperity, holiness, and commitment. He offered them only one answer — "return to me" (Hag 2:17).
But the Lord has a final word for Zerubbabel, descendant of kings, governor of Judah and obedient servant of the Lord. The temple is only a symbol and a place-holder. It is all coming down — the authority and power of the kingdoms of the world will destroy themselves in the end — "The horses and their riders shall fall, every one by the sword of a comrade" (Hag 2:22c).
Zerubbabel's desire as a governor and a religious man would have been for stability in his world. Obeying God should result in peace. That's God's plan and promise isn't it? How many of us have committed our lives to that ideal?
The Lord was telling Zerubbabel that everything he thought about heaven and earth was wrong. Peace in this world is an illusion. The Lord is going to shake it up and overthrow it all. And in the most humbling message any human can receive, the Lord told Zerubbabel that he would save him and impress God's character on Zerubbabel's redeemed soul like a signet ring imprints a clay seal as a guarantee of authenticity (Hag 2:23). It's the same gospel message that each one of us receives.
That message is humbling because it destroys pride. To need saving, to need a Savior, means that in the ultimate issue of life and death, the best and wisest solutions that we can devise are inadequate. It says that following anyone but the Lord is futile. It says that all human leaders have a fatal flaw — their mortality.
The word of salvation to Zerubbabel is devastating to the well-intentioned and the self-reliant because it says that talent, possessions, effort and virtue don't buy us a thing with the Lord. He saves us because he chooses to save us in love (Hag 2:23). When it is all said and done, the Lord is more than our Savior. He is our salvation in the words of the prophet Isaiah–
Surely God is my salvation;

I will trust and not be afraid,

for the Lord God is my strength

and my might;

he has become my salvation.

(Isa 12:2)
The temple was rebuilt, but Zerubbabel faded from the historical record. We know nothing about him after he received the word of salvation, except for one thing. His name appears in the genealogy of Jesus (Matt 1:13). That makes the point of the Book of Haggai. We want to be with Jesus Christ. Nothing else matters.
From the emails I have been receiving, the Holy Spirit has been using these messages to stir the souls of many of you to reconsecration to the Lord. I am glad.
Almost a year ago, when I was lying in bed recovering from knee replacement surgery, I read and reflected on the Book of Haggai. I was convicted of the truth of its timeless messages about priorities and shallow pursuits of virtue and holiness. It is a succinct manual about repentance and revival. Reading this account of the last six months of 520 BCE Jerusalem, has deepened my faith and changed my life. I pray that it does the same for you.
"O taste and see that the Lord is good. Happy are those who take refuge in him (Ps 34:8).
Under the mercy of Christ,
Kent
————————–
Please note that the content and viewpoints of Mr. Hansen are his own and are not necessarily those of the C.S. Lewis Foundation. We have not edited his writing in any substantial way and have permission from him to post his content.
————————–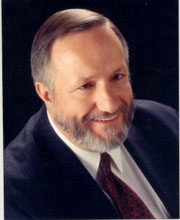 Kent Hansen is a Christian attorney, author and speaker. He practices corporate law and is the managing attorney of the firm of Clayson, Mann, Yaeger & Hansen in Corona, California. Kent also serves as the general counsel of Loma Linda University and Medical Center in Loma Linda, California.
Finding God's grace revealed in the ordinary experiences of life, spiritual renewal in Christ and prayer are Kent's passions. He has written two books, Grace at 30,000 Feet and Other Unexpected Places published by Review & Herald in 2002 and Cleansing Fire, Healing Streams: Experiencing God's Love Through Prayer, published by Pacific Press in spring 2007. Many of his stories and essays about God's encompassing love have been published in magazines and journals. Kent is often found on the hiking trails of the southern California mountains, following major league baseball, playing the piano or writing his weekly email devotional, "A Word of Grace for Your Monday" that is read by men and women from Alaska to Zimbabwe.