Dear Friends,
This week's message is part three of my three-part retelling of one of the most beautiful stories of grace in all of Scripture–David and Mephibosheth. This week's story comes from 2 Samuel 11-19 and Psalm 51.
Grace shines against the darkness of our sin-marred souls. David was a man after God's own heart, but he was a man, flawed like each of us which showed in his relationships.
The good news is God extends His heart to those of us who like David desperately need redemption out of the bad places that our pride and impulsiveness have taken us and to those of us who like Mephibosheth find ourselves lame and helpless. We are all David and we are all Mephibosheth and still God loves us.
I hope this story helps you to become acquainted with your Father in heaven who loves you not as an abstract theological proposition, but because He really does delight in you.
. . .
MEPHIBOSHETH
There's been no consoling me since David left the city. I sit in a darkened room in the house and pray. My wife and son are quiet around me. I will not even let them massage and oil my aching, twisted legs and feet. I do not trim my beard or even bathe. I pour out my desire to the Lord for Him to help David and keep him safe. It is all that I can do. My father loved him and I love him.
Ziba interrupts my prayer. He announces, "Everything that belonged to your grandfather Saul is now mine. David gave it to me. I must protect it against Absalom. I will decide what to do with you later. You're not going anywhere," he laughs.
"O Lord God, Who holds everything in your hand, what has Ziba said to David about me? What has he done? But it is in You, O Lord, that I put my trust. Show your mercy to me and to my family as you have done before. Keep me strong in my integrity. I have nothing else to offer."
So I spend my days, in prayer and fasting, while Absalom indulges himself and fails to consolidate power. Rebels always find out that it is much harder to govern than to take power. He has no idea what to do now. No one can truly lead simply because they are against someone else. So Absalom quickly is defeated and killed by Joab. It is said that David's grief is beyond bearing. My heart goes out to him in his loss.
Word comes that David is returning. I do not even take time to bathe, groom or wrap my feet. I get a servant to take me to see the king.  I bow as I enter his presence, but I cannot speak through my tears.
I remember the day I entered this same room to meet David thinking that he was going to kill me. Instead, I was given great grace. "The Lord gives and the Lord takes away. Blessed be the name of the Lord," I pray in my heart now as I wait.
"Why did you not go with me, Mephibosheth? I hear the disappointment in his voice when he addresses me.
The words tumble out. My lord, O king, my servant Ziba deceived me. I told him that I would saddle a donkey for myself and ride with the king, for you know that your servant is lame and I can't walk fast enough to keep up. Ziba has lied and slandered me as a rebel against you. You have to know that you are my lord and king and like the angel of God to me. If I have not proved this to you in the past, there is nothing that I can say now. Do what seems good to you to do to me.
"All of the men of my father's house were doomed to death when you became king, and I was as good as dead myself. You brought me to dine at your table as your own son and have shown me wonderful grace. I owe my life and my son's life to you. I have no right to ask you for anything. There is nothing more for me to say."
David holds up his hand and says, "Stop."
DAVID
Mephibosheth stands before me filthy and disheveled. He cries the first tears that anyone has cried for me in a long time. I believe what he is saying. Ziba outsmarted us both. But what do I do now?
My failure to be strong and decisive almost destroyed the nation. I am rebuilding my credibility. Ziba has friends and power. Mephibosheth. has nothing. I need Ziba.
Who said, "You get wiser as you get older." It's not true, at least for me. When I first saw Mephibosheth in this room, he was the only broken one. Now, I am broken inside where it hurts most and I am not sure that he's the crippled one. I used to win victories. Now I make deals. Compromise is the crutch by which I make it through the days.
Mephibosheth is certainly not afraid of me. A lot of people are these days who didn't join me on the retreat. They wonder what I am going to do to them. Cowards!
Mephibosheth does not cower. He stands before me as straight as he can. His feet must be killing him. His tears seem truly shed out of concern for me. I can't imagine Ziba crying and certainly never for me unless it got him something.
A sigh involuntarily expands my chest and then deflates me. It is time to decide and I am ashamed to say that I am going to have to try to have it both ways–honor my own contradiction, so to speak. They both should be happy with what they get because I could leave them with nothing. But the plain fact is that Mephibosheth has been robbed and I have let it happen.
I hold up my hand. "Stop. You've said enough. You do not have to tell me more. I have decided: You and Ziba shall divide the land." I smile a big politician's smile to ease the moment.
Mephibosheth's response is anything but what I imagined. "Oh, let Ziba take it all, since my lord the king has come safely home."
My heart twists in my chest. The smile leaves my face. All my pretense to beneficence and the shabbiness of my compromising are revealed for exactly what they are by the shining brilliance of Mephibosheth's unconditional love.
I was proud of my extension of grace, but I was the one who really needed it. Now, I am devastated by grace being given to me for no other reason than I am loved. I bow my head in reverence to a far greater majesty than I represent. I, the poet king, have no more words.
"O taste and see that the Lord is good. Happy are those who take refuge in him" (Ps 34:8).
Under the mercy of Christ,
Kent
Please note that the content and viewpoints of Mr. Hansen are his own and are not necessarily those of the C.S. Lewis Foundation. We have not edited his writing in any substantial way and have permission from him to post his content.
————————–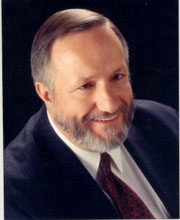 Kent Hansen is a Christian attorney, author and speaker. He practices corporate law and is the managing attorney of the firm of Clayson, Mann, Yaeger & Hansen in Corona, California. Kent also serves as the general counsel of Loma Linda University and Medical Center in Loma Linda, California.
Finding God's grace revealed in the ordinary experiences of life, spiritual renewal in Christ and prayer are Kent's passions. He has written two books, Grace at 30,000 Feet and Other Unexpected Places published by Review & Herald in 2002 and Cleansing Fire, Healing Streams: Experiencing God's Love Through Prayer, published by Pacific Press in spring 2007. Many of his stories and essays about God's encompassing love have been published in magazines and journals. Kent is often found on the hiking trails of the southern California mountains, following major league baseball, playing the piano or writing his weekly email devotional, "A Word of Grace for Your Monday" that is read by men and women from Alask