Dear Friends,
It's night out on the water. Far out at sea, the wind and the waves batter our boat. We have stopped making headway. We wallow in the troughs and are taking on water from the breaking swells.
Jesus sent us out here. He said to cross to the other side. We are following his instructions. But where is he, now that we are in trouble?
In the darkest hour before dawn, we see Him, luminous, against the waves, strolling across the water.
This can't be true. We know water. You can swim in it, sail on it, but you can't walk on it.
Terror seizes us. We yell with panic – "It's a ghost."
On he comes straight toward us. We watch him in fear, ignoring the howling wind and crashing waves.
We hear him speak with authority, clearly audible over the storm. "Take courage, I am here," he says. "Don't be afraid."
Peter is emboldened. "Master, if it is really you, call me to come to you on the water."
Jesus says, "Come on, Peter."
Peter leaps over the side like he is on the beach with swaggering enthusiasm. He starts walking out to Jesus, but he glances at the waves under his feet and pauses, suddenly unsure of himself. He knows water. He knows he can't do what he's doing, what Jesus invited him to do.
Peter falters with paralyzing doubt and begins to sink. His arms flail. He cries out", Master, save me!"
Jesus reaches out and grabs Peter's hand. He pulls him up and close to his side. Why did you stop trusting me? Why do you doubt me?
He helps Peter climb back in the boat and then gets in himself. As soon as Jesus is in the boat, the wind dies and the sea becomes calm.
We have nothing to say . . . all of us . . . nothing! Our adrenaline-charged hearts are overwhelmed with a deep, relieved peace. We tell each other in trembling, worshipful voices, "This has to be the Son of God here in the boat with us."
We will think about this night for the rest of our lives. Its lesson will help us again and again in times of stress, when our exuberance flags, our strength is inadequate, our performance falters, and we are desperate to be saved.
We were made to worship Jesus, not walk on water. That's what we need to remember.
"O taste and see that the Lord is good. Happy are those who take refuge in him" (Ps 34:8).
Under the mercy of Christ,
Kent
Please note that the content and viewpoints of Mr. Hansen are his own and are not necessarily those of the C.S. Lewis Foundation. We have not edited his writing in any substantial way and have permission from him to post his content.
————————–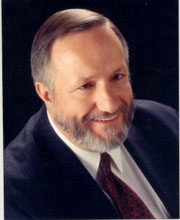 Kent Hansen is a Christian attorney, author and speaker. He practices corporate law and is the managing attorney of the firm of Clayson, Mann, Yaeger & Hansen in Corona, California. Kent also serves as the general counsel of Loma Linda University and Medical Center in Loma Linda, California.
Finding God's grace revealed in the ordinary experiences of life, spiritual renewal in Christ and prayer are Kent's passions. He has written two books, Grace at 30,000 Feet and Other Unexpected Places published by Review & Herald in 2002 and Cleansing Fire, Healing Streams: Experiencing God's Love Through Prayer, published by Pacific Press in spring 2007. Many of his stories and essays about God's encompassing love have been published in magazines and journals. Kent is often found on the hiking trails of the southern California mountains, following major league baseball, playing the piano or writing his weekly email devotional, "A Word of Grace for Your Monday" that is read by men and women from Alask