Dear Friends,
I was invited to give the commencement address for the 2018 graduation of the Loma Linda University School of Dentistry. It was an honor for me to do so on Sunday, May 27 to the graduating dentists, hygienists, and dental specialists.
I have a close relationship to the School. For nearly four decades, I have represented its legal interests. I have a faculty appointment in the School and have taught the required course, "The Dentist and the Law," for more than twenty years.
A professional school commencement address presents a unique speaking challenge. You want to say something meaningful and relevant to a distracted audience who wants more than to get to the awarding of the diplomas. The occasion requires a certain dignity and respect for the traditions of academia and the professions that the graduates are joining. I also wanted the last official word that these graduates would hear from our Christian University to be about God.
When the Dean asked me to give the address last fall, I asked him, "Why do you want an attorney to speak at a dental graduation ceremony.
He said, "Our students face a tough grind to get through our School. They need some love. I have read your writing for years and think you will encourage them."
My title was "Becoming a Beloved Professional," referencing what it takes to not only be respected, but to be loved by one's patients, colleagues, family, and community. I prayed that I would convey grace to these graduates, parents and faculty.
A colleague told me, "You made points that apply to everyone." So I am sending you my message with the prayer that it will encourage you as well.
. . .
President Hart, Provost Carter, Dean Handysides, distinguished faculty, family and  friends, and especially the honored members of the graduating DDS and Dental Hygiene classes of 2018, thank you for the privilege of addressing you on this special occasion.
I imagine that I am not the only one who finds it ironic that an attorney is talking to dentists. But it shouldn't be that surprising.
There are approximately 196,000 practicing dentists in the United States according to the American Dental Association. However, there are approximately 1,359,000 practicing attorneys according to the American Bar Association. Attorneys outnumber dentists by a ratio of almost 7-1. In the America of 2018, attorneys are everywhere. You can never escape us.
We marched in past the University's iconic Good Samaritan sculpture. That sculpture has a plaque inscribed with the text of Jesus' story. It begins "There was a certain lawyer . . ." So you see even Jesus Christ in telling his ultimate parable of healing and service had to deal with the lawyers.
In my experience, dentists and lawyers are friends, not enemies. I greatly respect the profession of dentistry, having represented dentists my entire career. I have taught the "Dentist and the Law" course here in the School of Dentistry for over twenty years.
Of course, dentists, hygienists and lawyers share the status of professionals. The label "professional" means someone with specialized training and licensure to care for others. It also means a discipline of clinical practice and a scientific objectivity that transcend emotion and circumstance. As the actor Humphrey Bogart once said, "A professional is someone who does his best even when he (or she) doesn't feel like it."
It has been my privilege over a thirty-nine year legal career to represent dentists in practice sales and purchases, contracts, employment disputes and professional licensure issues. In that time, I have observed that some dental professionals have a positive impact that goes far beyond their professional competence and practice settings. These are men and women who are genuinely beloved and respected by their patients and their communities.
I am talking about being loved beyond being respected. You will have respect, of course. You have your training, your license and your title. And you will stand over patients who are anesthetized with sharp instruments and a drill! Of course, you will be respected! But will you be loved and respected? Will you be a beloved professional? That's the question.
I want to speak to you about how one goes about becoming such a beloved professional.                  This kind of love and respect is partially due to personality, of course, but much more than that it reflects choices and actions that any one of you can make and I would urge you to do so. These dentists and hygienists are beloved because of four big choices they make at the start of their careers and continue to make every  day – they choose to devote themselves to a cause bigger than themselves; they choose to live their lives with joy; they choose to give priority to their relationships with family and friends; and they choose to put God first in their lives.
First, these dentists and hygienists choose to devote themselves to a cause bigger than themselves for the greater good. From mission trips in Africa, Central America and Micronesia to free clinics in the inner city, they give of their time, energy and skill to change lives. Many of them participate in professional societies to help improve and advance the cause of dentistry and oral health.
Professionals whose career priority is always centered on "what is in it for me" live cramped, suspicious and exhausting lives. You have the opportunities that arise from a first class professional education. You can transform lives with your training and clinical skills. To help people to health and well-being that they could never obtain by themselves is to liberate them. Those who liberate others also live in freedom.
This transformative influence goes well beyond what happens in the dental chair. One of the most important things I've ever done as a professional was to lead a campaign to build a new public library in my home community of Corona, California – one of the best city libraries in California. Among the supporters that accomplished this were several dentists, graduates of this School, whose efforts and financial support were crucial to building that library.
The health of your patients, in significant part, depends on the health of your community. You are helping your patients, your family and your practice when you involve yourself in building a better community just as much as when you improve the oral health and hygiene of the patients in your dental chair.
There is no surer path to living a life that is bigger than oneself and serving the greater good than to live, work and love as a grateful person.
Gratitude is the state of heart and mind that says, "We are not alone. Others help us to be happy and successful and we recognize that by expressing our thankfulness." Grateful professionals tend to overcome insecurities, fears, and selfishness to become helpful and helped, trusting and trustworthy, and loving and beloved.
You are the beneficiary of centuries of clinicians and scientists who realized the importance of oral health and hygiene to the well-being of humanity. Some of them founded and have sustained this School as faculty. You can be grateful for their vision for dentistry and the professional education and innovation that makes it possible.
Your gratitude to those who have come before you and who have trained you here begins by you fulfilling their vision. That means you become a dental professional who changes the health of your community and the world through your provision of excellent and ethical patient care. Be the best dentist or hygienist you can be. Stay up on developments in treatment protocols and technology. Embrace continuing dental education as an opportunity, not an obligation.
The second choice made by beloved professionals is to live their lives with joy. This means you need to do what you love and love what you do. As I often have said to students, "If you are going into dentistry just for the money, you will never be satisfied because you will never have enough money if becoming wealthy is your only goal."
There is absolutely nothing wrong with making money and lots of it, but when money-making becomes one's sole professional focus, he or she suffers a loss in enjoyment of life. Patients become dollar signs, families become hindrances to work, colleagues become rivals. Your life becomes much smaller.
Live your life fully. The happiest dental professionals I know are also expert woodworkers, farmers, artists, gardeners, photographers, runners, sailors, soccer and little league coaches, musicians, chefs, and most certainly moms and dads! Dentistry may provide their livelihood, but it isn't their life.
This University stands for wholeness and whole person care and that care starts with your self-care and balance. There is a joy from the satisfaction of a job well done, but your life is a gift and gifts are meant to be fully enjoyed.
Long experience as an attorney counseling and advocating for other professionals tells me that the third choice you need to make is to give priority to your human relationships with family and friends.
Your family and friends sustain you. I worked for many years in a suburban law practice in an affluent community where the number of client calls for divorces would increase after long weekend holidays. This especially impacted busy young professionals and their families.
The dream of material success and obtaining an affluent lifestyle carries with it the cost of hard work and long hours. Professionals and executives can spend so much time on their practices and careers that their colleagues and employees become their family and their families become strangers. This is a fact sadly learned when a holiday or vacation brings the professional together with spouses and children who have become alienated by absence and neglect.
Scripture says, "Guard your heart, for everything else flows from it" (Proverbs 4:23). Your family is where your heart finds health and strength.  Your family is your sanctuary, your place of support, energy and rest. Mother Teresa once told someone seeking advice on how to make an impact, "If you want to change the world, go home and love your family.
Professionals who do not guard and respect their family time with ruthless intention suffer exhaustion and a corrosive cynicism that will eat away any joy that comes from success.
Be grateful for your family. Keep in mind that you need them. Acknowledge their love and dream, play and pray together. Those of you who are single are no exception. Building life sustaining relationships begins with your friendships. Look for the kind of friends for whom a three hour visit seems like only ten minutes, not those persons for whom a ten minute visit seems like three hours.
Expand your relationships beyond your family and friends – participate in professional societies that bring you the mutual support of colleagues, seek clinical relationships that encourage your professional skills, and involve yourselves in charitable causes that your professional prestige, skills, and energy will advance.
Finally, I would be remiss if I did not mention the importance of a choice of faith to put God first in your life. This University has a mission "to continue the teaching and healing ministry of Jesus Christ." We are serious about that mission. We hope that you caught its fire while you were here because it is a continuing mission.
We believe that life begins with God our Creator, that humanity in selfishness and pride chose a path away from God that is ultimately empty and futile because humans, on their own, lack God's infinite power to create and to heal. We believe that God with complete and unconditional love gave his only Son, Jesus Christ, to remove any barrier to our eternal life with God. We believe it is Jesus' life and Spirit that sustains us with that unconditional love and that eternity awaits those who accept Jesus' life as their own.
Scripture tells us "We love because God first loved us" (1 John 4:19). When we know, in our hearts and souls, that we are loved by the God who gives us life, it gives us freedom and confidence to live without dependence on the conditional approval of humans who can be fickle and arbitrary with their affections.
When you know that there is a God and he loves you and won't quit loving you, your relationships result from choice rather than desperate need and manipulation, and your service is motivated by love and joy.
Jesus said, "With God, all things are possible" (Luke 18:27). When God is first in your life, the other choices — to live for something bigger than you, to live with joy, to give priority to family and friends are all possible and inevitable. With those choices, you will be much more than a dental professional. You will be a beloved professional.
Congratulations and blessings to you all.
"O taste and see that the Lord is good. Happy are those who take refuge in him" (Ps 34:8).
Under the mercy of Christ,
Kent
Please note that the content and viewpoints of Mr. Hansen are his own and are not necessarily those of the C.S. Lewis Foundation. We have not edited his writing in any substantial way and have permission from him to post his content.
————————–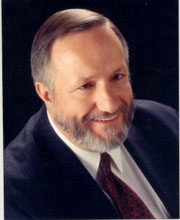 Kent Hansen is a Christian attorney, author and speaker. He practices corporate law and is the managing attorney of the firm of Clayson, Mann, Yaeger & Hansen in Corona, California. Kent also serves as the general counsel of Loma Linda University and Medical Center in Loma Linda, California.
Finding God's grace revealed in the ordinary experiences of life, spiritual renewal in Christ and prayer are Kent's passions. He has written two books, Grace at 30,000 Feet and Other Unexpected Places published by Review & Herald in 2002 and Cleansing Fire, Healing Streams: Experiencing God's Love Through Prayer, published by Pacific Press in spring 2007. Many of his stories and essays about God's encompassing love have been published in magazines and journals. Kent is often found on the hiking trails of the southern California mountains, following major league baseball, playing the piano or writing his weekly email devotional, "A Word of Grace for Your Monday" that is read by men and women from Alask