Dear Friends:
There will be no message next week for Monday, October 3, because of travel. I'll be on the lookout for new stories to share with you.
Father give me my share of the property that will belong to me (Lk 15:12).

Father . . . make me like one of your hired men (Lk 15:19).
The prism that is the parable of the prodigal, the elder son, and the waiting father has many colors and shadings depending on where one is standing and what one is looking for at the moment. Two of those revelations are these statements that sound in the language of prayer.
The light that falls between "Father, give me" and "Father, make me" illuminates the twisting road to surrender.
"Give me my share" expresses the dark power of selfishness — the illusion of independence and control. "Make me," pleads for relationship and freedom — the intimate truth of love.
The illusion is powerful. Despite warnings, it is not until I had spent everything for nothing that I came to my senses and changed direction for home. Here's my story.
My unrequited hunger for the empty husks and pods revealed the truth that I was really starving for the Father.
So I started home where I last wished that the Father would die and leave me alone. Along the way, I composed prayers in my head and my heart — "Father, it's no secret that I've behaved badly and I am so ashamed at the way I've treated you. You don't owe me anything, but make me one of your field hands." I even scrawled out one of those off-ramp beggar signs, "WILL WORK FOR FOOD."
I, who was once the arrogant, impatient, ungrateful child, was more than willing . . . desperate with longing . . . begging to be whatever the Father, made me to be.
I didn't quite get there. It seems that the Father has his longing too. The sight of me coming over the hill, tired and dirty, wrenched his gut.
All the while, I'd been limping, staggering even, with malnutrition, exhaustion and the damage I'd done to myself. I was filthy. I had no time or place for a shower, no way to make myself presentable.
No matter, the old man ran to me, hugged my sweat-soaked body to his chest, and kissed me.
Stunned, I blurt out my confession of sin and unworthiness.
I didn't even get to the part where I was going to say "Make me one of your field hands, before he cut me off with orders for new clothes, shoes and an identity card. "Food too, the best and lots of it, because," the Father says, "we have to eat and celebrate the return of this child of mine."
This is the part that sticks with me–when I was humiliated and willing for the Father to make me anything, he made me his child and claimed me as his own. It was like I had never gone away, except now I want to be there, glad and grateful for my Father's love.
You know, I've always identified with the elder son in the story — hard working, proud, asking for nothing, needing nothing, expecting my good efforts to be noticed and rewarded, quick to insist that the Father meet me on my terms. The prodigal was the kind of garden-variety loser that was other people. I prayed that way, too.
But the difference between "Father, give me" and "Father, make me" caught my eye and stirred my heart to make inquiry by way of prayer. What I learned was that I have prodigal DNA. I am one of those, "All [who] have sinned and fall short of the glory of God" that Paul talks about (Rom 3:23). You are likely in the same gene pool.
"Father, make me" increasingly became the prayer for me to pray and I pray it. It has turned my eyes from the comparison shopping of "Father, give me" and made me a worshiper desiring his glory, dependent upon his grace.
Recently, some friends who have known me for a long time told me that they see something different in me.
"What's that," I asked.
"You seem really peaceful and happy."
"It's true," I said. "Christ has done that. He let me know that the Father loves me. It's not magic. It takes time, but slowly and surely he convinced me that he does love me. Knowing that makes me peaceful and happy and sets me free to love. That's what you're seeing."
The very next morning my irritation and impatience flared up over the anxieties and troubles that crowded my schedule. I am sorry, but grateful too. There will always be a reason to pray, "Father, make me."
"O taste and see that the Lord is good. Happy are those who take refuge in him" (Ps 34:8).
Under the mercy of Christ,
Kent
————————–
Please note that the content and viewpoints of Mr. Hansen are his own and are not necessarily those of the C.S. Lewis Foundation. We have not edited his writing in any substantial way and have permission from him to post his content.
————————–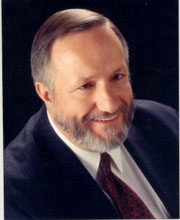 Kent Hansen is a Christian attorney, author and speaker. He practices corporate law and is the managing attorney of the firm of Clayson, Mann, Yaeger & Hansen in Corona, California. Kent also serves as the general counsel of Loma Linda University and Medical Center in Loma Linda, California.
Finding God's grace revealed in the ordinary experiences of life, spiritual renewal in Christ and prayer are Kent's passions. He has written two books, Grace at 30,000 Feet and Other Unexpected Places published by Review & Herald in 2002 and Cleansing Fire, Healing Streams: Experiencing God's Love Through Prayer, published by Pacific Press in spring 2007. Many of his stories and essays about God's encompassing love have been published in magazines and journals. Kent is often found on the hiking trails of the southern California mountains, following major league baseball, playing the piano or writing his weekly email devotional, "A Word of Grace for Your Monday" that is read by men and women from Alaska to Zimbabwe.