Dear Friends,
Zechariah said to the angel, "How will I know that this is so? For I am an old man and my wife is getting on in years" (Luke 1:18).
Mary said to the Angel, "How can this be, since I am a virgin?"The Angel said to her, "The Holy Spirit will come upon you, and the power of the Most High will overshadow you; therefore the child to be born will be holy; he will be called the Son of God. . . Then Mary said, "Here am I, the servant of the Lord; let it be with me according to your word" (Luke 1:38).
The Angel Gabriel came to Zechariah and to Mary with wonderful news but received decidedly different responses. Zechariah doubted God's capability to change human circumstance. Mary marveled at the possibility of God overriding human circumstance.
Zechariah was speaking from a life-time of disappointment at his inability to produce new life by his own effort. Mary had no previous dream or expectation about what the angel was telling her. She simply had to accept God's promise on faith and made herself available to his transforming grace.
The inadequacies of our ability to overcome our human limitations by our own efforts versus our acceptance of the grace of God to do what he can do, but we cannot, is what makes the Gospel good news.
Zechariah was engaged in the ultimate performance of a life committed to performance. Only once in a life-time would a priest go into the sanctuary of the Lord and offer the incense offering. Zechariah was a priest in the order of Abijah. This was his moment (Luke 1: 5-9).
This was an awesome experience for the serving priest and his people long waiting for the visitation and blessing of their God. The lamps gave flickering light. Coals glowed on the altar. The air was redolent with the fragrance of incense rising in reverent offering and petition for the favor and mercy of God. (Ex 30:6-9; Lev 16:3, 12-13). The entire congregation was praying just outside the sanctuary as Zechariah solemnly ministered inside.
The ancient ritual was as predictable as it was beautiful. Then suddenly God took the ancient ritual off-script.
The angel of the Lord appeared in the sanctuary speaking to Zechariah of the joy and gladness of new life, of gratitude and repentance, of reconciliation and restoration to righteousness (Luke 1:10-17). Zechariah and his wife Elisabeth were to have a son and that son would be used of God to prepare Israel for the coming of the Lord.
The angel said everything one could hope to hear from God in that holy place, but this terrified Zechariah. He had lived with sterility and disappointment for so long that he had passed the sad tipping point where religion ceases to be a means and becomes an end in itself.
Nothing disturbs the dust of status quo religion like an up-close and personal encounter with the Divine. Zechariah's lack of faith was exposed. To Zechariah, the circumstances were what they were. Elizabeth and he were past their prime child-bearing years. What could God do? How could Zechariah know whether such a thing was possible?
There is a tendency in the circles that I run in to ask a lot of skeptical questions about God. Cleverly-expressed doubt can be worn as a badge of honor as well it should be when opinions of power, human traditions, or fearful speculations are offered up as the voice of God. But doubt can be an end in itself and signal pride and arrogance when it masks a selfish and stubborn refusal to accept what it cannot control.
Zechariah's respectable, measured existence was challenged by God's intentions for a change in the foundations of that existence. Sure Elizabeth and he had prayed for a son, but only when the answer seemed humanly possible. If human possibility is the test of answered prayer, why pray at all?
Yet, isn't that the very position that many of us take in our spiritual life–limiting God to our expectations and possibilities?
Maybe we have set God up on a pedestal of our own construction and are afraid of hoping for too much lest we knock him off it.
Maybe in pride or in broken disappointment, we insist that what we have and what we see is all there is to have and to see and we are closed off to anything more.
Maybe our God is no more to us than hearsay from others and is as limited and fallible as those who told us about him.
Most likely we are locked into a struggle with God over control of our life and destiny.
Blessedly, despite our pride, angst and thrashing, God wants to do great and marvelous things in us and through us. The question of faith is will we let God do it? Not, can God do it?  Put another way — are we wholly available to God?
Mary was available to God: "Here am I, the servant of the Lord, let it be to me according to your word."
That's why the angel greeted Mary as "the favored one," who was full of grace (Luke1:28). She was wide-open to the purpose and power of God. No one and nothing else preceded God in the reverence of her mind and heart. The Holy Spirit could conceive the life of Christ in her and grow it in her. In this, Mary was no different than you or me.
Zechariah wanted certainty, but Mary wanted God. What do we want?
Two thousand years have added pageantry and nostalgia for what was or might have been, but haven't changed the question. In this season, when the lamps again gleam and firelight glows, and we gather for songs and prayer, will we seek certainty or will we let God have his way with us?
"O taste and see that the Lord is good. Happy are those who take refuge in him" (Ps. 34:8).
Under the mercy of Christ,
Kent
Please note that the content and viewpoints of Mr. Hansen are his own and are not necessarily those of the C.S. Lewis Foundation. We have not edited his writing in any substantial way and have permission from him to post his content.
————————–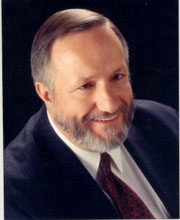 Kent Hansen is a Christian attorney, author and speaker. He practices corporate law and is the managing attorney of the firm of Clayson, Mann, Yaeger & Hansen in Corona, California. Kent also serves as the general counsel of Loma Linda University and Medical Center in Loma Linda, California.
Finding God's grace revealed in the ordinary experiences of life, spiritual renewal in Christ and prayer are Kent's passions. He has written two books, Grace at 30,000 Feet and Other Unexpected Places published by Review & Herald in 2002 and Cleansing Fire, Healing Streams: Experiencing God's Love Through Prayer, published by Pacific Press in spring 2007. Many of his stories and essays about God's encompassing love have been published in magazines and journals. Kent is often found on the hiking trails of the southern California mountains, following major league baseball, playing the piano or writing his weekly email devotional, "A Word of Grace for Your Monday" that is read by men and women from Alaska to Zimbabwe.