But I do not count my life of any value to myself, if only I may finish my course and the ministry that I received from the Lord Jesus, to testify to the good news of God's grace (Acts 20:24).
I've heard it said that one can become a legend by doing the same thing for thirty years and doing it better than anyone else. I don't know about that. There are necessary qualifications to this pathway to legendary status such as people actually needing and wanting what the legend has to offer.
What the Apostle Paul did was more than legendary. His faithful ministry was used by God to forever alter the history and culture of the world. His letters have conveyed the life of Christ to countless humans over the centuries explaining how the very life and righteousness of God is accessed by faith in his Son. They continue to speak this truth.
By his own account, Paul lacked eloquence, and was weak and fearful (1 Cor 1:17; 2:3-4). Bringing the Gospel to the pagan Mediterranean world was tough. Paul's life was in constant danger. He was starved, beaten, imprisoned, shipwrecked, anxious about the fragile little churches he'd started, misunderstood, and severely criticized (2 Cor 11:23-29).
As he began his last journey back to Jerusalem and then on to Rome, the Holy Spirit revealed to him that more persecutions and imprisonment faced him (Acts 20:23).
"So what?" Paul asked. "What happens to me is of no consequence if the good news of God's grace gets through to people through me."
The definition of "passion"– is to give one's self over body and soul to the all-consuming love or hate of someone or something. Paul was a passionate man. The love of Christ compelled him in everything that he said or did ( 2 Cor 5:14).
Paul knew that the value of his life, its only value, was its usefulness to God. He was effective because he was authentic in claiming everything for Christ and nothing for himself.
"I do not count my life of any value to myself" sounds more than passionate — it sounds obsessed, extreme even. More than once, Paul was considered quite mad for his single-minded effort to proclaim the Gospel and gain its acceptance throughout the Roman Empire. In the Lord Jesus Christ, Paul said, "the only thing that counts is faith expressing itself in love" (Gal 5:6).
Paul was no extremist or terrorist. He was more dangerous. Extremists and terrorists are obsessed with changing the established order. Paul couldn't care less about the established order. It had its place and utility and he respected that (Cf Rom 13). But he knew that a follower of Christ is called to a much higher obligation. "Owe no one anything, except to love one another; for the one who loves another has fulfilled the law" (Rom 13:8).
Such sentiments are crazy-making to the powers that be who depend on obligation to maintain their power. If that obligation doesn't work, they resort to force. Someone who rejects both obligation and violence exposes the limitations and vulnerabilities of those who insist on force. Do you aspire to power or do you aspire to love? Where do you find value in your life?
It's possible to talk or write this subject to death, but it's really simple. We are asked to turn over everything we have to Christ including our lives, our thoughts and our actions. We can claim nothing for ourselves. The Cross is an addition sign because it puts Christ in the proper place. Paul had the right idea, the sane idea. Everything else is what's crazy.
"O taste and see that the Lord is good. Happy are those who take refuge in him" (Ps. 34:8).
Under the mercy of Christ,
Kent
Please note that the content and viewpoints of Mr. Hansen are his own and are not necessarily those of the C.S. Lewis Foundation. We have not edited his writing in any substantial way and have permission from him to post his content.
————————–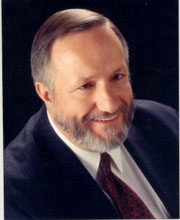 Kent Hansen is a Christian attorney, author and speaker. He practices corporate law and is the managing attorney of the firm of Clayson, Mann, Yaeger & Hansen in Corona, California. Kent also serves as the general counsel of Loma Linda University and Medical Center in Loma Linda, California.
Finding God's grace revealed in the ordinary experiences of life, spiritual renewal in Christ and prayer are Kent's passions. He has written two books, Grace at 30,000 Feet and Other Unexpected Places published by Review & Herald in 2002 and Cleansing Fire, Healing Streams: Experiencing God's Love Through Prayer, published by Pacific Press in spring 2007. Many of his stories and essays about God's encompassing love have been published in magazines and journals. Kent is often found on the hiking trails of the southern California mountains, following major league baseball, playing the piano or writing his weekly email devotional, "A Word of Grace for Your Monday" that is read by men and women from Alaska to Zimbabwe.