Trust in the Lord with all your heart,
and do not lean on your own understanding.
In all your ways acknowledge him,
and he will make your paths straight.
Be not wise in your own eyes;
fear the Lord, and turn away from evil.
It will be healing to your flesh
and refreshment to your bones.
(Prov 3:5-8)
I was praying for wisdom on New Year's Day and this text came to mind.
Solomon's words here are some of the best known in all of Scripture. They are recounted on posters, plates and wall plaques. My wife and son had them inscribed on the case of a compass they gave me. I have given a similar gift to others.
Are they merely words of aspiration for a best practice for living, or are they God's rule of life? How many of us trust God completely with the direction of our life?
We think we understand what needs to be done because many are taking a certain course of action. We don't want to look foolish by waiting to ask God who we can't see what he wants us to do.
There are plenty of experts, consultants, celebrities, and professionals urging us to "act now, while there is still time!" Is this not like Jesus' brothers who urged him to take his ministry public in order to gain a wider acceptance and popularity?
John says Jesus' own brothers didn't believe in him as Messiah (John 7:5). They wanted him to follow conventional wisdom in gaining a wider following the way any human leader would. Specifically, they wanted him to leave rural Galilee for the more urban Judea for publicity and religious market share.
Jesus said, "My time has not yet come, but any time works for you" (John 7:6). He said this because he was listening for his Father's instruction, rather than doing what seemed "wise" from a human standpoint. "The Son only does what the Father tells him to do," Jesus said.
"God calls us to faithfulness, not to be successful," Mother Teresa famously observed. That's why God told the prophet Ezekiel, "Man, all my words that I shall speak to you receive in your heart and hear with your ears; then go to the exiles, to your people, and speak to them. Say to them, 'Thus says the Lord God'; whether they hear or refuse to hear" (Ez 3:10). Ezekiel was called to proclaim God's word to his people, not to make them accept it.
What does it mean to me to be faithful to God and his word? Prayer has become central to me in this. Believing that the Lord Jesus Christ lives in me through the Holy Spirit, I seek to bring every situation before him.
That's what Solomon meant when he said, "In all your ways acknowledge him" (Pr 3:6). This does not mean falling to my knees in the middle of business meetings, lying down prostrate in hallways, or shouting "Glory to God" during conference calls.
On the recommendation of Paul in Philippians 4:6, I seek to place every agenda item, transaction, problem, relationship, conversation, confrontation and action before God in my heart, "Lord, do as you will with me and through me in this situation. Be glorified. Thank you." I read Scripture for itself to have a working knowledge of God's principles and dealings with his people.
I've heard the arguments that some matters are too small and inconsequential to bother God about. I've heard and even made the claim that a problem is so large and difficult that I will work to solve it myself to clear the way to come to God. Neither position is correct.
I can't "out-small" the power of God. Nor is any problem too big for him. It is perversely arrogant to think we can escape his notice or overwhelm him. Peter says, "Humble yourselves therefore under the mighty hand of God, so that he may exalt you in due time. Cast all your cares upon him for he cares about you" (1 Pet 5:6-7). Here again, the phrase "all your cares" omits nothing too small or too large. Real humility is putting everything in the mighty hand of God in faithful prayer.
Faithful prayer is not uninformed prayer. On my desk at home, I have several volumes of scriptural reference. Twenty-years ago, a hospital system CEO gave me a slender leather bound book, God's Wisdom for Your Business Success," that has Bible verses arranged topically by issue and problem. An attorney friend gave me a similar book called The Businessman's Topical Bible. I consult these volumes frequently to point me to relevant scriptures for the problems I face. (Unfortunately, neither book is still in print.)
It is also important for me to review data and information and to stay current on publications regarding legal and business developments. No one ever served God by burying their head in the sand and claiming ignorance of the world around them.
In all these things I've learned to follow Paul's counsel to let "the peace of God rule and reign in your heart . . . and be thankful (Col 3:15). Sometimes, the Holy Spirit stirs in my heart to tell me there will be no peace without some action. More often, the Holy Spirit indicates the peace of God will be found in leaving things with him to sort out.
Where does this leave us in the equation? I hope it leaves us focused and thinking about God. Paul says, "For me, to live is Christ" (Phil 1:21). Read Proverbs 3:5-8 again and consider what action of ours is called for – "trust the Lord at all times … in all your ways acknowledge the Lord … fear the Lord … turn away from evil." Everything heads toward God, that's how he makes our paths straight . . . and heals and renews us as the Scripture promises.
Recently, there was a staggering problem regarding the release of a large sum to which the Children's Hospital was due for capital reimbursement. The administration and our legal team had done everything possible to resolve the blocking issues. But there was no movement.
Finally, I reached out to forty key administrators and clinical leaders and requested their prayers. "As your general counsel, my best advice is to pray," I said. We continued to work, argue and cajole the other side even while the prayers were going up. Slowly, but definitely we began to make progress where there had been none for eighteen months.
Our CEO did a stellar job pleading our case and there was some excellent work done by our administrative and legal teams. Did prayer really make a difference? Yes, because my plea was not the first time our people had prayed about it. We had placed this matter in God's hands as we do most everything from the beginning. Life and mission involve processes, not one time events.
Coming together at this point to pray allowed God to renew us in purpose, heart and spirit and make sure we were pointed in his direction and dependent upon his grace. Nothing signifies whole hearted devotion to God and reliance on his providence like prayer and obedience to his word.
Do you need straight paths and healing in 2018? Let go of your anxious thoughts, impulses, and instincts to act on your own. Even let go of what you think you understand, and submit everything to God in prayerful trust and obedient action. It's always been that way, and it always will be that way. I rest in the assurance of that thought.
"O taste and see that the Lord is good. Happy are those who take refuge in him" (Ps. 34:8).
Under the mercy of Christ,
Kent
Please note that the content and viewpoints of Mr. Hansen are his own and are not necessarily those of the C.S. Lewis Foundation. We have not edited his writing in any substantial way and have permission from him to post his content.
————————–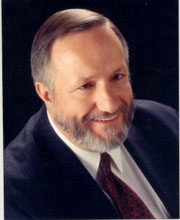 Kent Hansen is a Christian attorney, author and speaker. He practices corporate law and is the managing attorney of the firm of Clayson, Mann, Yaeger & Hansen in Corona, California. Kent also serves as the general counsel of Loma Linda University and Medical Center in Loma Linda, California.
Finding God's grace revealed in the ordinary experiences of life, spiritual renewal in Christ and prayer are Kent's passions. He has written two books, Grace at 30,000 Feet and Other Unexpected Places published by Review & Herald in 2002 and Cleansing Fire, Healing Streams: Experiencing God's Love Through Prayer, published by Pacific Press in spring 2007. Many of his stories and essays about God's encompassing love have been published in magazines and journals. Kent is often found on the hiking trails of the southern California mountains, following major league baseball, playing the piano or writing his weekly email devotional, "A Word of Grace for Your Monday" that is read by men and women from Alaska to Zimbabwe.