Dear Friends,
Last week, I was traveling on a combined vacation and business trip so there was no message.
. . .
David writes—
.
Blessed be the Lord,
who daily bears us up;
God is our salvation.
Our God is a God of salvation,
and to God, the Lord, belong
deliverances from death.
(Ps. 68:19-20)
Whatever problem with which you may be dealing, do you have a better solution than God? Do you have someone or something stronger to lift and carry your burden? Do you have someone else guaranteed to deliver you from death, time after time?
These aren't questions for speculation and fantasy. These are questions to be addressed this very day.
You see, it is the pressures of today that grind us (2 Cor. 11:28). If we don't get through this very day nothing else will matter, and that goes for every day that follows.
If we are honest, we know that we face death every day, in one way or another.
There is more than one way to die, you know. You can stop breathing and your heart cease beating and you will be dead for certain. But when your spirit is crushed, your soul destroyed, your strength exhausted, your heart broken to the point that it is incapable of response, it is a kind of death. Oh yes, the soul can die well before the body does.
In every way that we can die there is a deliverance of grace from the Lord who holds our lives in his hand and is generous with his mercy–every day.
It is so very, very hard to let go and rely on the Lord for deliverance, isn't it? The ancient temptation is insidious — we would rather die in our rebellious attempt to be the god of our life than to let God have his way with us.
It takes daily, unrelenting surrender of our torments and struggles to the gracious hands of Christ to resist this enticement to "curse God and die"
I am a realist and I live and work with realists.  Even as we pray for success in our endeavors and protections in our vulnerabilities, we know that our lives are lived one day at a time. We won't know what a day will bring until it is upon us. What we do know is that the Lord will daily bear us up over the pain, drudgery, and obstacles. That is our hope and our prayer.
The God who David speaks of in Psalm 68 delivers and sustains us in ordinary days and in times when we are gripped with the immediacy of abject terror. For the Lord to carry us through our days, requires us to surrender the resentments that leash us to the past and give up our ambitious or fearful fantasies of the future that evade the truth of the present.
David writes of God delivering him from death on multiple occasions. Truly, this is not a one-time only God who we may miss because we've blinked, snoozed, or wandered off on some fool's errand. Neither do we have an impatient God who moves on and leaves us behind while we are struggling to make it through our days and nights while stricken and benumbed by grief and disappointment. David's God, the God I know, is gracious and kind, with infinite patience. He sticks with us.
Forty-four years ago this month, my heart was broken in grief and my body was permanently shattered in a traumatic traffic accident in which my childhood sweetheart and fiancée died.
The day after her funeral, I sat down at the piano in my parents' living room. For hours, I played one old hymn, "Day by Day," over and over as I attempted to regain my bearings on the familiar paths of melody and words.
The lyric was written after a great personal tragedy when the author's father drowned before her eyes. The words rose out of my memory to address my pain with the truth about the God who somehow never fails to bring us through one day at a time.
Day by day and with each passing moment,
Strength I find to meet my trials here;
Trusting in my Father's wise bestowment,
I've no cause for worry or for fear.
He whose heart is kind beyond all measure
Gives unto each day what He deems best–
Lovingly, its part of pain and pleasure,
Mingling toil with peace and rest.
*
Every day the Lord Himself is near me
With a special mercy for each hour;
All my cares He fain would bear and cheer me,
He whose name is Counselor and Pow'r.
The protection of His child and treasure
Is a charge that on Himself He laid;
"As your days, your strength shall be in measure,"
This the pledge to me He made.
*
Help me then in ev'ry tribulation
So to trust Your promises, O Lord;
That I lose not faith's sweet consolation
Offered me within Your holy Word.
Help me, Lord, when toil and trouble meeting,
E'er to take, as from a father's hand,
One by one, the days, the moments fleeting,
Till I reach the promised land.
("Day by Day," Karolina W. Sandell-Berg, 1865)
As the lyric indicates, even a day may be too much to ask for. We need grace to get us through the next hour or even minute. It is the hallmark of God's graciousness that no need is too small and no moment beneath his observation and consideration.
His most precious gift, the life of his Son, Jesus, complete and perfect, true and reliable, is available to us, right here and right now. "Now may our Lord Jesus Christ himself, and God our Father, who loved us and gave us eternal comfort and good hope through grace, comfort your hearts and establish them in every good work and word" (2 Thess. 2:16-17).
This is true today and each and every day after this. Past days really don't count; we can let them go because we already made it through them by his grace. The future remains for God to fulfill for us in his love and providence.
Today is the day he is taking care of us."The steadfast love of the Lord never ceases; his mercies never come to an end; they are new every morning; great is your faithfulness. 'The Lord is my portion,'says my soul, 'therefore I will hope in him' " (Lam. 3:22-24).
It is good news and I love sharing it with you.
"O taste and see that the Lord is good. Happy are those who take refuge in him" (Ps. 34:8).
Under the mercy of Christ,
Kent
Please note that the content and viewpoints of Mr. Hansen are his own and are not necessarily those of the C.S. Lewis Foundation. We have not edited his writing in any substantial way and have permission from him to post his content.
————————–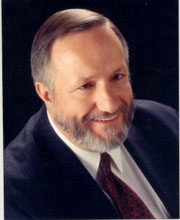 Kent Hansen is a Christian attorney, author and speaker. He practices corporate law and is the managing attorney of the firm of Clayson, Mann, Yaeger & Hansen in Corona, California. Kent also serves as the general counsel of Loma Linda University and Medical Center in Loma Linda, California.
Finding God's grace revealed in the ordinary experiences of life, spiritual renewal in Christ and prayer are Kent's passions. He has written two books, Grace at 30,000 Feet and Other Unexpected Places published by Review & Herald in 2002 and Cleansing Fire, Healing Streams: Experiencing God's Love Through Prayer, published by Pacific Press in spring 2007. Many of his stories and essays about God's encompassing love have been published in magazines and journals. Kent is often found on the hiking trails of the southern California mountains, following major league baseball, playing the piano or writing his weekly email devotional, "A Word of Grace for Your Monday" that is read by men and women from Alaska to Zimbabwe.