Please note that the content and viewpoints of Mr. Hansen are his own and are not necessarily those of the C.S. Lewis Foundation.  We have not edited his writing in any substantial way and have permission from him to post his content.
—————————————————————————–
Dear Friends:
There are no lovelier words for a sad and anxious soul than these: "Come to me, all you that are weary and are carrying heavy burdens, and I will give you rest. Take my yoke upon you, and learn from me; for I am gentle and humble in heart, and you will find rest for your souls. For my yoke is easy, and my burden is light" (Matt 11:28-30).
How long has it been since you considered the impact of those words of Jesus as something more than a beautiful sentiment? Have you plumbed the depths of what Jesus is asking you to do?
The Creator of the universe and the Savior of the world is asking you to set aside what occupies your mind and heart and take on his burdens as your own. You are confronted with the self-denying, soul-emptying truth that you are called to rest in God, not perform like God. If that doesn't drop you to your knees, what will?
Attempting to perform like God is the embodiment of the original sin of pride that brought about the fall from grace. "The serpent said to the woman, 'You shall not die; for God knows that when you eat of it your eyes will be opened, and you will be like God, knowing good and evil" (Gen 3:4-5).  If we go that route, our every decision and every move will require us to "get it right" and none of us is equal to that burden. Jesus watches us try and he whispers, "Give it a rest."
The Apostle Paul prophesied that end-times would see an increase in the selfish effort to replace God's grace with self-fulfillment. "You must understand this, that in the last days distressing times will come. For people will be lovers of themselves. . . holding to the outward form of godliness but denying its power" (2 Tim 3:1-2,5). Without that power of God which is the very definition of grace, our best efforts are doomed to fall short. We will know guilt and oppression, but not peace. Here is a testimony from a Christian who found this out the hard way.
I had become an out-of-control work addict, what author and educator Parker Palmer calls a "functional atheist." Although I spoke of God as being powerful and in control, my actions told a different story, that God either didn't exist or was seriously ill. I lived in the illusion that unless I was making it happen, nothing was happening. Not only was my life shaped by an incorrect view of a too-small God, an equally incorrect view of a too-big me made matters worse. Once firmly planted, my mistaken views made arrogance second nature…and my life dangerously active.
. . .
I elevated my self-importance and diminished God's to the extent that even the act of coming to God was something I took credit for, speaking of "my" decision to follow God, as if Jesus was some innocent bystander with no part to play in the drama of my life. I had ignored Jesus' words, "No one can come to me unless drawn to the Father who sent me (Fil Anderson, Running on Empty [Colorado Springs, CO: Waterbrook Press, 2004], 42-43).
.
The tree forbidden to us in Eden bore the fruit of "the knowledge of good and evil" (Gen. 2:9,16-17). Our Creator intended to communicate that knowledge to us in the intimacy of a loving relationship. That intention was thwarted when Adam and Eve decided to take on the determining good and evil for themselves. Their attempt to master the good (self-righteousness) would prove every bit as sinful as any evil (selfishness) that they would perpetrate.
Swallow hard and understand that living a good life by diligence, discipline and effort in our own strength is as much a departure from God's plan for us as indulging every lustful temptation of our flesh. It was about very religious people and "good" citizens that Jesus' pronounced the prophecy of Isaiah:
"You will indeed listen, but never understand, and you will indeed look, but never perceive. For this people's heart has grown dull, and their ears are hard of hearing, and they have shut their eyes; so that they might not look with their eyes, and listen with their ears, and understand with their heart and turn–and I would heal them"… Truly I tell you, many prophets and righteous people longed to see what you see, but did not see it, and to hear what you hear, but did not hear it (Matt 13:14-15,17).
.
If we think we can live right by tracing out a pattern and coloring carefully within the lines we have to also consider the contingencies. The crayons will inevitably break or we will use them up. The Crayola folks will come out with a new color and eliminate an old one. Our companions may have the 128 crayon super box with a built-in sharpener while we have only the 8-pack. Our fine-motor control may fail us and we'll color outside a tight corner in the lines ruining the picture. Our stroke may be too heavy in our enthusiasm and lay down a thick layer of wax. A careless spill of milk may curl our page, blur the lines and glue the book shut. There is always the possibility that the teacher will prefer another child's choice of colors and neatness and give him or her the gold star and us only the silver star or the honorable mention. It is a distressing  prospect that the teacher may run out of stars before she examines our picture.
What a tragedy to be found head down, tongue poked out the corner of the mouth, concentrating on not coloring outside the line and winning the gold star, when outside the window Venus is rising in the western sky! That is exactly how spiritual blindness develops.
We can seek to learn about God by filling in blanks in workbooks and sitting straight and neat in the pews. Does that please a God who empties his paint buckets in autumn forests, makes no two snowflakes alike, combines colors in a sunset that would get you evicted from a homeowners' association if you painted your house that way, enters the world through an unwed mother and leaves it as a criminal, and spends his time in between with sinners, not the righteous? What would please a God who would rather let kids climb in his lap and pull his beard, spend time with beggars on the roadside and enjoy the conviviality of a group of hard-partying revenue agents than keep the schedule of his advance team?
"Learn of me" invites Jesus. "I have an easy method and light requirements." We resist him by demanding to know, "Is the final exam going to be open book?" "Will it be comprehensive?" "How much am I going to have to study to get an 'A'?" "Will I have to buy the book or will there be handouts?" "How can I earn extra credit?"
God is not amused by out efforts to duplicate him rather than follow him.
Hear, O my people, and I will speak,

O, Israel, I will testify against you.

I am God, your God. . .

you thought that I was one just like yourself.

But now I rebuke you, and lay the charge before you.

Mark this, then you who forget God,

or I will tear you apart, and there will be no one to deliver.

(Ps 50:7, 21-22)
God calls us to be human, not superhuman.
Let the same mind be in you that was in Christ Jesus,

who, though he was in the form of God,

did not regard equality with God

as something to be exploited,

but emptied himself,

taking the form of a slave,

being born in human likeness.

And being found in human form,

he humbled himself

and became obedient to the point of death–

even death on a cross.

(Phil 2:5-6).
Humiliation to the point of a life of slavery and a death by crucifixion hardly seems like the easy yoke or light burden that Jesus promised when he invited us to come to him. This bears closer scrutiny.
Jesus became human like us, by emptying himself of everything that would separate us from him. The Lord of the universe lived with our constraints and was executed as one of us so that we don't have to live under the shadow of death anymore. In all of this, Jesus, as we must, trusted in the loving strength of the Father. Our limitation is God's opportunity. Our acceptance of the sufficiency of God's grace for our lack makes all the difference of eternity. Paul's Letter to the Philippians continues this thought of God's grace inspiring both salvation and the living of our life that is saved.
Therefore God also highly exalted him

and gave him the name

that is above every name,

so that at the name of Jesus

every knee should bend,

in heaven and on earth and under the earth,

and every tongue should confess

that Jesus Christ is Lord,

to the glory of God the Father.

Therefore, my beloved. . . work our your own salvation with fear and trembling,

for it is God at work in you, enabling you both to work and to will for his pleasure.

(Phil 2:9-13)
So what does God do when he sees our human imperfections? He loves us tenderly, that's what.
As a father has compassion for his children,

so the Lord has compassion for those who fear him.

For he knows how we were made;

he remembers that we are dust

(Ps 103:13-14).
God works in us enabling us to please him. God does for us what we can't do for ourselves. God does not expect us to be God, but desires to be "God with us" (Matt 1:22-23) "God," in the words of Brennan Manning, "expects more failure from you than you expect from yourself."
Christ enters our very fingernail-chewing, inarticulate, high-carb, low-thinking humanity, and dwells there to transform us into a temple of his light and love (Eph 2:11-22). "Because I live, you also will live" said Jesus (John 14:19). Paul entered the debate between grace and performance and told the Galatians, "I have been crucified with Christ; and it is no longer I who live, but it is Christ who lives in me. And the life I now live in the flesh I live by faith in the Son of God who loved me and gave himself for me" (Gal 2:20-21).
Christ's yoke is easy and his burden is light for us precisely because it is God's yoke and God's burden. "Jesus said to them, 'Very truly, I tell you, the Son can do nothing on his own, but only what he sees the Father doing; for whatever the Father does, the Son does likewise. The Father loves the Son and shows him all that he himself is doing; and he will show him greater works than these, so that you will be astonished. Indeed, just as the Father raises the dead and gives them life, so also the Son gives life to whomever he wishes ' " (John 5:19-21).
Just as Jesus lived in a close, responsive relationship with his Father, we are invited to live in a close, responsive relationship with him. He has no desire to jerk us around, pile baggage on us, yell at us or force us to a mind-numbing conformity to get us to do what he wants us to do. Patricia and I have been married for 32 years. If I catch her eye or she catches mine across a crowded room, we can see the love in the other and know what the other is thinking. That is Christ's intention for our relationship with him. "I will instruct you and teach you the way you should go; I will counsel you with my eye upon you. Do not be like a horse or a mule, without understanding, whose temper must be curbed with bit and bridle, else it will not stay with you" (Ps 32:8-9).
Eugene Peterson's paraphrase of Jesus' invitation brings the point home to us: "Are you tired? Worn out? Burned out on religion? Come to me. Get away with me and you'll recover your life. I'll show you how to take a real rest. Walk with me and work with me–watch how I do it. Learn the unforced rhythms of grace. I won't lay anything heavy or ill-fitting on you. Keep company with me and you'll learn to live freely and lightly" (Matt 11:28-30, Msg).
There's only one response worthy of that invitation. It is our surrender of the most intimate corners of our life to the Lordship of God, holding back neither because shameful things have accumulated there nor because we believe that we've done an adequate job of housekeeping ourselves. David prayed this prayer of surrender: "Examine me, God, from head to foot, order your battery of tests. Make sure I'm fit inside and out. So I never lose sight of your love, but keep in step with you, never missing a beat (Ps. 26:2-3, Msg).
I read the following words a while back and they are life-changing: "If God isn't bigger than our mistakes, then ultimately we're not trusting him; we're trusting our own performance. What kind of trust is that?" (Wayne Jacobsen & Clay Jacobsen, Authentic Relationships [Grand Rapids, MI: Baker Books, 2008], 98). Those are words well worth rereading and thinking about because they convey a truth that is essential and we learn them by resting in Christ, not performing for him. If there is anything holding you back from resting in him stop trying to work it out now and hand it over to him.
If there is any part of "Come to me . . . and I will give you rest" that you don't understand, you can be sure that stubborn pride is the problem and the conflicts that you are feeling are genuine because "God opposes the proud but gives grace to the humble" (1 Pet 5:5) The way to humility is to hand over all your cares, small and large, to the gentle and meek Christ because he cares about you (1 Pet 5:6-7). Beyond any sentiment, fear and shadow of doubt, this rest is the reality of grace.
"O taste and see that the Lord is good. Happy are those who take refuge in him" (Ps. 34:8).
Under the mercy of Christ,
Kent
—————————————————————————–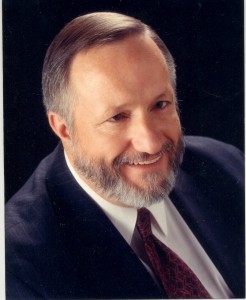 Kent Hansen is a Christian attorney, author and speaker. He practices corporate law and is the managing attorney of the firm of Clayson, Mann, Yaeger & Hansen in Corona, California. Kent also serves as the general counsel of Loma Linda University and Medical Center in Loma Linda, California.
Finding God's grace revealed in the ordinary experiences of life, spiritual renewal in Christ and prayer are Kent's passions. He has written two books, Grace at 30,000 Feet and Other Unexpected Places published by Review & Herald in 2002 and Cleansing Fire, Healing Streams: Experiencing God's Love Through Prayer, published by Pacific Press in spring 2007. Many of his stories and essays about God's encompassing love have been published in magazines and journals.
Kent is often found on the hiking trails of the southern California mountains, following major league baseball, playing the piano or writing his weekly email devotional, "A Word of Grace for Your Monday" that is read by men and women from Alaska to Zimbabwe.
Kent and his beloved Patricia are enjoying their 31st year of marriage. They are the proud parents of Andrew, a college student.