Dear Friends,
My son drives me through the Illinois countryside. Yellow corn stubble speckles black earth fields. Beeches and maples are golden under a true blue and white sky. Geese and ducks dot the gray-green marshes. The hay is rolled and bagged in pastures emerald green even in November, just past harvest.
Our west-coast acclimated bodies shivered with the insult of the cold prairie wind when we walked to the car. All around us are signs that we are far from home.
We speak of Christ and the church as we drive–of the music, books and stories where we have learned about him together over the past twenty-eight years. Our conversation is textured with the different perspectives of age and
and experience on common themes.
A conference of Christian writers and artists brings us here. A cheerful crowd comprised mostly of young men and women who have discovered Jesus is crazy in love with them and who love him back. We all are seeking better ways to share the narrative of our love and gratitude.
Talking with Andrew about these things is deeply satisfying to me. Patricia and I were convicted that Andrew's spiritual education was our responsibility. We wanted him to know God loved him as the foundation of his life.
The parents of most of our friends and acquaintances left it up to the hothouse of church and school to grow faith under artificial conditions. Without roots planted deep in the soil of daily living the faith of too many of them dried up and blew away when they were transplanted from those places into jobs and adult relationships. Our own spiritual lives were stressed by drought and heat before we tapped into the well of Jesus for ourselves.
We planted the seeds of prayers, stories, songs and worship in Andrew and encouraged them with conversations and experiences to reveal a God who loved Andrew now as he will always love him. Living with kindness, integrity and purity comes from knowing God loves us and gives us grace. It's love that keeps us close to God, not teeth-gritting performance. Those are the things we wanted him to know and to grow into.
Patricia and I learned many things along the way like the parental prayer for "crop failure" when we sowed the seeds of anger and impatience. We learned that life is about growth, but you cannot count on change later on when the direction is already set. We learned our weaknesses, fears and vulnerabilities as we sought to be a man and woman, mother and father, capable of reliably receiving and giving love.
But as all parents must, we waited through the nights and distances of friends, high school, college, travel, illnesses, and discovery. There were heartaches and disappointments, and no doubt there are more to come. We cannot spare him or ourselves those difficulties. There are no guarantees and no certainties beyond God's enduring love revealed to us in Jesus, the Living Word. Acceptance of this truth is the beginning of trust.
My grandfather was a farmer who taught me a tender lesson when I was five years old. Vegetables like carrots and potatoes need to stay in the ground, out of sight, to grow. Digging them up to scrutinize them and then replanting them will stress and kill them. They will not grow on demand or command. Plant the seeds in good soil in sunlight at the right time, water them, weed them carefully and wait for the harvest. You do not know exactly how and when, but growth happens.
Jesus told a story that is the bane of would-be "manufacturers" of faith and virtue. He said–
The kingdom of God is as if someone would scatter seed on the ground, and would sleep and rise night and day, and the seed would sprout and grow, he does not know how. The earth produces of itself, first the stalk, then the head. But when the grain is ripe, at once he goes in with the sickle, because the harvest has come (Mark 4:26-29).
I know the parable is about God preparing souls for his kingdom, but isn't that the calling of every parent? The scary part of Jesus' story is that we do not have the knowledge or the power to make growth occur beyond planting the seed in the hope of the harvest and trusting God for the growth.
None of this was easy. Nothing has ever made me feel as helpless or more like a failure than being Andrew's Dad. If you put Patricia and me in front of a parenting conference, all we could say is "Stick close to God. Love your children, care for them as best you can, ask the Lord to do what you cannot do, and pray for mercy for when you blow it."
Because love means choice, there is an ever-present risk that a parent or child will make bad choices and misery or tragedy will be the result. Whatever it would mean if we had the power and control to prevent the risk, it wouldn't be love. Love means risk of rejection and betrayal. That's a lingering shadow in a broken, sinful world, but love means seeking out the light, not chasing the shadow. It is an endless quest, but it has its rewards along the way.
There was a day when I would have insisted on driving the rental car. Now it relaxes me to ride along while Andrew drives through this beautiful mid-west fall day. I trust him. I like to talk with him, to learn things from him. I love my son and I'm proud of the good man he has become.
Mostly, I am grateful to God for loving Andrew and making sure he knows it. I am thankful for the people who are learning God loves them through Andrew. I am glad that though we could be many other places today, we are  driving down the road together. It is enough.
"O taste and see that the Lord is good. Happy are those who take refuge in him" (Psalm 34:8).
Under the mercy of Christ,
Kent
————————–
Please note that the content and viewpoints of Mr. Hansen are his own and are not necessarily those of the C.S. Lewis Foundation. We have not edited his writing in any substantial way and have permission from him to post his content.
————————–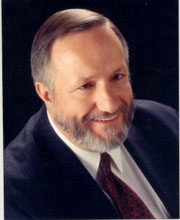 Kent Hansen is a Christian attorney, author and speaker. He practices corporate law and is the managing attorney of the firm of Clayson, Mann, Yaeger & Hansen in Corona, California. Kent also serves as the general counsel of Loma Linda University and Medical Center in Loma Linda, California.
Finding God's grace revealed in the ordinary experiences of life, spiritual renewal in Christ and prayer are Kent's passions. He has written two books, Grace at 30,000 Feet and Other Unexpected Places published by Review & Herald in 2002 and Cleansing Fire, Healing Streams: Experiencing God's Love Through Prayer, published by Pacific Press in spring 2007. Many of his stories and essays about God's encompassing love have been published in magazines and journals. Kent is often found on the hiking trails of the southern California mountains, following major league baseball, playing the piano or writing his weekly email devotional, "A Word of Grace for Your Monday" that is read by men and women from Alaska to Zimbabwe.