Dear Friends,
The room bore the common scent of Alcoholics Anonymous meetings everywhere– the metallic smell of acidic coffee and stale cigarette smoke. A construction worker stood up to tell his story. He'd stopped after work as always for a "few" beers at a local bar. Drunk and morose, he got home just in time for dinner. His little daughter, who had peanut butter and jelly all over her face as well as a deposit in her pants, rushed into his arms, yelling "Daddy." He staggered back, not surprising given his emotional and physical state. Wheeling around to his wife, the man muttered, "How the hell do you love something like this?"
She sighed and replied, "In the same way I love a husband who comes home stinking drunk and amorous. You work at it" (Story told by Brennan Manning in Reflections for Ragamuffins [New York: HarperSanFrancisco, 1998], entry for June 30).
Crude? A little, but it conveys the hardest challenge of love–to love the unlovely in fact as well as theory. That's what true mercy is–love experienced as a fact by someone to whom love was the last thing on their mind.
Jesus made loving the unlovely and the ungrateful the central demand of his gospel. He said,"If you love those who love you, what credit is that to you? For even sinners do the same. If you lend to those from whom you hope to receive, what credit is that to you? Even sinners lend to sinners, to receive as much again. But love your enemies, do good and lend, expecting nothing in return. Your reward will be great, and you will be children of the Most High; for he is kind to the ungrateful and the wicked. Be merciful, just as your Father is merciful" (Luke 6:32-26).
Jesus not only called us to this challenge, but he gave himself to it for us as observed by the Apostle Paul–"While we were still weak, at the right time Christ died for the ungodly. Indeed, rarely will anyone die for a righteous person–though perhaps for a good person someone might actually dare to die. But God proves his love for us in that while we still were sinners Christ died for us" (Rom 5:6-8). The willingness to die for love gave Jesus freedom of action.
Kris Kristofferson wrote: "Freedom's just another word for nothin' left to lose." Jesus, having made the commitment to give his life to save us, was free to touch and heal a disfigured, contagious leper, reach out and heal broken, blind, deaf, crippled, bleeding victims of life in this world, wash the stinky feet of his disciples, raise a decomposing friend from the grave, and keep company with moral lepers giving them a new life and worth in his love and forgiveness.
If Jesus had only sought out the nice, staid members of the synagogue in Capernaum and the pious scholars in the Jerusalem temple, what hope would he possibly offer you and me? The transformational power of love is activated when it is poured out on the unlikely and the unlovely.
Jesus told a story about a victim of robbers and exploiters who only saw his value for what they could take from him. Wounded and bleeding from the mugging, he lay alongside the road, a mess, a public spectacle to be spurned and shunned. Purveyors of religion and religious mores failed to help the man in his distress because of self-righteousness, fear and inconvenience.
Then a Samaritan, himself a marginalized victim of religious bigotry and racial discrimination, cleaned and dressed the wounds of the torn and battered victim and paid for his continuing care. Jesus' points were these: anyone within our reach who needs mercy is our neighbor, and we need to help our neighbors (Luke 10:29-37).
Jesus' brother, James, later wrote the prestigious and the wealthy were not exempted from giving mercy. James warned, "For judgment will be without mercy to anyone who has shown no mercy; mercy triumphs over judgment" (Js 2:8-13).
Here is the juncture where pride and its first cousin, self-righteousness, threaten to take over lest we give in to the impulses of mercy. Judgment keeps us in control and lets us set the standard. Mercy helps the helpless. If they aren't helpless, we can't have our way with them and won't that show weakness?
We only ask the question about weakness, because we don't really trust God enough to handle things to let them go while we step into the flow of grace and let it take us where it will. We are, in fact, too weak to let go. We think if we don't take a stand in judgment the unrighteous will be unleashed to do their worst. We are really saying that God is not in control and God's justice is not enough. We are only doing what God would do if God knew what he was doing. How easily the judgmental pious take on the arguments of Satan.
How one thinks about extending mercy often depends on whether they have received mercy or think they need it themselves. The self-improvement brands of religion or psychology many of us practice will not admit to a need for mercy. We are directed instead to seek self-esteem. Thinking positive thoughts and performing better in our working and personal lives are held out to us as the two lane road to happiness. Mercy is for losers who can't help themselves.
Only those who recognize "self-sufficiency" is an oxymoron and realize the bar will always be set higher than our best performance can "approach the throne of grace with boldness, to receive mercy and find grace to help in our time of need" (Heb 4:16). Note that we "receive" mercy because mercy is the aspect of love covering a past we can do nothing about and a present condition we can not resolve on our own. We "find" grace because after mercy restores us, dependence on God's power is how we are intended to live. But if we never admit to a "time of need," the throne of grace will never be more than an item in the religious catalogue for us.
A handshake with a modern "leper" got me to thinking about mercy years ago. It was just a handshake and nothing more . . . well . . . a handshake and an exchange of smiles. But one of the reasons we miss out on mercy is we expect it to be a big, dramatic deal. This can be true, but more likely we learn our mercy through the small, but repetitive frictions of daily living which cause bruising and blisters leaving us aching for some gesture of tender relief.
Early in my career as an attorney, I represented a client in a case where an ambitious young professional and administrator had abused his financial authority resulting in an audit of a major government grant. He arrogantly resisted the investigation and did everything he could to undermine me with the client's senior leadership.
I pressed on, and in a meeting with his colleagues and mentors, my questioning of him laid bare his illegal and unethical conduct. His fall from grace was one of the quickest and steepest I have ever witnessed.
During the investigation, we had discovered the administrator was living a double life as a bisexual. Even his wife wasn't aware, and I could hardly believe it myself before irrefutable evidence was provided. Although his employer did not approve of his conduct, we kept our investigation centered on the financial issues that led to his termination and forced my client to repay the government millions of dollars.
The AIDS epidemic had just come to public attention in those days. The devastating effects of the disease were apparent, but its causes were not fully understood beyond concerns that a high percentage of cases occurred in the gay and bisexual community. The common thinking in my conservative Christian circle was AIDS was a fulfillment of the Apostle Paul's warning in Romans 1:27–"Men committed shameless acts with men and received in their own persons the due penalty for their error." Compassion was a rare commodity. To swiftly condemn and exclude was the conventional wisdom for dealing with such conduct and the associated illness.
Word came that the disgraced young man was afflicted with full-blown AIDS and the Kaposi's sarcoma unleashed by the HIV virus. He had lost his position and professional standing for good cause, but now he was suffering personal stigma and looking at the loss of his life. His wife stood by him, but few others did.
They say "misery loves company," but from the ancient time Job's friends arrived on the scene of his sorrow and affliction, misery has attracted judgment about its cause. The young man was judged, shamed and shunned. There were multiple reasons to condemn him and with my religious background, legal training, and prosecutorial sensibilities, I easily became one of the judges. He came to believe himself that his illness was the just verdict of God on his sin. I heard via the grapevine that he began to make amends with people he'd hurt, but it was hard for me to believe.
Time passed and I moved on. One day, at an outdoor festival I attended with my wife and young son, I encountered the man. He saw me across the lawn, waved and started toward me. My mind raced through the next few seconds. "Do I even want to acknowledge this guy who caused my client and me so much trouble? If I shake his hand will I contract AIDS? Do I want my young son beside me to meet this man?"
I look back now and cringe at my thinking then. AIDS cannot be contracted by a handshake or hug and it is unreasonable to conclude that homosexuality or bisexuality makes one a pedophile, but ignorance and fear overruled compassion and good sense two decades ago. "Help," I silently prayed my favorite prayer as the man approached.
Christ intervened with my hardened heart. "I died for both of you. By my 'stripes you are healed,'" the Savior spoke calmly and clearly to me over the storm raging in my heart and mind. The approaching miscreant was smiling, but there were tears rolling down his cheeks when he arrived where I was standing. "It's good to see you, Steve (not his real name), I said holding out my hand and smiling in return. He grasped my hand and said, "It's so good to see you again, Kent"
It was a moment, but only a moment. I can't tell you our conversation was deep or remarkable beyond the fact it occurred at all. The man died within the year and we never spoke again. But a smile and a touch inspired by Christ removed a barrier of shaming fear in my heart and they have led me to an objective compassion I would have never thought about before the handshake. Christ won't let me go back to the way I used to think.
I believe marital infidelity, sexual promiscuity, and financial misdealing to be sins requiring accountability and repentance, but if we withhold contact with sinners we cannot be witnesses of Christ's love and instruments of his grace and mercy. We can never get anyone to read the truth by turning out the light on them. We will never be able to heal the broken and hurting if we tuck and close-up in avoidance and exclusion rather than reach out in care and compassion. We have nothing to say if we refuse to talk. And what happens with our own sins if we withhold mercy?
Judgment draws such neat lines. Mercy risks smudging the lines, but do I surrender to Christ and trust the Holy Spirit to lead me in matters of sin, righteousness and judgment as he promised (John 16:7-11). Or do I say, "You have crossed the line; we are done here and I am done with you," and draw back to the sterile safety of self-righteousness.
Why is it we are so quick to fear or invoke God's wrath, but so slow to trust God's love? Earlier, I quoted Paul's statement, "God proves his love for us in that while we still were sinners Christ died for us" (Rom 5:8). That "we" puts us all in the same boat needing mercy. Obediently, with fear and trembling reminding me to stay close to Jesus, I am learning to choose mercy over judgment for myself and for others.
"O taste and see that the Lord is good. Happy are those who take
refuge in him" (Ps 34:8).
Under the mercy of Christ,
Kent
————————–
Please note that the content and viewpoints of Mr. Hansen are his own and are not necessarily those of the C.S. Lewis Foundation. We have not edited his writing in any substantial way and have permission from him to post his content.
————————–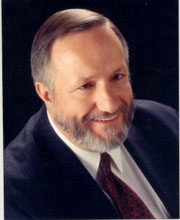 Kent Hansen is a Christian attorney, author and speaker. He practices corporate law and is the managing attorney of the firm of Clayson, Mann, Yaeger & Hansen in Corona, California. Kent also serves as the general counsel of Loma Linda University and Medical Center in Loma Linda, California.
Finding God's grace revealed in the ordinary experiences of life, spiritual renewal in Christ and prayer are Kent's passions. He has written two books, Grace at 30,000 Feet and Other Unexpected Placespublished by Review & Herald in 2002 and Cleansing Fire, Healing Streams: Experiencing God's Love Through Prayer, published by Pacific Press in spring 2007. Many of his stories and essays about God's encompassing love have been published in magazines and journals. Kent is often found on the hiking trails of the southern California mountains, following major league baseball, playing the piano or writing his weekly email devotional, "A Word of Grace for Your Monday" that is read by men and women from Alaska to Zimbabwe.
If you do not wish to receive any more of these messages, please send an email to khansen@claysonlaw.com with the word, "unsubscribe." This only works if you received the message from me directly. If someone else forwards the message to you and you want them to stop, please email them back and tell them to stop sending it. Thanks.