Dear Friends,
Last week's message was about Jesus' healing of the woman with the chronic hemorrhage in Luke 8:42-48. It is a dramatic story about faith and truth-telling. It is also a story within the story of Jesus' healing of the young daughter of the synagogue leader Jairus told in Luke 8:40-56. This week's message tells that story.
This is a story about a parent and the fear of losing a child and being powerless to stop it. It is the awful way of this world that such things happen for many reasons from the ravages of disease, addictions, violence, hopelessness, and the pursuit of folly. Jairus had everything going for him, but in the end he couldn't stop his daughter from dying. Only Jesus could do that.
This is a story about healing. The grace of our Lord Jesus Christ has power to mend broken hearts, fill tired bodies with fresh breath and weary souls with hope, and restore children to their parents. and to inspire the kind of faith that makes us want to make one more stretching grasp for life rather than give in to death. There is all of this in this Gospel story. May it bless you with a strong attraction to Jesus
——————————————————–
My name's Jairus. I've done the right thing all my life. I believed God blessed me for it–family, home, wealth, leadership in the church. I believed I was a special favorite of God's, that is, until my daughter became ill.
The light of my life is dying. People offer sympathy, smile, say prayers, but I can tell in their questions and their eyes that they wonder what I have done to deserve this. That's what I want to know.
A man gives himself to the cause of God, prays, keeps the law, and sets an example of integrity and service. But what does any of that mean if you can't save your child?
Yes, I am a good man. Yes, our home is virtuous. Yes, we bring up our children in the faith. Yet, obviously something is wrong; something is missing. What do I do when doing the right thing isn't enough?
I've been the answer for so long that I've forgotten the question. Need is an alien emotion to me–wild, threatening, and humiliating.
But my child is fading fast, before my eyes, and I am brought to my knees at the feet of Jesus, desperate and begging.
So here I am — the establishment man seeking out the street preacher. The elders will be talking about this in the synagogue.
Is it love or fear that drives me out the door and across town to find Jesus? What does it matter? It's all a blur really.
"Help me, Jesus. My daughter is dying. She is only 12 years old. Come home with me and save her."
He looks at me with tenderness. "Let's go", he says, and we start home.
It's not like I thought it would be with Jesus. There's no comforting exchange of words or sharing of deep and confidential spiritual insights. And we are not alone.
There is a crowd with us–scruffy people, noisy in their contentions and wants. They would not be welcome in my synagogue, but they pay me no mind at all. They push and press in on Jesus and I push back to keep in stride with him.
Our going is slow. Time is my enemy, but Jesus doesn't appear concerned in the least as we proceed down the congested street.
I glance at him, serene, unhurried, and my anxious spirit seethes within me. He said he would go with me, but if he doesn't speed up, it won't matter.
What is my choice? I've exhausted every possibility of saving my daughter. I, a rational, dignified man of position and means, am reduced to begging this itinerant mystic for a miracle.
Then Jesus just stops and the rabble behind almost knock me over, stepping on my heels. I snap my head around and glare, but there is no apparent reason for stopping.
"Who touched me?" he asks as if someone would know.
His close companion, Simon Peter, speaks the obvious. "Master, the crowds are all around you and press in on you."
Jesus is neither embarrassed nor deterred by Peter's observation. He says calmly, "Someone touched me. Power passed from me to someone."
The crowd's banter subsides as word of the stop passes back down the street. The disciples look around. I think of my sick girl at home and heave a sigh. Despair and anger surge into my heart. This is a fool's errand and I don't know whether Jesus or I is the bigger fool.
Jesus waits. A wan, withered woman edges out of the crowd. Her chin is down as if embedded in her neck.
She falls to her knees, trembling and visibly anguished, and then lies face down in the dusty street, arms outstretched toward where Jesus stands. We all bump together to get our feet out of the way.
He leans down toward her as she turns her head to the side and speaks to him. She has a soft voice and speaks haltingly.
I hear words of shame…"menstrual bleeding…unclean…12 years…everything gone to pay physicians…hope gone…just touched the tassel on your robe…."
I hear words of amazement…"healed…immediately…just now."
Jesus does something that I have never seen a teacher do. He reaches down to the unclean woman and pulls her up by the hand like she was a child that had fallen during play. "Daughter," he speaks tenderly. "Your faith has made you well; go in peace." She straightens up like a watered flower at his blessing.
Anger flushes away my brief amazement. What about my daughter? I told you that I've done all the right things. This ragamuffin outcast of a woman rises well and whole out of the dust, while my precious child suffers. Where is the justice in that? Can this healer be of God if he wastes his power?
One of my aides shoves his way out of the crowd to me. I can see the look on his face and I am overwhelmed with grief even before he speaks. "Your daughter is dead: You do not need to trouble the teacher with this anymore."
Jesus' words cut-off the messenger. He is addressing me directly. "Do not be afraid. If you only believe, she will be saved." Dread and hope swirl in me like a storm front. Is he mocking me?
He moves on and somehow I find the strength to follow. I don't know that it can be called "faith" if it is the only direction you can go anyway. I am barely conscious of the murmur of the crowd talking over the healing. My thoughts are at home in a darkened room where my little girl is dead. Why should I believe in this teacher?
There is another crowd waiting as we approach the house. I hear the wailing of my wife and family inside. Neighbors gossip and friends bring in food. Someone has brought in musicians to play the ritual dirges of mourning. Jesus stops again and restrains me with his hand on my arm. He turns and motions to the disciples, Peter, John and James, to follow. He tells the rest of his entourage to wait.
We step out of the sun and into the house. It's my home, but Jesus leads as if it is his. He motions to my wife to join us. I am too distraught to react.
It is chaotic inside. My wife shudders and sobs. The music and keening wails are shrill and discordant. I'm always shocked at who gathers on an occasion like this and how fast they come. There are people here that I hardly know and they are crying the most. How dare they?!?
Jesus' voice has surprising power as he speaks over the tumult. "Do not weep; for she is not dead. She's sleeping."
There is a moment of stillness like there was after he asked "Who touched me?" out in the street. But this time the response is tittering, sarcastic laughter. The mourners don't know this strange man. His words are absurd. She is dead. Feelings don't lie. Would they be carrying on like this if she wasn't dead?
One thing I know above what I am feeling. All the tears and anguish in the world are not going to bring her back. The one chance to bring back my daughter is this Jesus who I only trust because I have run out of other options and I am a father who wants to believe for his daughter.
"Leave," he says to the crowd with a tone like a hand sweeping dishes off a counter. "Get out."
I don't really know why, but they do leave. They are sullen, surprised and obviously furious, but they file out the door. Then he walks into my daughter's room and stands at the head of her bed. My wife, Peter, John and James come in and stand around the bed. We are alone.
My little girl is pale and still. Her hand is cold to my touch. I move to cover her in my sorrow, but again he restrains the wife and me.
Jesus takes my daughter's hand out of mine with a firm grasp. "Little girl, get up" he says. Her chest moves. I see it move as she inhales and exhales and . . . oh my, she does it again! Then her lips part, her eyes open and she wakes up. She hops out of bed and says, "Hi Daddy, Hi Mommy."
I cannot speak. I can only hug and hold. Jesus and the other men wait. After a while I look up in gratitude. There are no words.
"Give her something to eat," he says gently.
"Thank you," I finally blurt out. "I can never repay…." He puts his hand to his lips in a gesture of silence.
"Don't tell anyone what happened in here," Jesus says. His eyes fix me with a focused, intense stare. "Tell no one, at all." Then he turns and leaves and his men follow.
The vigil turns into a party. Everyone eats and talks into the night. My daughter is fine, as if she were never sick. She is beautiful and happy.
There are questions. Word leaks out about what happened. The wife and I are only human and we have too many questions of our own as we begin to think again.
This much I know. Like, I told you at the beginning, I've done the right thing all my life. I believed God blessed me for it–family, home, wealth, leadership in the church. I believed I was a special favorite of God's, that is, until my daughter became ill.
None of that meant anything in those dark moments when my child was dying. I could buy anything there was to buy to help. I could will her to be well with the considerable power and influence that I could muster. I could lead the church in praise and worship. I could keep our home pristine in word and conduct. I did do all those things. But I was losing her anyway.
What made the difference was bringing Jesus home and letting him do what he wanted to do in our house, with my child. Who would have thought this? Certainly not me until it was almost too late.
That's really all I have to tell you… it's Jesus. The rest is only packaging and never mistake the label for the actual product.
Go on then, see for yourself. You don't have to just take my word for it, but you can trust Jesus…with your child, with your home, with your heart.
"O taste and see that the Lord is good. Happy are those who take refuge in him" (Ps. 34:8).
Under the mercy of Christ,
Kent
Please note that the content and viewpoints of Mr. Hansen are his own and are not necessarily those of the C.S. Lewis Foundation. We have not edited his writing in any substantial way and have permission from him to post his content.
————————–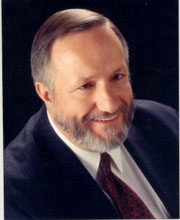 Kent Hansen is a Christian attorney, author and speaker. He practices corporate law and is the managing attorney of the firm of Clayson, Mann, Yaeger & Hansen in Corona, California. Kent also serves as the general counsel of Loma Linda University and Medical Center in Loma Linda, California.
Finding God's grace revealed in the ordinary experiences of life, spiritual renewal in Christ and prayer are Kent's passions. He has written two books, Grace at 30,000 Feet and Other Unexpected Places published by Review & Herald in 2002 and Cleansing Fire, Healing Streams: Experiencing God's Love Through Prayer, published by Pacific Press in spring 2007. Many of his stories and essays about God's encompassing love have been published in magazines and journals. Kent is often found on the hiking trails of the southern California mountains, following major league baseball, playing the piano or writing his weekly email devotional, "A Word of Grace for Your Monday" that is read by men and women from Alaska to Zimbabwe.