Dear Friends,
Praying with my parents and siblings is one of my earliest memories. Prayer and music were the foundation of my family?s spiritual life.
Dad and Mom prayed and read the Bible because they wanted to know what God thought about our everyday, walking-around lives. They believed with confidence that God created us, saved us, and sustained us as his beloved children. They sought to know what God wanted them to because that?s what people do for someone who loves them and who they love.
I saw the proof of their faith in daily prayers, well-worn, and underlined King James Bibles, loving kindness to their children and ethical treatment of other people. Forgiveness was hard but it was essential. God gives us a clean slate, and expects us to do the same for those we hurt or hurt us.
They made a deep impression on my mind and soul because these are the foundations of my own faith to the present day. Not that it is borrowed from them. Parents can point us to God, but faith is something we have to choose for ourselves.
I pray more as I get older. In my youth, youth pastors and church school teachers said I needed to develop spiritual strength and wisdom so I could resist the weaknesses of my flesh and the wiles of Satan.
?God only helps those who help themselves; if you do your part, God will do his part? was the gist of the teaching. But that presumes we can help ourselves and do something on own before God takes over.
Jesus never said anything like that. In his encounter with the rich young ruler, he made it clear that virtuous living and material self-sufficiency did not guarantee salvation. He said, ?What?s impossible for humans is possible with God? (Luke 18:18-30).
I am a white collar professional working with physicians, dentists and academics in a large Christian healthcare university. In many cases our parents sacrificed to see that we received a Christian education. We were constantly urged by pastors, teachers, and family to devote our talents to the service of the Lord.
But there is strong temptation for Christian professionals to say that the label of ?Christian service? gives us license to do what we want in the way that we want because we are engaged in a good cause. To draw this to a fine point, good things done with good intentions in our own strength bring us no closer to eternity than bad things done with bad intentions in our own lusts. As the Apostle Paul noted, ?Whatever does not proceed from faith is sin? (Rom 14:23).
Jesus told his disciples, ?Apart from me you can do nothing? (John 15:5). The Apostle Paul gave another perspective on the same point when he said, ?We are not competent of ourselves to claim anything as coming from us; our competence is from God? (2 Cor 3:5). And David succinctly said, ?The Lord is the strength of my life? (Ps 27:1).
The Holy Spirit breathing life into the words of the Bible and the teaching of my parents led me to my bedrock belief that God loves me unconditionally and irrevocably. I desire to reciprocate his love and the evidence of my love is utter dependence on him expressed in obedience to his Holy Word and the urging of the Holy Spirit.
Those are high-sounding thoughts, but they have become the path of life for me. Possessed of strong will, an ability to express myself with command and clarity, and fight rather than flight instincts, I have a personality often associated with my legal vocation, but that does not justify indulging it.
When I follow my talents and my instincts without heeding what God wants me to do, I do things badly even if effectively from a purely carnal human perspective. There are tactics that I have used and stands I?ve taken that were praised by Christian leaders, but the Lord has rebuked me by reflection on his word and by the pangs of conscience for engaging in those things.
I have pled in prayer, ?Lord, you have given me these strengths, these abilities and thoughts, and the opportunity to use them. Why are you restraining me this way??
The answer has become plain to me over time and it is always the same answer at its root. I did right in my own eyes rather than seek the Lord?s will through prayer, reflection on the Word, and the godly counsel of others. When I act in my own strength I am paradoxically weak. When I seek God?s leading and God?s strength to obey, I am strong.
After taking enough spiritual and emotional bruises, by acting on my own, I have become attuned to staying close to the Lord at all times. What does that mean? My mind and heart are trained to ask ?Where are you, Lord, in this meeting, this document, or this communication? How can I serve your righteousness in this situation with grace??
But my schedule is hectic and things change frequently. I feel the irritation rise in me and I am tempted to give it voice. This temptation is strong because the culture of Christian organizations is passive-aggressive with deference to doing nothing in the interest of ?niceness? and to refer tough problems to the faceless, soulless deliberations of committee for the appearance of doing something.
For such moments I have learned to pray and rely upon a favorite prayer of David?s, Psalm 70:1:  ?Make haste, O God, to deliver me! O Lord, make haste to help me!? David prayed this prayer with some frequency. You can find versions of it in Psalm 38:22; Psalm 40:13; Psalm 70:5; and by another psalmist in Psalm 71:12.
Putting myself in God?s hands, I proceed with a listening heart, trusting that he will stop me before I take an action or path contrary to his will. One thing is certain to me — I need God?s help in everything. To be open and attentive to the possibilities of God in every situation and every person I meet is how I understand the instruction to ?Rejoice always, pray without ceasing, give thanks in all circumstances; for this is the will of God in Christ Jesus for you? (1 Thess 5:16-18).
Johann Sebastian Bach would routinely annotate his manuscripts with ?J.J.? for the Latin Jesu juva, which means Jesus help.? He put it on secular cantatas, oratorios, harpsichord concertos and other compositions, his whole life. It was his routine because Bach knew his creative impulses, his genius for counterpoint and theme, all were gifts of a gracious God and Bach was his instrument.
The credit given to Jesus by this classical master blesses and encourages me. His grace is sufficient for us in every circumstance; his strength is made perfect in our weakness (2 Cor 12:9-10).  That?s why I pray more and more as time goes on.
?O taste and see that the Lord is good. Happy are those who take refuge in him? (Ps 34:8).
Under the mercy of Christ,
Kent
Please note that the content and viewpoints of Mr. Hansen are his own and are not necessarily those of the C.S. Lewis Foundation. We have not edited his writing in any substantial way and have permission from him to post his content.
————————–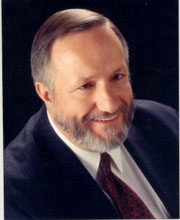 Kent Hansen is a Christian attorney, author and speaker. He practices corporate law and is the managing attorney of the firm of Clayson, Mann, Yaeger & Hansen in Corona, California. Kent also serves as the general counsel of Loma Linda University and Medical Center in Loma Linda, California.
Finding God's grace revealed in the ordinary experiences of life, spiritual renewal in Christ and prayer are Kent's passions. He has written two books, Grace at 30,000 Feet and Other Unexpected Places published by Review & Herald in 2002 and Cleansing Fire, Healing Streams: Experiencing God's Love Through Prayer, published by Pacific Press in spring 2007. Many of his stories and essays about God's encompassing love have been published in magazines and journals. Kent is often found on the hiking trails of the southern California mountains, following major league baseball, playing the piano or writing his weekly email devotional, "A Word of Grace for Your Monday" that is read by men and women from Alaska to Zimbabwe.