Dear Friends,
Thanks for the outpouring of responses to messages of the last two weeks regarding our calling to prayer over partisan politics and prayer of gratitude for reassurance in the spring knowing the winter storms will return again. Both seem to strike a chord with a lot of you. I hope this message does as well


. . .
The Los Angeles Times reported a lawsuit alleging serious misconduct by one of my corporate clients acting through one of its leaders. I interviewed the leader to prepare the defense of the lawsuit.
The man in front was good-looking and well-groomed. He was a health care professional married to another professional. They were a successful, but intensely private couple.
I pushed and probed him with my difficult interrogation. The distinguished, scholarly witness was obviously distressed by the negative publicity and hurt by the charges.
At the end of the interview, there was a pressure in my heart to pray for the man. I had no idea if he was a person of faith or not. I knew the pressure from the Holy Spirit and it would only increase if I resisted it. So yielded to the Spirit?s prompting, risking a possible rejection.
"I have one last question,? I said. ?I know this must be very painful to you and your family. I believe that God can help in this situation. Do you mind if I pray?"
"Not at all, go ahead," the man said.
So I prayed for his protection and peace and for his family. I asked for God to be glorified out of the mess confronting us. After I said "Amen," the man said "thank you" in a soft voice.
The plaintiff, emboldened by the publicity, continued to pursue the claims with a vengeance. Several weeks later, I returned home from leading a Friday evening group Bible study, weary and troubled by the case.
As I was putting books away, I came across Psalm 94:16-23 that was directly on point and restored my soul.
Who rises up for me against the wicked?
Who stands up for me against evildoers?
If the Lord had not been my help,
my soul would soon have lived in the land of silence?
When I thought, "My foot is slipping,"
Your steadfast love, O Lord, held me up.
When the cares of my heart are many,
your consolations cheer my soul.
Can wicked rulers be allied with You,
Those who contrive mischief by statute?
They band together against the life of the righteous,
and condemn the innocent to death.
But the Lord has become my stronghold,
and my God the rock of my refuge.
He will repay them for their iniquity
and wipe them out for their wickedness;

the Lord our God will wipe them out.


The next Monday, I met with the Executive Committee of the client to discuss the case. The leader was present. One of the senior executives said, "This case ought to drive all of us to our knees in prayer."
I said, "I agree. Just this past Friday night when I was in despair about this, I found a text. Reaching into my blazer pocket, I pulled out the pocket New Testament with Psalms and Proverbs that I always carry. I emphasized the part about ?those who make mischief by statute,? saying that the Lord was aware of our problems and I believed he would lead us safely through them.
A week later, the embattled leader called me with a surprising question, "Where did you get your Bible?"
"What Bible?"
"The one that you pulled out of your pocket and read from last week at Executive Committee. I described it to my wife and she tried to find it in Christian bookstores, but the one she bought me wasn't like yours."
"A Bible is a Bible," I thought to myself. But I said "I tell you what, I'll find you one."
"I'd really appreciate it," he said. "I'll pay you for it."
"That's not necessary. It will be my gift.
I found the exact version and style at the Fuller Seminary bookstore in Pasadena. I gave it to the man.
A month later, he called me at home in the evening. He told me that he and his wife had accepted Christ as their Savior and wanted to be baptized.  "Can you help us?"
"That's great," I said. Do you have a church and a pastor?"
He told me that they had studied the Bible some years before with a pastor in a nearby town, but they stopped when the pastor moved away.
"I know that pastor," I said. "Is it all right if I call him and get him together with you."
"Sure. We'd like that."
So I made the arrangements and the Bible studies continued. Several months later, during a worship service, Patricia and I stood along with other friends and colleagues of the couple as they were baptized into the Body of Christ.
It took several years to defend the lawsuit which was finally dismissed before the trial.
Last week, I encountered that leader again. Twenty years later, he is a renowned clinician, and a smiling and happy servant of the Lord. I am thrilled by his continuing freedom in Christ.
The exercise or manipulation of authority or power in a burdensome, cruel or unjust manner is the way of this world in government, the legal system, in business, and in our personal relationships. A former co-worker recognized this truth and included this statement in her email template: ?Be kinder than necessary, for everyone you meet is fighting some kind of battle . . . .?
There are always ?those who seek to make mischief by statute . . . who band together against the life of the righteous?(Ps 94:20-21). Our lives can be made miserable by those whose laws, rules, policies, enforcement practices and stratagems seek to compel us to their personal agendas rather than free us to God?s purposes.
Many times, I am frustrated to find that there is little I can do to help in my human strength. My advocacy skills and experience, even having the law on my side with the right reasoning and words, can mean little against those who have contempt for the law, my clients and me. Without God?s grace, the only tool to which the powerful of this world can ultimately resort is force and the end of force is violence and the evil ethic of ?might makes right.?
The kingdom of God is advanced, ?Not by might, nor by power, but by my Spirit,? says the Lord (Zech 4:6). Prayer has no power in and of itself. We do not garner the grace and mercy of heaven by the exact version and edition of the Bible from which we quote.
Our words succeed only when they acknowledge the sovereignty of the Lord God and invite him to act against the unyielding forces of evil that oppress us.
What the young leader learned from me was the truth David said in the Psalm: ?When I thought my foot is slipping,? your steadfast love, O Lord, held me up . . . The Lord has become my stronghold and my God the rock of my refuge? (Ps 94:18, 22). Read those words over to yourself out loud. ?My stronghold? and my God? means God?s help and protection are personal to you.
You have a God much bigger than anything you are facing. He is your God and  his love and answers are personal to you.
Even if you don?t have someone like me sitting across the table to pull a dog-eared Bible out of a blazer pocket and read the right verse for the moment, do not despair. It isn?t me anyway. It?s the Lord all the way, all the time. He?s the one to ask for help.
?O taste and see that the Lord is good. Happy are those who take refuge in him? (Ps 34:8).
Under the mercy of Christ,
Kent
Please note that the content and viewpoints of Mr. Hansen are his own and are not necessarily those of the C.S. Lewis Foundation. We have not edited his writing in any substantial way and have permission from him to post his content.
————————–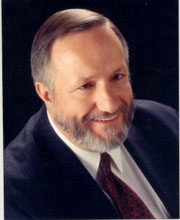 Kent Hansen is a Christian attorney, author and speaker. He practices corporate law and is the managing attorney of the firm of Clayson, Mann, Yaeger & Hansen in Corona, California. Kent also serves as the general counsel of Loma Linda University and Medical Center in Loma Linda, California.
Finding God's grace revealed in the ordinary experiences of life, spiritual renewal in Christ and prayer are Kent's passions. He has written two books, Grace at 30,000 Feet and Other Unexpected Places published by Review & Herald in 2002 and Cleansing Fire, Healing Streams: Experiencing God's Love Through Prayer, published by Pacific Press in spring 2007. Many of his stories and essays about God's encompassing love have been published in magazines and journals. Kent is often found on the hiking trails of the southern California mountains, following major league baseball, playing the piano or writing his weekly email devotional, "A Word of Grace for Your Monday" that is read by men and women from Alaska to Zimbabwe.