Dear Friends,
Too many days, when I seek to quiet my heart before God and offer up praise and thanks, the issues, conflicts, disputes, fears, urgent requests and critiques that are the natural lot of a lawyer boil up angry and inflamed in the midst of my prayers. They carry my thoughts to a maelstrom of "to do" items, counter-arguments, vengeance, and regrets.
Paul says, "Pray about everything" (Phil 4:6), and I wonder, "How can I pray with this much clutter and angst in my soul? How can I worship in the midst of such turmoil?"
Surely David must have known such dilemmas when the rebellion of his son Absalom forced him to flee Jerusalem. His thoughts and prayers would be haunted by past sins, family dysfunction, the loss of his people's confidence, the embarrassing need to flee his own capital, betrayal by trusted advisers, and insults from old opponents.
I take counsel and heart from a prayer that David prayed in those stressful times. It is Psalm 3 and it begins with David's terse report to the Lord about what was confronting him (vs 1-2).
.
O Lord, how many are my foes!
Many are rising against me:
Many are saying to me,
"There is no help for you in God."
You may think, "I don't know where this is going, but I get along with people. My life is peaceful. I don't fight a battle every day."
That may indeed be true. I am a lawyer and always work in combat to some extent so our experiences may differ. But if you think this way, I have to ask you, "How long have you been a hermit untouched by human relationships?"
It is the human condition and way of living that we blessedly acquire friends, but we inevitably incur the enmity of those to whom our existence is an obstacle, irritant or insult worthy of criticism and attack.
The existentialist philosopher Sartre observed that "Hell is other people." I don't agree with Sartre on much, but you and I would have to concede that our greatest disappointments rise out of our relationships.
David was confronted with the attacks of real enemies and failed relationships that had him reeling back in shock and dismay. He had plenty to think about as well. Aren't the thoughts, doubts, weaknesses and regrets that swirl through your prayers and quiet times, "rising foes" that distract your focus and undermine your peace of mind?
But David was a veteran combatant on the field of battle and in the hand-to-hand conflicts of prayer. He had learned that certain threats call for specific tactical responses. When his God was derided and his dependence upon his God was dismissed as inconsequential, it was a call praise God. That is exactly what David did next. He sang out praise to his faithful God (vs 3-4).
But you, O Lord, are a shield around me,
my glory, and the One who lifts up my head.
I cry aloud to the Lord,
and he answers me from his holy hill.
More than praise, this is a battle cry that provides the lyric for one of my all-time favorite praise and worship choruses. David's praise to the Lord in his moment of terrible hurt and betrayal opens up a key spiritual truth. Sometimes we need to stop our desperate and pitiful begging and stand and deliver full-lunged "Praise to the Lord, the Almighty, the King of creation."
There are times when our prayers just drive us deeper into despair and upset. We want to be comforted in our hurt and vindicated in our personal causes. We are anxious for quick-fix agreements rather than effective resolution of honest and lasting peace. At such times, we can aggravate the wounds and distress by picking at the scab in our prayers.
Though counter-intuitive, it is helpful in those moments of dark obsession to leave the prayers that seeks our benefit to stand and praise God for all of His glory and attributes. The armies of ancient Judah, though vastly outnumbered, went into battle and emerged victorious led by a choir singing the praises of Yaweh (2 Chron 20). Praise puts the Source of our strength and deliverance back into focus and invites the Lord into our circumstances to have his way with us and the enemies that threaten us. To be sure, prayer puts us in the thick of battle, but praise proclaims the victory by announcing our faith in the Victor.
Our wounds may be too deep and our burdens too heavy for us to pray. We may be disoriented in the darkness of pain and doubt, entangled in thoughts and feelings and laboring hard to break loose or paralyzed, not knowing what to do. Conventional Christian teaching is to pray harder at such times. We are counseled that the time for praise is when the burden is lifted and we are set free. But are we free in Christ or not? If we are, we should praise our Savior for what he has accomplished even before the burden is lifted and the clouds have cleared.
A story from the book of Acts is instructive of the power of praise to deliver us from oppression.Paul and Barnabas were unjustly arrested, beaten and imprisoned in chains in the maximum security cell of the Philippian jail (Acts 16:19-24). Philippi had a lot of springs and ground water. Its Roman jail, built below ground level, was certain to be a dark, dank gloomy place. They were in no place and no condition to want to sing praises.
Praise, however, derives its very character from suffering and hopelessness. Praise is a sacrifice of our darkest thoughts and strongest feelings that rise in reaction to our circumstances and disappointments. Praise is a confession of faith that our God is greater than our circumstances. The Letter to the Hebrews states the point: "Therefore Jesus also suffered outside the city gate in order to sanctify the people by his blood. Let us then go to him outside the camp and bear the abuse he endured… Through him, then, let us continually offer a sacrifice of praise to God, that is, the fruit of lips that confess his name" (Heb 13:12-15)
At midnight, Paul and Silas were praying and praising God in song when an earthquake shook the upper floor of the prison off its foundations. The door to their cell was opened and their chains were broken. Their fortunes turned and their jailer and his whole household were saved in Christ out of their triumphant praise in the darkest hour.
The great Chinese Christian teacher and victim of persecution, Watchman Nee, explained the operative principal of spiritual triumph through praise even when we cannot bring ourselves to pray.
.
Why is praise also triumph? Because when you pray, you are yet in the environment; but when you praise, you have risen above the environment. Whenever you are praying and pleading, you are involved in the thing that you ask for. The more you plead, the more you are bound by that thing, for it is before you all the time. But if you are brought by God beyond the prison, beyond the stocks, beyond the shame and suffering, then you are able to raise your voice and sing praise to the name of God.
*
What prayer may fail to accomplish, praise can. This is a basic principle to be remembered. If you cannot pray, why not praise? The Lord has not only given us prayer but also praise that through it we may claim the victory. "But thanks be to God , who always leads in triumph in Christ" (2 Cor. 2:14). Whenever your spirit is pressed beyond measure so that you can hardly breathe, let alone pray, why do you not try to praise God? Pray when you are able to pray; but praise when you cannot pray.
*
God's children ought to open their mouths and praise Him. Let it not be only in times of calm and peace but especially in times of turmoil and suffering. You should lift up your head in the most difficult situation and say, "Lord, I praise You." Tears may fall from your eyes, but praise flows from your heart. Though your heart is wounded, your mouth yet pours forth praise. In praising, you ascend and join yourself to the One whom you praise. It is foolish to murmur. The more you murmur, the deeper you are buried in your trouble. The more you fret, the greater the pressure you build up within until the environment and problems almost overcome you.
*
Some people (perhaps you are among them) are more advanced spiritually. In times of trouble, you pray instead of murmuring. Prayer to you means struggling, for you strive strenuously to get above the situation. You refuse to be buried by your environment or by your feelings, so you pray in order to rise above these things. Such prayer does sometime prevail. But if it fails to extricate you, then praise alone can set you free. When you offer the sacrifice of praise, that is, offer praise as a sacrifice, you will quickly transcend everything; nothing can bury you" (Watchman Nee, Assembling Together [New York: Christian Fellowship Publishers, 1973], p. 117-119).
The surpassing value of praise in bringing us out of our doldrums is underscored by the opening of Psalm 22 uttered by Jesus Christ just before he died on the cross.
My God, my God, why have you
        forsaken me?
   Why are you so far from helping me,
        from the words of my groaning?
O my God, I cry by day, but you do not answer;
    and by night, but find no rest.
Yet you are holy,
    enthroned on the praises of Israel.
In you our ancestors trusted;
   they trusted, and you delivered them.
To you they cried, and were saved;
   in you they trusted, and were not put to shame.
(vs 1-5)
It may be that the only place that God is to be found in the darkest of moments is "enthroned on the praises of Israel." Yet, do you and I trust God or in the answers we long to hear from God?
Praise climbs over terror with the aid of trust. "My God, my God why have you forsaken me?" Facing death, both David and Jesus knew they had a God and trusted him even though he was beyond their view and questions in that moment.
Another time, David asked,
        And now, O Lord, what do I hope for?
My hope is in you.
(Ps 39:7)
As Paul so pithily put it, "If for this life only we have hoped in Christ, we are of all people most to be pitied" ( 1 Cor 15:19). Our entire hope of eternity rests on our faith in a God who loves us. If God isn't enough for us, nothing ever will be. True praise arises from this conviction.
"O taste and see that the Lord is good. Happy are those who take refuge in him" (Ps 34:8).
Under the mercy of Christ,
Kent
————————–
Please note that the content and viewpoints of Mr. Hansen are his own and are not necessarily those of the C.S. Lewis Foundation. We have not edited his writing in any substantial way and have permission from him to post his content.
————————–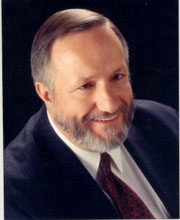 Kent Hansen is a Christian attorney, author and speaker. He practices corporate law and is the managing attorney of the firm of Clayson, Mann, Yaeger & Hansen in Corona, California. Kent also serves as the general counsel of Loma Linda University and Medical Center in Loma Linda, California.
Finding God's grace revealed in the ordinary experiences of life, spiritual renewal in Christ and prayer are Kent's passions. He has written two books, Grace at 30,000 Feet and Other Unexpected Placespublished by Review & Herald in 2002 and Cleansing Fire, Healing Streams: Experiencing God's Love Through Prayer, published by Pacific Press in spring 2007. Many of his stories and essays about God's encompassing love have been published in magazines and journals. Kent is often found on the hiking trails of the southern California mountains, following major league baseball, playing the piano or writing his weekly email devotional, "A Word of Grace for Your Monday" that is read by men and women from Alaska to Zimbabwe.
If you do not wish to receive any more of these messages, please send an email to khansen@claysonlaw.com with the word, "unsubscribe." This only works if you received the message from me directly. If someone else forwards the message to you and you want them to stop, please email them back and tell them to stop sending it. Thanks.