Dear Friends,
Now the servants and the police had made a charcoal fire because it was cold, and they were standing around it warming themselves. Peter also was standing with them and warming himself (John 18:18).
When they had gone ashore, they saw a charcoal fire there, with fish on it and bread. . . Jesus said to them, "Come and have breakfast" (John 22:9, 12).
If this message were to be illustrated, it should be sketched in charcoals.
Charcoal is a wonderful grace. Since ancient times, this product of charred wood has permitted hotter fires for cooking and metalworking, purified water of toxins and served as an antidote for poison. It is a medium for artists attracted by its capacity for nuanced shading. Charcoal is again coming into vogue as an alternative to coal as cleaner burning industrial fuel.
The charred black and ash gray color mix called "charcoal" is a perennially popular color for clothes and cars. My favorite suit ever was made of a soft charcoal wool.
The servants and the temple police kindled a charcoal fire outside the gate of the high priest's house on the cold and dark night of Jesus' trial. Peter edged in beside them to warm himself. He had followed Jesus and his arresting officers at an equivocal distance wanting to see how this whole thing was going to end.
John had family connections that allowed him into the courtyard to observe the trial. That left Peter standing by the fire with strangers, and hostile ones at that.
Peter's gaze flitted from the flames to the faces of the others gathered there. He was stressed and conflicted between his passionate commitment to stick by Jesus to the death and the fear that he might be recognized as a disciple to his considerable embarrassment and danger.
Feelings were running high that night. Peter pledged his fidelity to his Lord earlier in the evening when the bread was broken and the wine was poured in sweet fellowship. "Though every one else abandons you, I will not abandon you," he'd told Jesus.
Peter's heart was so full and his intentions so good in that moment. He'd so wanted Jesus to believe him, to be encouraged and strengthened by his devotion.
But Jesus was indifferent to his proffered support. "You won't make it until the rooster crows at dawn before you've denied me three times," he'd said with a calm certainty that prodded Peter to a stronger protestation.
"Even though I must die with you, I will not deny you," Peter exclaimed. The other disciples were moved to state their commitments also, but Jesus just looked at them and said nothing. They sang a hymn together. Then Jesus led them out of the warm light of the Passover dinner into the shadowy quiet of the garden to pray.
The little group walked along in silence. Jesus' mind seemed to be elsewhere and the disciples were sleepy after their meal and the wearying activities of Passover week. They seemed out of rhythm with Jesus when they reached the garden. He urged them to watch and pray while they struggled with confused exhaustion. That voice that carried peace across the lake and through the storms was now strangely anguished as he talked with the Father.
A band of temple police and Roman soldiers arrived to arrest Jesus. What happened next was a tense blur of smoky, flickering torchlight. There was Judas' bizarre kiss of betrayal . . . the flash of adrenaline that brought Peter to seize his sword and slash the ear of the high priest's servant . . . followed by Jesus' healing of the wounded man and admonishment to put the sword away.
There would be no fight, but if Jesus' was just giving up, the disciples had no idea of what to do next. Most of them panicked in fear and scattered into the darkness. Peter and John had begun to follow Jesus' together. They left everything behind for him . . . families, houses, boats, business . . . everything. Now they trailed behind him in the hour of his humiliation for no better reason than they didn't know what else to do.
John was recognized at the gate and given permission to enter. Peter stood awkwardly outside the gate, but John turned back and asked the woman standing watch at the gate to let him come in. She peered at Peter and asked, "You are not also one of this man's disciples, are you?"
Dread pushed the words out of him with emphasis. "I am not," Peter lied.
Peter pulled his cloak tighter against the cold, stretched out his big fisherman hands towards the glowing coals and tried to think. That came a lot harder to him than action, but he was squeezed in here where priests and politicians moved in and out of the house and soldiers stood guard up and down the street. He twisted his head slowly to ease his stiff neck. Shame swirled around in his gut. What was it about Jesus that could make him feel so weak and helpless?
Jesus showed no fear or no anger as he stood there answering questions from the powerful old Annas. Peter cringed when he heard a servant slap his Lord in the face. The men at the fire took note and asked him again, "You are also not one of his disciples, are you?"
Peter looked up quickly and then down again. "I am not," he lied.
But a servant standing there, a cousin to the man whose ear Peter had slashed, had been with the arrest party and remembered. "Did I not see you in the garden with him?"
"I don't know what you are talking about," Peter snapped, staring across the charcoal embers at Jesus. He heard a rooster crow somewhere over the wall. Jesus turned and gazed at Peter for a long moment before his captors slipped a blindfold over those knowing eyes and began to mock and beat him.
Peter couldn't run fast enough into the cold and the night, but the tears were hot and they wouldn't stop.
Any one who has ever stared into a fire while a heart was breaking, a relationship was ending, fear was eclipsing hope, or remorse and shame were corroding spirit experiences a twinge when they read about that terrible night (Luke 22:31-62; John 18:1-27)Know this– with Jesus, it is never over until he says it is over.
Some nights later, Peter and six of the disciples went fishing to try to assuage their grieving hearts. At dawn, they saw Jesus again standing on the beach and he called out to them across the water with directions for a big haul of fish. Peter was so excited he plunged into the sea and swam to shore while the rest followed with the boat.
Jesus was grilling fish and baking bread over a charcoal fire that he'd kindled there. "Come and have breakfast," he told them.
After breakfast, Jesus and Peter took a walk on the beach. They cleared things up between them. Jesus asked Peter, "Do you love me?" Peter told Jesus, "Lord, you know I love you."
Jesus repeated the question three times until Peter was stung and embarrassed that Jesus could doubt his love, according to John who was there. Jesus knew the guilt and shame of the three denials needed thorough cleansing.
Then Jesus gave Peter an opportunity to come back. "Feed my lambs and take care of my sheep. Your life will end in a place and way that you could never imagine. Follow me," he said (John 21).
David wrote a thanksgiving psalm about coming back from a near-death experience to rejoin the community of friends and family. It contains some of the most famous lines in Scripture.
Sing praises to the Lord, O you his faithful ones,
and give thanks to his holy name.
For his anger is but for a moment;
his favor is for a lifetime.
Weeping may linger for the night,
but joy comes with the morning.
(Ps 30:4-5)
Men and women have clung to those words ever since Solomon had them sung at the dedication of the temple. They are words to be sung in faith that our worst night won't last forever. They are words to be sung in joyful gratitude that we have made it through by God's grace to live in the freshness of a new morning.
Jesus used the charcoal from two fires to illustrate these words in Peter's heart. What is he using to draw them on your heart?
"O taste and see that the Lord is good. Happy are those who take refuge in him" (Ps 34:8).
Under the mercy of Christ,
Kent
————————–
Please note that the content and viewpoints of Mr. Hansen are his own and are not necessarily those of the C.S. Lewis Foundation. We have not edited his writing in any substantial way and have permission from him to post his content.
————————–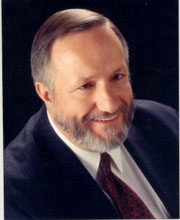 Kent Hansen is a Christian attorney, author and speaker. He practices corporate law and is the managing attorney of the firm of Clayson, Mann, Yaeger & Hansen in Corona, California. Kent also serves as the general counsel of Loma Linda University and Medical Center in Loma Linda, California.
Finding God's grace revealed in the ordinary experiences of life, spiritual renewal in Christ and prayer are Kent's passions. He has written two books, Grace at 30,000 Feet and Other Unexpected Placespublished by Review & Herald in 2002 and Cleansing Fire, Healing Streams: Experiencing God's Love Through Prayer, published by Pacific Press in spring 2007. Many of his stories and essays about God's encompassing love have been published in magazines and journals. Kent is often found on the hiking trails of the southern California mountains, following major league baseball, playing the piano or writing his weekly email devotional, "A Word of Grace for Your Monday" that is read by men and women from Alaska to Zimbabwe.
If you do not wish to receive any more of these messages, please send an email to khansen@claysonlaw.com with the word, "unsubscribe." This only works if you received the message from me directly. If someone else forwards the message to you and you want them to stop, please email them back and tell them to stop sending it. Thanks.