Dear Friends,
When an attendant of the man of God rose early in the morning and went out, an army with horses and chariots was all around the city. His servant said, "Alas, master! What shall we do?"
 He replied, "Do not be afraid, for there are more with us than there are with them."
So the Lord opened the eyes of the servant, and he saw; the mountain was full of horses and chariots of fire all around Elisha (2 Kings 6:8-23).
This passage takes us to a crucial crossroads of faith. Like Elisha's servant, we see the problems looming before us and take stock of our meager resources and options. We realize that we don't have enough and aren't enough to make it. Panic sets in and we try to force a solution on our own rather than waiting for the Lord.
Elisha could have patronized his servant, telling him, "Don't worry! Everything will be okay." Saying, "It will be okay" doesn't make it so. Only God can make it so and faith sees the things of God that cannot be seen to the human eye (Heb 11:1). Elisha prayed that his servant's eyes be opened by faith so he could see the resources and possibilities that God brings to the situation.
A young executive sits across from me. He describes a set of challenges that seem insurmountable.
I remind him that for more than 100 years, our organization has faced such challenges and the Lord has always provided solutions and resources when we have honored his mission and sought his help through prayer.
"We are stewards, not owners," I tell him. Stewards are about their master's business. They serve his purpose, follow his guidance and prudently use the resources he gives to them.
"Owners say, 'This is on us. We have to do whatever it takes, by whatever means, to survive and keep things going. To an owner the institution is everything. To a steward, the mission, the master's instructions, and the master's provision are everything.
"In our case, we serve the Lord as stewards. We love him, we depend upon him and we obey him. By his hand we are both led and fed. We must pray for eyes of faith to see what he has in store for us and follow his lead."
"Isn't that presumptuous?" the young man asks.
I expect this question.  I would likely have asked it myself at the same point in my career – "The Lord helps those who help themselves" is the essence of that thinking.  "Pray as if everything depends on God, work as if it all depends upon you," is another iteration of the same point.
I say, "It is presumptuous if you don't know God and haven't completely conceded everything to him. It is not presumptuous if you realize your life, work and this organization belongs to him. We have our mission, and the resources built on his grace which included the hard work and sacrifice of those who came before us.
"Our own skills and hard work devoted to the mission are his grace and mercy to the thousands who pray every day that they will learn something and receive healing from us. We pray that God will empower us to help them.
"Prayer isn't magical thinking and praying doesn't mean we do nothing. Prayer means we stand with God, go through the doors he opens, and stop at the doors he shuts. Prayer means we calibrate our lives and thinking everyday to his Word and will, live by his strength, and resist the temptation to try to force the answers we think we need.
"Can we live and lead like that? I am telling you we can."
The young executive shrugs. He has yet to face the solid rock wall of impossibility and be reduced to asking God for eyes to see our next steps — "Lord, please move this mountain, but if it is not, please give me handholds and footholds so I can climb over it step-by-step and hand-over hand."
Decades of praying like that has given me a solid rock to stand on. I pray that my friend's eyes are opened to God's resources and possibilities.
We are intimidated by our broken human capabilities and limited vision. There will always be someone stronger, smarter, tougher, better looking, and wealthier than we are. But God says, "My grace is sufficient for you for my power completes what is missing because of your weakness (2 Cor 12:9).
We were made in the image of God so we have access to his eyes and infinite field of view. Of course, this means we have to set aside our pride and ask God to help us (1 Pet 5:5-7).
If you are groping in the dark hopelessness of thinking you are too wrong, too late, and too inadequate against the forces adverse to you, you need to turn to God, pray for hope and access his power. A good place to start is the Apostle Paul's prayer for the Ephesians to have eyes opened up in their hearts to see the possibilities of hope­-
God of our Lord Jesus Christ, the Father of glory, please give me a spirit of wisdom and revelation as I come to know you more intimately so that the eyes of my heart are enlightened to see and know the hope to which you have called me, the riches of my glorious inheritance in you, and the immeasurable great power of you at work in me as I believe in you (Adapted from Paul's prayer in Eph 1:17-19).
What we see with our human eyes is not all there is. God always has more for those who believe in him, love him, depend on him and obey him.
"O taste and see that the Lord is good. Happy are those who take refuge in him" (Ps. 34:8).
Under the mercy of Christ,
Kent
Please note that the content and viewpoints of Mr. Hansen are his own and are not necessarily those of the C.S. Lewis Foundation. We have not edited his writing in any substantial way and have permission from him to post his content.
————————–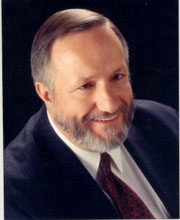 Kent Hansen is a Christian attorney, author and speaker. He practices corporate law and is the managing attorney of the firm of Clayson, Mann, Yaeger & Hansen in Corona, California. Kent also serves as the general counsel of Loma Linda University and Medical Center in Loma Linda, California.
Finding God's grace revealed in the ordinary experiences of life, spiritual renewal in Christ and prayer are Kent's passions. He has written two books, Grace at 30,000 Feet and Other Unexpected Places published by Review & Herald in 2002 and Cleansing Fire, Healing Streams: Experiencing God's Love Through Prayer, published by Pacific Press in spring 2007. Many of his stories and essays about God's encompassing love have been published in magazines and journals. Kent is often found on the hiking trails of the southern California mountains, following major league baseball, playing the piano or writing his weekly email devotional, "A Word of Grace for Your Monday" that is read by men and women from Alaska to Zimbabwe.