Dear Friends,
This week's message is an excerpt from a talk I gave at a camp meeting last summer. I send it to you for your encouragement.
Do you believe that Jesus? silence is an answer? Can we accept that his time is not our time, that his way is not the way we would do it, that our urgency is not his requirement? All prayer is answered. Do we accept him as the answer or insist on a time, place or action as the answer? Is it the divine ?Who? or a material ?what? that we are seeking? This is the essential question of prayer.
Let us say that you or someone you love is afflicted. You can pray for healing. That is our will and we seek it to be his will and it may well come to pass because he is a compassionate Lord and Savior. We recall the bargaining prayer of Hezekiah when the prophet Amos told him his illness was terminal. ?Remember now, Lord, I implore you, how I have walked before you in faithfulness with a whole heart, and have done what is good in your sight? (2 Kgs 20:3). God gave him an additional 15 years of life which he took for granted and during that time he squandered away the future of his nation and people in pride and complacency (2 Kgs 20:12-19). It is a shallow prayer that only seeks healing.
There is a deeper level of prayer that seeks the Lord to be our healer. This is worshipful prayer that widens our gaze from simply looking for a desired result and includes the One who can provide that result. We can read a beautiful prayer like this in Jeremiah 17:14:
.
Heal me, O Lord, and I shall be healed;
Save me, O Lord, and I shall be saved;
for you are my praise.
.
This is not, however, the deepest level of prayer that will sustain one in their darkest hour when both result and Provider are in serious doubt.
The deepest level of prayer is when we can say in grateful acceptance, ?Lord, you are my healing. You are enough for me. ?Your will be done on earth as it is in heaven.? Divine love is having its way with us when we acknowledge that our life is in God alone and from God alone and that he alone possesses us as we possess him.
Listen to the prayer of the financially ruined, grieving businessman Horatio G. Spafford (1871) as his ship passed over the spot in the Atlantic Ocean where his four daughters had drowned.
When peace like a river, attendeth my way, When sorrows like sea billows roll; Whatever my lot, Thou hast taught me to know, It is well, it is well, with my soul.
.
It is well with my soul,
It is well, it is well, with my soul.
Note that Spafford?s original lyrics were ?Thou hast taught me to know (not to ?say?) it is well, it is well with my soul.? Everything–business, fortune, family was stripped away from the man– everything, that is, except his God. God was enough for him whether he was in peace or in sorrow. He knew it was well with his soul because God had him and he had God. If that?s not enough for a soul, no one and nothing else ever will be.
This is the prayer of the crucified life resurrected to glory in the person of Jesus Christ by the love of the Father. This kind of prayer accepts Jesus Christ as ?the resurrection and the life? without reservation (John 11:25). It is prayer that proclaims with the Apostle Paul: ?I have been crucified with Christ; and it is no longer I who live, but it is Christ who lives in me. And the life I now live in the flesh I live by faith in the Son of God who loved me and gave himself for me? (Gal 2:19-20).
Only those who know utter poverty of spirit can authentically pray this prayer. When we have run out of options we have arrived at the narrow passageway that only Jesus Christ can take us through. This is the Cross and beyond this point, Christ possesses us and we possess nothing of our own.
"O taste and see that the Lord is good. Happy are those who take
refuge in him" (Ps 34:8).
Under the mercy of Christ,
Kent
————————–
Please note that the content and viewpoints of Mr. Hansen are his own and are not necessarily those of the C.S. Lewis Foundation. We have not edited his writing in any substantial way and have permission from him to post his content.
————————–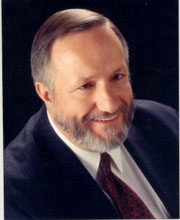 Kent Hansen is a Christian attorney, author and speaker. He practices corporate law and is the managing attorney of the firm of Clayson, Mann, Yaeger & Hansen in Corona, California. Kent also serves as the general counsel of Loma Linda University and Medical Center in Loma Linda, California.
Finding God's grace revealed in the ordinary experiences of life, spiritual renewal in Christ and prayer are Kent's passions. He has written two books, Grace at 30,000 Feet and Other Unexpected Placespublished by Review & Herald in 2002 and Cleansing Fire, Healing Streams: Experiencing God's Love Through Prayer, published by Pacific Press in spring 2007. Many of his stories and essays about God's encompassing love have been published in magazines and journals. Kent is often found on the hiking trails of the southern California mountains, following major league baseball, playing the piano or writing his weekly email devotional, "A Word of Grace for Your Monday" that is read by men and women from Alaska to Zimbabwe.
If you do not wish to receive any more of these messages, please send an email to khansen@claysonlaw.com with the word, "unsubscribe." This only works if you received the message from me directly. If someone else forwards the message to you and you want them to stop, please email them back and tell them to stop sending it. Thanks.