Whatever resolutions you have made for the New Year, I hope you have determined to be honest with God and those you love. We can make that determination at any time, but without it our prayers are no more than lip service, and our faith is a sham.
Many years ago I was called upon to mediate a dispute between an elderly husband and wife. They were emotionally estranged. They had been married nearly fifty years.
I was the attorney for the family business and I had close personal and spiritual ties to both of them. I had discussed God's love and prayed with them many times.
The husband phoned me from his hospital bed late one night and begged me to come see him.
The man was facing life and death uncertainties about his health. He was convinced that God was punishing him because of an incident where he was unfaithful to the marriage. He said he had been seeking some intimacy and comfort that he did not receive from his wife, but he knew he was wrong.
He was wracked by guilt and remorse, and convinced that he was about to die. He wanted her to know how sorry he was and how much he wanted a second chance to show her by taking care of her in their last years together.
He pled with me to go to his wife with his confession, tell her he was sorry and ask for her forgiveness. He wanted me to go that very night, so I prayed with him a prayer of confession and surrender. Then I made the call. I reached their home about midnight.
The wife and I sat down in the living room. She listened without expression as I relayed the husband's secret. I told her he was in anguish over his sin. He desired her forgiveness and the healing of their marriage.
The wife's response surprised me. She coolly described an affair of her own entered in anger over what she perceived as her husband's indifference to her.
Both infidelities had occurred a long time before, but the anger remained–years of marital permafrost. They projected a gleaming exterior image composed of spiritual devotion, a successful business, a beautiful home, successful children and many friends.
The interior of the marriage was icy and toxic with resentment and regret. Neither spouse would give the other a break until the marriage relationship itself was broken and defiled.
I asked the wife: "What does all the beautiful furnishings, the 'apple-pie order,' the peaceful, pleasant social persona that you insist upon mean to you?"
"Oh," she said, "I have to have serenity."
"But what is the price of this serenity?" I asked.
"What do you mean?" she responded.
"I mean, could anyone really live with the burden of this perfection? Who could keep that effort up without breaking? I know your children struggle with this. They feel like they can't live up to your standard.
"Your marriage is broken because you and Joe would rather reach out to someone else than to yield your auras of perfection.
She was silent.
I said, "Until each of you is honest with each other and put each other first, everything else that you prize is a lie. You are in the last part of your lives. I know that you both want to be in heaven with your children and grandchildren.
"I have spoken to you often about the unfailing, enduring true love of God for you, a gift to you that you can't earn by being perfect. The grace of Jesus Christ is sufficient for you. You can afford to be weak and vulnerable, because he is strong for you.
"You know that the Bible tells us that "Love keeps no record of wrongs" (1 Cor 13:6). I have told you that God's love, the love that he pours into your hearts and marriage and expects you and Bill to share with each other, "covers a multitude of sins." (1 Pet 4:8).
"I know that I have stirred your heart when I have talked to you about grace. Now, it is time to receive grace and give grace. Now is the time for love to have its way."
It took us hours of conversation, but just before 4:00 a.m., she also prayed her surrender and asked God to remake her hardened heart and restore her marriage.
God did what God does if we ask him to help. He put love to work and their final years together were loving and peaceful.
We live in a real world with conflict, pain, human inadequacy, mistakes, and sins. No amount of money, no status, no quantity or quality of good works, no pretentious image, no amount of aggressive posturing is sufficient to cover over those problems.
For years I struggled against other people getting too close to me preferring to go it alone. I adopted a persona that seemed brave, even fierce to keep others at bay. If they got close they would hurt me, I thought, based on childhood experience.
God in his gracious way said, "Stop this nonsense. I love you and won't quit." He somehow got this message out of my head and into my heart. It began to change my life, eroding my carefully constructed berms and walls with a trickle and then a flood of grace.
In Christian institutional life where I spend a lot of my time, I meet men and women whose view of God is a harsh taskmaster who will never be pleased until perfection is attained in this life or whose trust levels have been destroyed by capricious pain from sources where they should have received love.
They are often paralyzed in fear and racked with guilt that they will never be good enough to be loved. It petrifies their relationships, private and public. They adopt an artificial "niceness" as their means of controlling their environment and inaction as their protection against being wrong.
Years ago, in exasperation, I asked our office administrator why some of the department heads were so tentative in making decisions and passive-aggressive in expressing their opinions. "They're afraid," she answered.
"What are they afraid of?" I asked. These are men and women in professional and business roles who talk like they know they are serving God and ministering his love.
"I think they're afraid of making a mistake," she said.
"What do they think will happen if they make a mistake?"
"They think it will be held against them and they won't be let off the hook. They would rather do nothing at all than have that happen."
"They don't know they are loved," I said. "Knowing that makes all the difference."
Fortunately we have a Savior who knows what it means to have a broken heart and to forgive those who broke it. He knows what it's like to endure temptation and stress. He died for our sins so that love can rule and reign in our lives instead of fear.
Paul understood the relief that Christ's love brings to us. He wrote: "Be kind and compassionate to one another, forgiving each other, just as in Christ God forgave you" (Ephesians 4:32).
Brennan Manning writes in commentary on Paul's instruction–
The betrayals and infidelities in my life are too numerous to count. I still cling to the illusion that I must be morally impeccable, other people must be sinless, and the one I love must be without human weakness. But whenever I allow anything but tenderness and compassion to dictate my response to life–be it self-righteous anger, moralizing, defensiveness, the pressing need to change others, carping criticism, frustration at others' blindness, a sense of spiritual superiority, a gnawing hunger of vindication–I am alienated from my true self. My identity as Abba's child becomes ambiguous, tentative and confused.
Our way of being in the world is the way of tenderness. Everything else is illusion, misperception, falsehood (Brennan Manning, Abba's Child [Colorado Springs: NavPress, 2015], pp 72-73).
The way of tenderness means "speaking the truth in love" in Paul's language (Eph 4:15). Truth without love can be brutal. Love without truth is a lie, unacceptable to a God who loves us as we are, imperfect and broken.
Whether in prayer to our God, or daily interactions, we are called to be authentic and tender. This is a challenge for me as authenticity for me cannot be confused with tenderness.
The secret is asking God to guide and direct us and hold us close to him, instead of worrying about how we pull this off in our own wit and strength. When it is about God and not us, we can trust that true love will have its tender way.
"O taste and see that the Lord is good. Happy are those who take refuge in him" (Ps. 34:8).
Under the mercy of Christ,
Kent
Please note that the content and viewpoints of Mr. Hansen are his own and are not necessarily those of the C.S. Lewis Foundation. We have not edited his writing in any substantial way and have permission from him to post his content.
————————–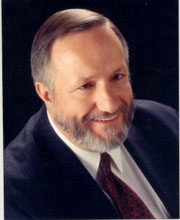 Kent Hansen is a Christian attorney, author and speaker. He practices corporate law and is the managing attorney of the firm of Clayson, Mann, Yaeger & Hansen in Corona, California. Kent also serves as the general counsel of Loma Linda University and Medical Center in Loma Linda, California.
Finding God's grace revealed in the ordinary experiences of life, spiritual renewal in Christ and prayer are Kent's passions. He has written two books, Grace at 30,000 Feet and Other Unexpected Places published by Review & Herald in 2002 and Cleansing Fire, Healing Streams: Experiencing God's Love Through Prayer, published by Pacific Press in spring 2007. Many of his stories and essays about God's encompassing love have been published in magazines and journals. Kent is often found on the hiking trails of the southern California mountains, following major league baseball, playing the piano or writing his weekly email devotional, "A Word of Grace for Your Monday" that is read by men and women from Alaska to Zimbabwe.