Fig trees may not grow figs,
     and there may be no grapes on the vines.
There may be no olives growing
     and no food growing in the fields.
There may be no sheep in the pens
     and no cattle in the barns.
But I will still be glad in the Lord;
     I will rejoice in God my Savior.
Dear Friends,The season is seven-years dry. It is said to be the worst drought here in 500 years. But there were probably less than 100,000 Native Americans in this vast land in the 16th Century and no Europeans. Today, there are more than  37,000,000 thirsty people here and the land does not seem so vast nor its water so abundant.A state of emergency has been declared. Water rationing is the grim mandate of our city and state.
Evergreens sicken and die in the mountains as they lose the vitality to ward off sap-sucking bark beetles. Wildfires rage through our forests and grasslands.
As reserves shrink, fear and loathing increases. Environmentalists, corporate agriculture, a decaying water infrastructure, golf courses, urban sprawl, home-owners, industry, and the catch-all "global warming" all point accusing fingers at each other. None of their aspersions can change the fact that the amount of water is finite. The only issue is allocation.
Governments and those who exercise their levers always expand their power in times of crisis at the expense of individual rights, but is this for the "greater good" or the "good of the greater." Our own once-lush yard of St. Augustine grass and rose bushes is reduced to tufts and dust. I attended a meeting last week in a clubhouse overlooking the lush fairways and greens of our local country club where our local elites play their games.
Prices are rising for drought-resistant barrel cactus and other succulent plants capable of storing water. Also rising is the wave of theft of such plants for resale to homeowners seeking to maintain greenery in their yards.
In the Central Valley of California, almond, walnut, pistachio groves and vineyards that take years to mature are withering away and dying. They are being cut down. Avocado growers cut their trees back to stumps in the hope of keeping them alive until future watering will allow new growth.
The Salinas Valley provides much of the salad greens and vegetables for the nation. Its reservoirs and wells are going dry and the intrusion of salt water from the Monterey Bay threatens to destroy some of the richest crop lands anywhere in the world.
The loss of agricultural jobs has devastated vast areas of the Valley with poverty and want. Displacement and crime are destroying the social patterns of many generations. Truly the days are evil here. The vaunted California dream is fading away.
All of this put me in mind of the Old Testament prophet Habakkuk. He was a man of prayer who lived in a time of rampant injustice, calamity and deprivation.
Habakkuk could not understand why God permitted the violence, strife, and perversions of justice that made his society so unsafe. God responded to his lament with a shocking revelation that the dreaded, ungodly Chaldeans were his instrument of divine justice to scourge Judah for its wickedness.
God's solution to Judah's problems was hard for Habakkuk to accept. He argues with God about what needs to be done. He demands to know, "Why do you look on the treacherous and are silent when the wicked swallow the righteous" (Hab 1:13).
God replies that divine justice will come in due time, but his call to the righteous always is to remain steadfast, reliable and faithful while waiting. His specific call to Habakkuk is to make a record of the divine response so it can be authenticated by events to come.
Like a pine cone requires fire to release its seed to new life, faith requires waiting to germinate and grow. Love, in my experience, empowers faith to wait. I speak of the love of God who is rich in mercy and powerful in his kindness. I speak of the love that finds in God a truth and grace it can find nowhere else. Faith without love means nothing in the observation of the Apostle Paul (1 Cor 13:2).
Waiting tests love even as it challenges faith. Solomon identifies the toll exacted by waiting: "Hope deferred makes the heart sick, but a desire fulfilled is a tree of life" (Pr 13:12).
Humans have a penchant for encouraging admonitions to "keep hanging on" and to "stick it out." But a tipping point can be reached when the raw materials on which hope depends are lost and the fuel of resilience is dissipated. The farmers whose almond trees are chopped down have no reason to hope for future crops.
There comes a dark hour when there seems no viable reason to go on. Life as we know it has suffered a devastation from which it cannot recover. Farmers need their seed stocks for the next year's crops and a harvest to feed their dependents. Ranchers need livestock to perpetuate their herds and flocks. When any rational basis for a future and a hope are gone, the reckoning point of faith is reached.
Habakkuk reaches that reckoning point. He wrote of dire conditions indicating that life could not be sustained.
Though the fig tree does not blossom,
    and no fruit is on the vines;
though the produce of the olive fails,
    and the fields yield no food;
though the flock is cut off from the fold,
    and there is no herd in the stalls. . . .
The situation was bleak, but Habakkuk continued:
.
Yet, I will rejoice in the Lord;
    I will exult in the God of my salvation.
God, the Lord, is my strength;
    he makes my feet like the feet of a deer,
    and makes me tread upon their heights.
                 (Hab 3:17-19)
In other words, God alone is the way out. There is nothing and no one else to rely upon.We are fond of our reserves, our support groups, networks, our back-up plans, and our crutches to hobble along. But do these represent God to us?There always lurks a subtle, but dangerous temptation to confuse the gifts with the Giver. We think we are entitled to blessing for all manner of reasons ranging from piety to skill to victimhood.
But the toughest lesson of eternity is that God is our only means of access to it. None of us can ever qualify for eternal life on our own merit. Nothing we can earn and possess can buy us entry or substitute for it. Nothing we can do can carry us into heaven's gates.
Habakkuk entered his prayer struggle thinking that he had to convince God to do the right thing to bring his people to repentance and save them. He is convinced in the end that God alone as his salvation and strength.
More than that Habakkuk has joy, the emotion that is the surest sign that God is with us. He rejoices and exults that God is hanging on to him even when Habakkuk has nothing else to hold.
When I was ten years old, labor strife and a recession financially strapped our family to the point that my piggy bank was emptied to put beans and cornbread on the table. I have suffered kick-in-the-gut losses of people that left me thinking that I would never breathe again. I live and work everyday with persons suffering debilitating pain and health issues and catastrophic financial reversals.
My Mom and Dad told me that God loved me and I could pray to him in assurance of his love. The first verse of Scripture I learned was "The Lord is my shepherd, I shall not want" (Ps 23:1).
Decades later, in seasons of drought and devastation, the God they introduced me to is the God I rely upon with joy. He is enough.
"O taste and see that the Lord is good. Happy are those who take refuge in him" (Ps 34:8).
Under the mercy of Christ,
Kent
————————–
Please note that the content and viewpoints of Mr. Hansen are his own and are not necessarily those of the C.S. Lewis Foundation. We have not edited his writing in any substantial way and have permission from him to post his content.
————————–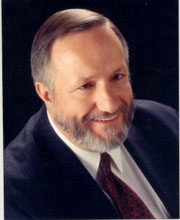 Kent Hansen is a Christian attorney, author and speaker. He practices corporate law and is the managing attorney of the firm of Clayson, Mann, Yaeger & Hansen in Corona, California. Kent also serves as the general counsel of Loma Linda University and Medical Center in Loma Linda, California.
Finding God's grace revealed in the ordinary experiences of life, spiritual renewal in Christ and prayer are Kent's passions. He has written two books, Grace at 30,000 Feet and Other Unexpected Placespublished by Review & Herald in 2002 and Cleansing Fire, Healing Streams: Experiencing God's Love Through Prayer, published by Pacific Press in spring 2007. Many of his stories and essays about God's encompassing love have been published in magazines and journals. Kent is often found on the hiking trails of the southern California mountains, following major league baseball, playing the piano or writing his weekly email devotional, "A Word of Grace for Your Monday" that is read by men and women from Alaska to Zimbabwe.
If you do not wish to receive any more of these messages, please send an email to khansen@claysonlaw.com with the word, "unsubscribe." This only works if you received the message from me directly. If someone else forwards the message to you and you want them to stop, please email them back and tell them to stop sending it. Thanks.