Fear is an extremely unpleasant emotion. It anticipates pain, danger, or a threat beyond human control.
I once asked my office manager, a wise woman, why the administrators and employees of one of our Christian clients were so tentative in making decisions and passive-aggressive in expressing their opinions.
"They're afraid," she answered.
"Afraid of what?" I asked. These are men and women in significant professional and business roles who for the most part express an ideal of service to God and are notably driven in their work.
"I think they're afraid of making a mistake," she said.
"What do they think will happen if they make a mistake?"
"They believe they have to be perfect. They think mistakes will be held against them and they won't be let off the hook. They would rather do nothing at all than have that happen."
Perfection is an impossible standard and counterproductive. Perfection is the enemy of faith because it demands an effort and a control that do not trust God.
We humans hate it when we are not in control and we fight for it. But there are so many things that can't be controlled like earthquakes, tsunamis, hurricanes and tornados. Accidents happen, cancers grow, and economies fail.
Then there is the parade of horribles we humans visit on each other when we don't get what we want. Terrorism, violence and crime are real and ever present dangers. Scripture is a virtual catalogue of reasons to be afraid.
If you have ever had something you fear come true (and who hasn't), others are quick to assure, "Don't be afraid. It will be OK?" On what authority can this be said? Many times it won't be OK, it will get worse. So these assurances give false hope more often than not.
That's where God comes in. He says "Don't be afraid," a lot – more than 365 times in Scripture. But he gives a reason – God himself is stepping up to deal with the situation and save his children (See, e.g., Isaiah 35:4-5; 40:9). God's presence with us comforts fearful hearts and carries us through dangerous situations.
He promises to stick with us through the worst of times and guard our minds and hearts with his peace (Phil 4:7; Heb 13:5). He sets us free from fear.
David writes, "I sought the Lord and he answered me; he delivered me from all my fears (Ps 34:4). Zechariah, father of John the Baptist, prophesies that the coming Christ will "rescue us from the hand of our enemies, and to enable us to serve him without fear in holiness and righteousness before him all our days" (Luke 1:69-75). The Apostle Paul writes to Timothy, "God did not give us a spirit of cowardice; but rather a spirit of power and of love and self-discipline" (2 Tim 1:7).
The key to obeying the command "Do not be afraid" is learning the reverential awe for God that is meant by the frequent Biblical command to "Fear God!" Paying attention to God rather than the threatening situation is the Bible's antidote for fear.
David writes—
This poor soul cried, and was heard by the Lord, and was saved from every trouble. The angel of the Lord encamps around those who fear him, and delivers them. O taste and see that the Lord is good; happy are those who take refuge in him. O fear the Lord, you his holy ones, for those who fear him have no want (Ps 34:6-9).
Many of us were read this passage by our parents when things were scary. When we pray to the Lord for help in danger, he sends an angel to surround us with protection. Regardless of the circumstances, God will take care of us is the message.
Too many times, we take our eyes off of God to try to change the circumstances for ourselves, praying for him to come along with us as an assistant. Then we blame him when our efforts fail. Or we ask him to remove our fear without learning what it means to fear him and seeking to know him and understand his ways.
I have heard preachers incessantly pound on their congregation "Don't be afraid. You really can't call yourself a believer if you are afraid." That only increases guilt and loathing.
Emphasizing the fear is counterproductive. The only way to help people not be afraid is to introduce them to Jesus Christ and help them develop an intimate personal relationship with him of mutual love, dependence upon him and obedience to him. When his life and love flow into us and through us, fear is washed away (1 John 4:18).  That is a truly glorious and freeing experience available to all of us."
O taste and see that the Lord is good. Happy are those who take refuge in him" (Ps. 34:8).
Under the mercy of Christ,
Kent
Please note that the content and viewpoints of Mr. Hansen are his own and are not necessarily those of the C.S. Lewis Foundation. We have not edited his writing in any substantial way and have permission from him to post his content.
————————–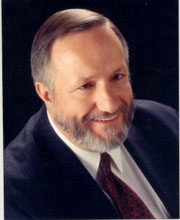 Kent Hansen is a Christian attorney, author and speaker. He practices corporate law and is the managing attorney of the firm of Clayson, Mann, Yaeger & Hansen in Corona, California. Kent also serves as the general counsel of Loma Linda University and Medical Center in Loma Linda, California.
Finding God's grace revealed in the ordinary experiences of life, spiritual renewal in Christ and prayer are Kent's passions. He has written two books, Grace at 30,000 Feet and Other Unexpected Places published by Review & Herald in 2002 and Cleansing Fire, Healing Streams: Experiencing God's Love Through Prayer, published by Pacific Press in spring 2007. Many of his stories and essays about God's encompassing love have been published in magazines and journals. Kent is often found on the hiking trails of the southern California mountains, following major league baseball, playing the piano or writing his weekly email devotional, "A Word of Grace for Your Monday" that is read by men and women from Alaska to Zimbabwe.