Dear Friends,
The year is turning and it is time to move on.
Our God is the Creator. Therefore our way is always forward.
Our Lord is the Savior. Therefore he calls us to the future. He leads us away from the past and does not preserve it.
Because our God is the Lord, confusion and fear should not stop us. Because our God is love, we need not turn aside to slake our thirst.
He spoke to us through the prophet Isaiah:
Do not remember the former things,

    or consider the things of old.

I am about to do a new thing;

   now it springs forth, do you not

          perceive it?

I will make a way in the wilderness

   and rivers in the desert.

(Isa 43:18-19)
Our best intentions and hardest efforts will not yield the fruit of this Word. Left to our own devices, we will seek to rehabilitate and refurbish. We will try to hack our way through the wilderness and dig deeper ditches to bring the water to us. In the end, exhaustion will overtake us. Guilt and despair will mire us down.
The Lord speaks to us of a new thing that springs forth. He is about to make a way in the place where we are lost. Rivers of grace will flow in the dry places where nothing we've planted has grown and our souls have withered.
You say, "That's impossible.! What I am facing is too hard, the wound is too deep, the problem too complex, the attack too strong for this to be true for me."
Jesus calmly replies, "For humans it is impossible, but not for God; for God all things are possible" (Mark 10:27). God's "all things" certainly covers the thing that you need to happen. After all, these are "the glorious deeds of the Lord and his might" we are talking about.
He divided the sea, and let them pass

          through it,

    and made the waters stand like a

           a heap.

In the daytime he led them with

         a cloud,

   and all night long with a fiery

         light.

He split rocks open in the wilderness,

    and gave them drink abundantly as

          from the deep.

He made streams come out of the

          rock,

    and caused waters to flow down

          like rivers.

(Ps 78:13-16)
The Lords says, "Do not remember the former things or consider the things of old." Fixation on the past will leave no room in our minds and hearts for the Lord's present blessing.
He tells his people —

        I will be merciful toward their
iniquities,
and I will remember their sins
no more.

(Heb 8:12, quoting Jer 31:34)
"Have you asked the Lord to forgive you?" I have asked this of men and women who were festering with shame and guilt. "Yes," was the answer. I continued, "He says, "I don't remember the sins that I have forgiven.'  Why do you keep hanging on to what he has written off? What makes you think God would lie to you? More to the point, 'Why do you cling to a higher standard for forgiveness than God does?"
Thinking that our sins and concerns are too big for God to handle or too small and trivial for his attention are both forms of a perverse pride that says there are places in our lives beyond the reach of grace. Here's the deal — God is God regardless of what we may think. In his case it is always, "His way or the highway" to borrow a popular saying.
It is our choices, not God's capability, that limit the effective working of grace in our lives. The Lord is an all-or-nothing God. Those of us who are too proud to let him deal with every part of our lives are in eternal opposition to him as the Apostle Peter observed:
         "God opposes the proud,
but gives grace to the humble."

Humble yourselves therefore under the mighty hand of God, so that he may lift you up in due time. Cast all your cares upon him for he cares about you (1 Pet 5:5b-7).
God does not want us to miss out on his generosity. The question that he asks through Isaiah, "I am about to do a new thing . . . do you not perceive this?" expresses the intensity of his desire that we comprehend and receive the blessing that he wants to give us. It also tells us that the first things we need from him are minds and hearts open to what God wants to do in us and through us.
It is good to start a new year, or any day, with David's prayer of repentance.
Create in me a clean heart; O God,

   and put a new and right spirit

          within me.

(Ps 51:10).
"O taste and see that the Lord is good. Happy are those who take refuge in him" (Ps 34:8).
————————–
Please note that the content and viewpoints of Mr. Hansen are his own and are not necessarily those of the C.S. Lewis Foundation. We have not edited his writing in any substantial way and have permission from him to post his content.
————————–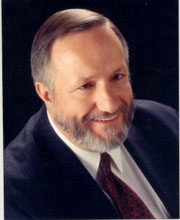 Kent Hansen is a Christian attorney, author and speaker. He practices corporate law and is the managing attorney of the firm of Clayson, Mann, Yaeger & Hansen in Corona, California. Kent also serves as the general counsel of Loma Linda University and Medical Center in Loma Linda, California.
Finding God's grace revealed in the ordinary experiences of life, spiritual renewal in Christ and prayer are Kent's passions. He has written two books, Grace at 30,000 Feet and Other Unexpected Placespublished by Review & Herald in 2002 and Cleansing Fire, Healing Streams: Experiencing God's Love Through Prayer, published by Pacific Press in spring 2007. Many of his stories and essays about God's encompassing love have been published in magazines and journals. Kent is often found on the hiking trails of the southern California mountains, following major league baseball, playing the piano or writing his weekly email devotional, "A Word of Grace for Your Monday" that is read by men and women from Alaska to Zimbabwe.