Dear Friends,
This message is the ninth message in a series on the sea stories of Jesus. It is a repeat from a few months ago, but it is a sea story and it fits our series. Jesus inspired an agitated Peter to go fishing and he caught grace and that is worth reflecting upon.
The temple tax that was the subject of the story was collected a month before Passover. This would be late February or early March in our calendar when the water in the Sea of Galilee is warming and musht, a variety of tilapia (a fish native to the lake), moves gravel around on the bottom to make their nests and spawn. Tilapia generally feed on plankton or aquatic plants, but they are omnivorous on occasion. The musht is known to vacuum up and carry small pebbles and even shelter its small young in its mouth until they are able to leave. In modern times, musht have been caught with bottle caps in their mouths so a shiny silver coin wouldn't be a stretch. After all, fishermen use shiny silver lures to catch fish that think they are chasing smaller fish.
The coin might have been tossed in the Sea by a superstitious Roman or more likely dropped by someone. The miracle is that Jesus knew what the distressed Peter needed and where he could find it and graciously guided him there. It is wonderful to know that the Lord is with us even when our rash mouths have gotten us in trouble and that he will graciously provide us a way out.
Another note, this series is not concluded, but there may not be another message until October 6. I will be traveling and may not always have effective Internet service. Thanks for your patience.
When they reached Capernaum, the collectors of the temple tax came to Peter and said, "Does your teacher pay the temple tax?" He said, "Yes, he does." And when he came home, Jesus spoke of it first, asking, "What do you think, Simon? From who do the kings of the earth take toll or tribute? When Peter said, "From others," Jesus said to him, "Then the children are free. However, so that we do not give offence to them, go to the sea and cast a hook, take the first fish that comes up; and when you open its mouth, you will find a coin; take that and give it to them for you and me." (Matt. 17:24-27)
It's a bad idea to go out without Jesus. I should have known better before coming downtown today.
I am a commercial fisherman who wants to be a disciple. Part of being a disciple is to make one's teacher look good, right?
But I never saw this coming. I understand catching fish with nets. I know from experience that nets meant to trap fish can themselves become entangled in weeds and rocks.
That's how I am feeling after the tax collectors ask me, "Does your teacher pay the temple tax?" out there in the market place with everyone listening.
"Yes, he does" I tell them without a moment's thought.
Their knowing smirks tell me that I'm in big trouble. I hate this. They don't know Jesus like I do. I am with the man day and night. I have never seen him pay the tax, but neither have they! No, wait…that doesn't sound so good.
Let me think. I am an intimate associate of the latest preaching sensation and I want him to succeed. I mean, what kind of legitimacy will Jesus have to the church and the community if he doesn't play by the rules? After all, I've heard him say myself, "I have come not to destroy the law, but to fulfill it."
The temple tax is one of our oldest rules. God gave it to Moses way back in the wilderness. It's a flat tax paid by rich and poor alike as a reminder that the Lord has ransomed our lives from captivity (Ex. 30:11-16). It goes to pay for the operations and upkeep of the temple. Who could be against that?
Besides, death and taxes are a sure thing. If you're Jewish and over 20 years of age, you pay the tax! And the collectors are here to make sure we do.
It's hot out here today. I'm sweating. There are times when I'd really rather be out on the water.
So I head home. No sooner am I in the door and have washed up than Jesus asks me, "What do you think, Simon? From whom do kings of the earth take toll or tribute? From their children or from others?"
He addresses me by my real name instead of my nickname. He's going somewhere with this, but where?
"From others," I answer quizzically.
Jesus drives the point home, "Then the children are free."
I flush red. My cheeks burn. He knows what I said to the tax collectors. I've shot off my big mouth again.
Jesus is the Son of God. I believe this. He's taught me that I too am a beloved child of my heavenly Father. I just assumed that it was right for us to pay the entrance fee to get inside, but that would make us only spectators, not children at home in our Father's house.
What do I do now? I am trapped between pleasing Jesus or satisfying the religious establishment.
We look at each other. He sees right through me; sees everything, but I barely see anything.
The temple tax collectors are all about enforcement. They'll hold us to my word. How is it that I start out with good ideas and the best of intentions and always end up in deep water without a boat? I hate looking foolish. I can usually bluff my way through trouble, but not with those guys and certainly not with Jesus.
Jesus hasn't taken his eyes off of me. Now he clears his throat. "However," he begins. This is different. He is the straightest-talker I've ever known and a conditional "however" is rare for him.
"However, so that we do not give offense to them, go to the sea and cast a hook, take the first fish that comes up; and when you open the mouth, you will find a coin; take that and give it to them for you and me."
The words pour out of him in a steady stream until my anxiety is washed away.
The "however," was for me. He is doing what he doesn't need to do and he's doing it for me just to get me off the hook. His grace satisfies the law.
I am so relieved that I don't even stop to think of how absurd a "coin-dispensing fish" sounds until I am on the way to the shore.
But it's Jesus who told me to do this and I'm beginning to believe that anything is possible with him. Instead of me making him look good, he makes me look good. Go figure!
I always thought I was strong, tough and clever and could make my own way and get through anything. Any idea that I would need mercy was an insult to my pride.
The more I'm with Jesus I am realizing that I am not who I thought I was and he is a lot more than I thought he was. I need his grace.
So here I am throwing out my net in the sea, taking Jesus at his word that I will pull in exactly what I need. Does it get any better than this?
"O taste and see that the Lord is good. Happy are those who take refuge in him" (Ps 34:8).
Under the mercy of Christ,
Kent
————————–
Please note that the content and viewpoints of Mr. Hansen are his own and are not necessarily those of the C.S. Lewis Foundation. We have not edited his writing in any substantial way and have permission from him to post his content.
————————–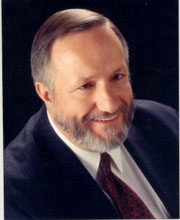 Kent Hansen is a Christian attorney, author and speaker. He practices corporate law and is the managing attorney of the firm of Clayson, Mann, Yaeger & Hansen in Corona, California. Kent also serves as the general counsel of Loma Linda University and Medical Center in Loma Linda, California.
Finding God's grace revealed in the ordinary experiences of life, spiritual renewal in Christ and prayer are Kent's passions. He has written two books, Grace at 30,000 Feet and Other Unexpected Places published by Review & Herald in 2002 and Cleansing Fire, Healing Streams: Experiencing God's Love Through Prayer, published by Pacific Press in spring 2007. Many of his stories and essays about God's encompassing love have been published in magazines and journals. Kent is often found on the hiking trails of the southern California mountains, following major league baseball, playing the piano or writing his weekly email devotional, "A Word of Grace for Your Monday" that is read by men and women from Alaska to Zimbabwe.