Please note that the content and viewpoints of Mr. Hansen are his own and are not necessarily those of the C.S. Lewis Foundation.  We have not edited his writing in any substantial way and have permission from him to post his content.
—————————————————————————–
Dear Friends:
This is the fifth message in a series on fretting and worry.
Sweet hour of prayer! sweet hour of prayer!
That calls me from a world of care,
And bids me at my Father's throne
Make all my wants and wishes known.
In seasons of distress and grief,
My soul has often found relief
And oft escaped the tempter's snare
By thy return, sweet hour of prayer!
(William Walford, 1845)
Matthew describes Jesus' reaction to the demands of ministry: "And after he had dismissed the crowds, he went up the mountain by himself to pray" (Mt 14:23). A fretter can find tremendous tension inherent in these words. There is so much to be done and set right. What good does it do to go off and pray when demands for action are at an all-time high?
The crowds have aches and pains to be healed, fears to be quieted and hungers to be filled. Jesus had just fed over 5,000 people with five loaves of bread and two fish. Doesn't a good miracle like that beg to be repeated? Crowds offer the seductive temptation of exponential goodness: more people = more ministry.
By dismissing the crowds at a peak moment so he could go pray, Jesus taught us a crucial lesson about his humanity and ours. We are vessels made to be filled and poured out, but we do not carry within ourselves an endless supply.  If we do not dismiss the crowds to go pray, they will go hungry and thirsty and so will we. "Without me you can do nothing" (Jn 15:5). We must leave the place of demand on our resources and go back again and again to the Source to be filled.
There is a key message in Jesus' observation about a world of famished souls needing the redemption of God's love. "The harvest is plentiful, but the laborers are few; therefore ask the Lord of the harvest to send out laborers into his harvest" (Lk 10:2).
Note that Jesus doesn't say, "Ride in with your sharpened Gospel-scythe and start harvesting souls." He tells his followers to pray for the right worker to go to the right part of the field to harvest the right crop. Seeing the need for the harvest should lead us to more conversations with the Lord of the harvest, not incite us to attempt to be the Lord of the harvest.
We work harder and accomplish less when we don't dismiss the crowds to pray. In calling his followers to worship and away from the urgent distractions of ministry, Jesus says, "You always have the poor (with their needs) with you, but you will not always have me" (Mt 26:11). Through prayerful time spent in the presence of the Lord, silence is transformed into ministry by the empowerment of the Holy Spirit.
Jesus is grief-stricken at the news that his cousin, John the Baptist, has been murdered. He tries to withdraw to solitude at that time, but the crowds follow him to his place of retreat. His compassion is stirred when he sees the people, so he cures their sick and teaches them. At the end of the day, he feeds them. Between the grief and the demands of ministry, Jesus is wrung dry. He dismisses the crowds and again heads out to be alone with his Abba.
My reaction when confronted with grief or stress is to work harder, not retreat to pray. I have gotten in deep spiritual and emotional trouble in my life by following that instinct.
Several years ago, my barber pointed out that I had nearly rubbed off the hair behind my ears. I tend to rapidly oscillate my fingers back and forth behind my ears when I am frustrated or under extreme time demands. Sometimes I even rub my ears until they are raw and bleeding. "Stop it," said the barber.
Easier said than done. "The problem with clients," a senior partner once told me, "is that they just won't mind." People are the wonderful thing about the practice of law. People are the aggravation inherent in the practice of law. "Hell is people," said the philosopher Jean-Paul Sartre.
Significant client issues were facing me. I found myself in prayer rising to my feet in frustration again and again, muscles tense to the point of ache, rubbing my fingers through my hair with such vigor that I was out of breath.
My time in prayer is my favorite and most important time of the day. Its invasion by the irritations of my work and my physical reaction was more than I could bear.  My journal entries from that period reveal my anguish.
"I worship the Lord in the blast furnace of his holiness. There are terrible temptations to yield to the fears and demands that surround me, to chase and follow after all the competing gods who desire the sacrifice of my life to them. But there is only one God and I desperately wish to be true to him. Jesus told Satan and so do I, "Away with you Satan! For it is written, 'Worship the Lord and serve only him' " (Mt 4:10) Dear, Sweet Jesus, be the one desire, the one truth, the one strength of my heart. Amen."
Two weeks I later, I wrote:
"Another work demand pulls me to my feet from prayer, hands smashed together, wringing them, then up to rub my hair hard, breath shallow, sweat standing on my forehead, dripping all over, adrenaline pumping in toxic-sick pain to my heart.
I went to the doctor yesterday. 'Too much,'he said. 'Too many decisions. Your body can't keep up with it. Exercise one-half hour a day,'he prescribed.

"There is no God like you. I thank you. I worship you. I trust you. I love you."

.

Today, I hiked up Mount Williamson. The hiking guide says:  Mt. Williamson stands head and shoulders above other crests along Angeles Crest Highway. The 8,214-foot peak offers grand views of earthquake country–the Devil's Punchbowl, San Andreas Fault and the fractured northern edges of the San Gabriel Mountains' (John McKinney, Day Hiker's Guide to Southern California [Olympus Press: Santa Barbara, CA 1992], p. 150). The tortured terrain expresses the condition of my soul.

.

"Standing still in the vanilla effervescence of Jeffrey Pines, a whisper grabbed my attention. It was the sound of an Arrowhead Blue butterfly taking flight from buckwheat."

.

"To hear such things is possible, but I forget this in the distractions of life. Instead, I search for God and his meaning and purpose in the turmoil and conflicts of my days, cataclysmic events of deals and lawsuits and arguments. I am yanked to my feet out of prayer by the irritations and unrequited tensions of it all manifesting in the aforementioned symptoms. But God does not choose to speak there and then. He calls me away from the struggle for the possible to hear the impossible–the unbelievable sound of a butterfly flying.

.

"Farther on up the trail, the Northwest wind pours its scouring chill over the ridge and my knees and feet hurt with the wear of the journey. But my mind is calmed and my heart is stilled.
I write as a witness, not a victim. After all, who victimized Elijah the day he won the argument over the priests of Baal with the help of God, the day he ran away so far and fast down the mountain in the pounding rain that, in his weariness and hunger, he forgot who he was and who had helped him? Who allowed the threat of the angry, but defeated, Jezebel to spin him out of control into the wilderness of anxiety where a tornado, earthquake, and fire had no meaning beyond spectacle? Who made him retreat to the isolated darkness of his cave? "What are you doing here, Elijah?" came the question into the dark where he, and no one else, had taken himself.
It was God's gentle whisper that called Elijah back into living. The sound of sheer silence told him who he was, that he was not alone and who would help him (1 Kings 19). The terrors of the humanly impossible are stilled by the God of the possible. "I can do all things through him who strengthens me" (Phil 4:13).
It is a struggle to go still like this, to die to self including our claims to good intentions and capability. Surely we must bring something of value to the table?
The disciples, confronted with the impotency of material prosperity and virtuous effort to confer the blessings of eternity, utter the panicked question to Jesus, "Who then can be saved?"
"What is impossible for humans is possible for God," replied Jesus (Lk 18:27).
Woe is me! I am a man with a pager and a cell phone and I dwell among a people of pagers and cell phones. We worship the urgent, terrified of its implications. "Do I have this covered? Have I done enough? What will happen if I fail? If I stop, nothing will get done. What if…?"
The instruction is simple. "Be still and know that I am God!" (Ps 46:10). Jesus says the final test will be simple as well: "On that day many will say to me, 'Lord, Lord,  we shared the word, and fought evil in your name, and did many powerful and good things in your name?' Then, I will tell them, 'You did do all that stuff, but you never stopped working and fretting so that we could get to know each other. Go away now, because you did all that stuff without me ever asking you to do it. You did it on your own, and at the end, you are all alone' " (Mt 7:21-23, my paraphrase).
Upon reflection, I think it's impossible to live like that, sitting still, waiting, trusting God to take care of it all without my help. All that fret work: the sweat on my forehead, my labored breathing, the hair behind my ears that I've sacrificed for justice and getting things done, that pumping adrenaline, must count for something!
Then, in the stillness of the mountain-side, I hear the whisper of persistent love. "What are you doing, Kent?" In that question, I am judged and found wanting grace more than anything, and I fall to my knees and pray.
"O taste and see that the Lord is good. Happy are those who take refuge in him" (Ps 34:8).
Next week we will discuss how we can become lost by fretting.
Under the mercy of Christ,
Kent
—————————————————————————–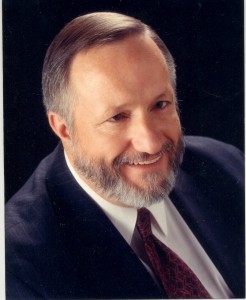 Kent Hansen is a Christian attorney, author and speaker. He practices corporate law and is the managing attorney of the firm of Clayson, Mann, Yaeger & Hansen in Corona, California. Kent also serves as the general counsel of Loma Linda University and Medical Center in Loma Linda, California.
Finding God's grace revealed in the ordinary experiences of life, spiritual renewal in Christ and prayer are Kent's passions. He has written two books, Grace at 30,000 Feet and Other Unexpected Places published by Review & Herald in 2002 and Cleansing Fire, Healing Streams: Experiencing God's Love Through Prayer, published by Pacific Press in spring 2007. Many of his stories and essays about God's encompassing love have been published in magazines and journals.
Kent is often found on the hiking trails of the southern California mountains, following major league baseball, playing the piano or writing his weekly email devotional, "A Word of Grace for Your Monday" that is read by men and women from Alaska to Zimbabwe.
Kent and his beloved Patricia are enjoying their 31st year of marriage. They are the proud parents of Andrew, a college student.