Please note that the content and viewpoints of Mr. Hansen are his own and are not necessarily those of the C.S. Lewis Foundation.  We have not edited his writing in any substantial way and have permission from him to post his content.
—————————————————————————–
Dear Friends:
This is the eighth in a series of messages on fretting and worry. Thank you for all the responses. Clearly these are problems that most of us grapple with in one way or another. God is gracious and is quite willing to grapple with us.
There are only two kinds of people in the end: those who say to God, "Thy will be done," and those to whom God says, in the end, "Thy will be done."
— C.S. Lewis, The Great Divorce, Chapter 9
We turn now to a common problem of fretting–bargaining with God for the result that we want which generally speaking is the coincidence of his will with ours.
Jacob's ambition and impatient pursuit of his destiny broke his most intimate relationships and drove him to a dark and empty place. There he lay in a hard and unyielding position because he couldn't see any more to go on. In that night, God sent Jacob a dream of connection and blessing:
"'Know that I am with you and will keep you wherever you go, and will bring you back to this land; for I will not leave you until I have done what I have promised you.'"Then Jacob woke from his sleep and said, 'Surely the Lord is in this place–and I did not know it!'And he was afraid, and said, 'How awesome is this place! This is none other than the house of God, and this is the gate of heaven" (Gen.28:10-17).
The morning light with its promise of a new day and improved security brought back the old spirit of selfishness. It was just so hard to give up on his way even when God told him that he would give him everything. Why trust God when you can do it for yourself? Doesn't the Lord help them who help themselves? GRACE? Who needs grace when you are young, quick, and clever? So Jacob played the angles and bargained with God on the terms and conditions of his future even after God promised him unconditional love and grace.
"If God will be with me, and will keep me in this way that I go, and will give me bread to eat and clothing to wear, so that I come again to my father's house in peace, then the Lord shall be my God, and this stone, which I have set up for a pillar, shall be God's house; and of all that you give me I will surely give one tenth to you" (Gen. 28:20-22).
It is the classic "if God will, then I will…if God gives me, then I'll give God" prayer of the un-surrendered, proud heart in crisis. It beats on defiantly even when schemes have turned to disaster and creature comforts are stripped away in a desert existence. It would not be until Jacob limped out of another night a broken man having wrestled with God for advantage and lost that he would understand and receive grace with open hands and heart (Gen. 32:22-32).
Isn't that just like us in our proud expectations and stubborn hearts?
Tony Campolo tells a wonderful story about a little boy who begged God for a new BMX bicycle while saying his prayers. His mom told him that prayer shouldn't be used for selfish desires. Prayer was no way to get a BMX bicycle.
It was the week before Christmas. When the mom came downstairs the next morning, she was surprised to see that the figure of Mary was missing from the manger scene under the Christmas tree. In its place was a note that read, "Dear Jesus, If you ever want to see Your mother again, You had better get me that BMX bicycle!" (told in Let Me Tell You a Story [Nashville, TN: Word Publishing, 2000], p. 59-60).
Readers send me notes about their struggles to discern God's will for their lives. "If I only knew what he wants me to do," is a frequent plaint.
That's no surprise. Christian bookstores are packed with books on how to know, how to overcome, how to accomplish, how to love, how to succeed, how to pray, how to organize, how to lose weight, how to reconcile, how to heal…. It is fascinating to observe that there are so many persons out there who think they have just the answer–God's answer–for someone else. It sounds obnoxious put that way, but these books have a big market because so many people have questions and are looking for answers. Worse yet, we often want those answers to keep someone else in line. "Excellent sermon," said the parishioner, as she pumped the hand of the preacher. "Everything you said applies to someone or other I know."
Several years ago, wishing to know more about God's will for my life I spent a great deal of time reflecting on my experience in light of what Scripture says about God's will. My conclusion was that there isn't some disembodied solution out there known as "God's will." What Scripture teaches is that our lives are God's will and he works in and through them. We are called to worship God, not seek some answer which would give us existence outside of God. In other words, we can't get the product without the process and the process occurs when we submit ourselves to God without reservation.
The Apostle Paul set out the point in Romans 12:1-2: "I appeal to you therefore, brothers and sisters, by the mercies of God, to present your bodies as a living sacrifice, holy and acceptable to God, which is your spiritual worship. Do not be conformed to this world, but be transformed by the renewing of your minds, so that you may discern what is the will of God–what is good and acceptable and perfect."  This echoes the words of Jesus when a lawyer asked him "Which commandment in the law is the greatest?". He said to him, ' You shall love the Lord your God with all your heart, and with all your soul, and with all your mind.' This is the greatest and first commandment.' And a second is like it: ' You shall love your neighbor as yourself.' On these two commandments hang all the law and the prophets' " (Mt. 22:36-40). This may not be a very Christian metaphor, but in gambling terms what we are told to do is "bet the farm" on God and "let it ride."
God demands everything from us. He even breaks our hard shell of pride and ambition, melts the pieces down, and recreates us in his likeness. "Yet, O Lord, you are our Father; we are the clay, and you are our potter; we are all the work of your hand" (Is. 64:8). "He will transform the body of our humiliation that it may be conformed to the body of his glory, by the power that also enables him to make all things subject to himself " (Phil. 3:21). "And all of us, with unveiled faces, seeing the glory of the Lord as though reflected in a mirror, are being transformed into the same image from one degree of glory to another; for this comes from the Lord, the Spirit" (1 Cor. 3:18).
We may ask, "Does this mean that God does what he pleases with those who trust him?" Exactly that! But we who have formed our perceptions of authority from flawed parents and arbitrary teachers, balk at the idea of turning over everything to someone who does what they please. We also have cravings for security and comfort and the flammability of a sinful nature that cause us to turn back from risking all on a holy God.
That risk, however, is no risk with a God whose love is complete and eternal. This is what the Apostle Peter came to realize near the end of his life. Jesus called him "The Rock," but it seemed like a joke for a long time as Peter, like Jacob, thrashed around between his ambitions and the very contrary instruction of Christ for his life. Jesus took this brash, blustery tough guy who thought he had it all figured out and told him that his future was to love and care for Jesus' children (John 21:15-19). This took Peter past all his previous pride and prejudices to be the chosen instrument to introduce the Gospel to the Gentiles (Acts 10).  In a letter to the believers throughout the Roman Empire shortly before he was crucified by the Emperor Nero, Peter gave this advice about finding God's will:
"God opposes the proud, but gives grace to the humble." Humble yourselves therefore under the mighty hand of God, so that he may exalt you in due time. Cast all your anxiety on him, because he cares for you. Discipline yourselves, keep alert. Like a roaring lion your adversary the devil prowls around, looking for someone to devour. Resist him. steadfast in your faith, for you know that your brothers and sisters in all the world are undergoing the same kinds of suffering. And after you have suffered for a little while, the God of all grace, who has called you to his eternal glory in Christ, will himself restore, support, strengthen, and establish you. To him be the power forever and ever. Amen (1 Pet. 5:5-11).
We seek our own solutions and our own pain-relievers only to become "lion-bait" in the process. God is what we need. God is what we get if we give him those things that make us anxious. We are never going to receive more than God, though. To come to grips with this is to know God's will. This is what David was speaking to in Psalm 62.
For God alone my soul waits in silence,
for my hope is from him.
He alone is my rock and my salvation,
my fortress;
I shall not be shaken.
On God rests my deliverance and my honor,
my mighty rock,
my refuge is in God
(Ps. 62:5-7).
It is hard, but true, that if we should want more than God, we are idol worshipers. God is for us and God is enough for us.
Next week, we will examine principles helpful to us in discerning God's will.
"O taste and see that the Lord is good, Happy are those who take refuge in him" (Ps. 34:8).
Under the mercy of Christ,
Kent
—————————————————————————–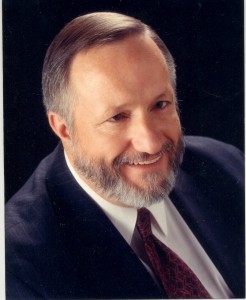 Kent Hansen is a Christian attorney, author and speaker. He practices corporate law and is the managing attorney of the firm of Clayson, Mann, Yaeger & Hansen in Corona, California. Kent also serves as the general counsel of Loma Linda University and Medical Center in Loma Linda, California.
Finding God's grace revealed in the ordinary experiences of life, spiritual renewal in Christ and prayer are Kent's passions. He has written two books, Grace at 30,000 Feet and Other Unexpected Places published by Review & Herald in 2002 and Cleansing Fire, Healing Streams: Experiencing God's Love Through Prayer, published by Pacific Press in spring 2007. Many of his stories and essays about God's encompassing love have been published in magazines and journals.
Kent is often found on the hiking trails of the southern California mountains, following major league baseball, playing the piano or writing his weekly email devotional, "A Word of Grace for Your Monday" that is read by men and women from Alaska to Zimbabwe.
Kent and his beloved Patricia are enjoying their 31st year of marriage. They are the proud parents of Andrew, a college student.