Please note that the content and viewpoints of Mr. Hansen are his own and are not necessarily those of the C.S. Lewis Foundation.  We have not edited his writing in any substantial way and have permission from him to post his content.
—————————————————————————–
Dear Friends:
This is the third message in a series on fretting and worry. I am blessed by the many responses. May the Lord use these words to bring you peace.
*
Do not fret because of the wicked;
do not be envious of wrongdoers
For they will soon fade like the grass.
and wither like the green herb.
.
Trust in the Lord, and do good;
so you will live in the land and enjoy security.
Take delight in the Lord,
and he will give you the desires of your heart.
(Ps 37:1-4)
The instruction to "Be still before the Lord and wait patiently for him; fret not yourself. . ." that was discussed in the first two messages of this series (Ps 37.7). It may be as difficult to obey as anything prescribed in Scripture. The old saying, "The Lord helps those who help themselves" rings in our ears. The guilt-inducing platitude, "You do your part, then the Lord will do his part" presses on our insecurities to goad us into action.
Another cliche fuels our fretting, "You don't want to be too heavenly minded to be no earthly good."  It can seem inexcusably lazy, presumptuous and sinful to sit still and wait patiently for God to do something.
Every one of those popular admonishments is a temptation to pride and self-righteousness. These are particularly deceptive temptations because they appeal to our good intentions and best efforts. The "wicked" are bad guys. Someone needs to set them straight and call sin by its right name and is that not our calling? But who is the fretter setting straight? No one. Fretting tears one up on the inside with fear and worry, but it is ineffective to accomplish anything Jesus said (Mt 6:27).
The Psalmist indicates that the interior harm of worry is caused by an interior sin. We may not be an idolater, blasphemer, murderer, adulterer, liar or slanderer, but who of us hasn't envied someone. Envy is simply a synonym for "covetousness" proscribed by the Tenth Commandment (Ex 20:17). People are doing the wrong thing and getting away with it, maybe even getting wealthy. That irritates us no end, and irritation is one of the symptoms of fretting. It is a form of envy to become irritated at the success of another.
The envy is insidious. We covet the position of the wrongdoer, if not his or her success. We think, "I could do so much good if I only had the advantages that this wrongdoer possesses." But it is the wrongdoer's "doing" that is the sin and our "doing" is no better unless it is inspired by the Lord. Our first ancestors fell for the temptation that they could be like God knowing good and evil (Gen 3:4). Doing "good" in our own wisdom and strength is as much sin as doing evil. It has ever and always been the desire of our Creator to lead and teach us in a direct and loving relationship (Pr 1:7, 3:1-2, 5-6, Matt 11:28-32; 1 Cor 2:9-13).
What our fretting and envy reveal is that we've lost our focus on God and are straying from our relationship with him. We are looking at the wrongdoer and comparing ourselves and comparison is always the deadly enemy of grace in our lives. It blinds us to God's sovereign rule and providence. It places the burden on our merit and cheapens the standard to the human rather than the Divine (cf, Isa 6:1-10).
There is a devastating lyric to a  beloved hymn that points out how we lose our vision of eternity and how to reclaim it.
O soul, are you weary and troubled?
No light in the darkness you see?
There's a light for a look at the Savior,
And life more abundant and free!
Refrain
Turn your eyes upon Jesus,
Look full in His wonderful face,
And the things of earth will grow strangely dim,
In the light of His glory and grace.
–Helen H. Lemmel (1922)
The wicked and the wrongdoers that concern us are not going to last. But what do we do with the pain and the hurt, the unfairness and injustice that they are causing to us and those we love in the mean time?
Scripture is clear in telling us what we are not to do. "Beloved, never avenge yourselves, but leave room for the wrath of God; for it is written, "Vengeance is mine, I will repay, says the Lord" (Rom 12:19).
Vengeance is no work for the amateurs that we are. We always make a hash of it and intrude with violence into a soul that God is attempting to redeem. If we do not see our enemies as someone the Lord wants to redeem for the kingdom of Heaven then we are executing a judgment forbidden to us.
God is just as clear as to what we are to do while we wait to set things aright in his time and his justice. "Trust in the Lord and do good," David wrote in our text for this message. Paul, after exhorting the Romans to leave vengeance to God, continued: "No, 'if your enemies are hungry feed them; if they are thirsty, give them something to drink; for by doing this you will heap burning coals on their heads.'Do not be overcome by evil, but overcome evil with good" (Rom 12:20-21). In other words, we are called to extend such gracious kindness to our enemies that it should cause them to blush with shame and remorse.
Our enemies might not, in fact, be ashamed, sorry or grateful, but that is not the point. The reaction of our enemies, real or imagined, should not dictate our actions. Jesus said, "Love your enemies, do good and lend, expecting nothing in return. Your reward will be great, and you will be children of the Most High; for he is kind to the ungrateful and the wicked. Be merciful, just as your Father is merciful" (Luke 6:35-36).
As long as we are fretting about others and envying them we are being controlled by them. They are consuming our thoughts and driving our action and we are every bit in rebellion against the Lord's will as they are. He says, "Rest and wait," but like spoiled willful children we insist on having our way to the point of tense exhaustion.
We are told that we will live and enjoy security if we do this because we are aligned with God. It is his life we will be living and living it his way. This requires surrender, turning over our hearts and minds to the Lord, to delight in his love and his mercy. All along we have been desiring control, worrying about outcomes and rubbing our soul raw with our fretting. We end up oppressed by our anxieties and depressed to mask our anger and grief. To this, the Lord simply says, "Let me, because I love you, and because I can when you can't." David echoed that thought in urging us to leave our fretting and yield to God.
Commit your way to the Lord;
trust in him, and he will act.
He will make your vindication shine like the light,
and the justice of your cause like the noonday.
(Ps 37:5-6)
There is a letter written by the 17th Century French archbishop Francois Fenelon that I have turned to many times over the years in my struggle with the temptation to take justice into my own hands. It calls me back to the foot of the Cross where Jesus has already taken care of what concerns me.
I have noticed a tendency in you to talk about problems rather than abandoning yourself to God and leaving them with Him. And you will be better off both physically and spiritually when you quietly place everything in God's hands.

.

As the saying goes, "Let the water flow beneath the bridge." You can't change men from being men. People will always be weak, vain, unreliable, unfair, hypocritical and arrogant. The world will always be worldly. And you cannot change it. People will follow their own inclinations and habits. And since you cannot recast their personalities, the best course of action is to let them be what they are and bear with them. Do not allow yourself to be troubled and perplexed when you see people being unreasonable and unjust. Rest in peace in the bosom of God. He sees it all more clearly than you do, and yet He permits it. So be content to do whatever you feel you should, quietly and gently and don't worry about anything else (Fenelon, Let Go [Pittsburgh, PA: Whitaker House, 1973], p. 36).
God is gracious. He asks that we hand over our anxious thoughts in trust of His goodness, but he fills the time of waiting with his presence.  It is his grace that enables us to reach out to the hurting with healing, to the hungry with sustenance, to the thirsty with refreshment and to our enemies with mercy. The comparisons of judgment and envy that cause fretting will drop away "in the light of his glory and grace."  It is our job to look to "Jesus the pioneer and perfecter of our faith"  and keep our focus on him (Heb. 12:2). It is his job to give and keep our peace.
Those of steadfast mind you keep in peace–
in peace because they trust in you.
Trust in the Lord forever,
for in the Lord God
you have an everlasting rock.
(Isa 26:3-4)
Our true conversion when we leave our way behind for Christ's way with his power. As hard a truth as it is, we cannot claim to be converted when we defy him by our fretting. It is past time for us to "Lay down our burdens down by the river side (of his grace) and study war no more."
Next week's message will discuss coming to grips with the drivenness that compels us to self-destruction out of fear and worry.
O taste and see that the Lord is good. Happy are those who take refuge in him.
Under the mercy of Christ,
Kent
—————————————————————————–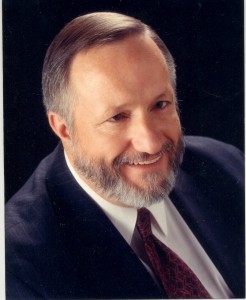 Kent Hansen is a Christian attorney, author and speaker. He practices corporate law and is the managing attorney of the firm of Clayson, Mann, Yaeger & Hansen in Corona, California. Kent also serves as the general counsel of Loma Linda University and Medical Center in Loma Linda, California.
Finding God's grace revealed in the ordinary experiences of life, spiritual renewal in Christ and prayer are Kent's passions. He has written two books, Grace at 30,000 Feet and Other Unexpected Places published by Review & Herald in 2002 and Cleansing Fire, Healing Streams: Experiencing God's Love Through Prayer, published by Pacific Press in spring 2007. Many of his stories and essays about God's encompassing love have been published in magazines and journals.
Kent is often found on the hiking trails of the southern California mountains, following major league baseball, playing the piano or writing his weekly email devotional, "A Word of Grace for Your Monday" that is read by men and women from Alaska to Zimbabwe.
Kent and his beloved Patricia are enjoying their 31st year of marriage. They are the proud parents of Andrew, a college student.