Please note that the content and viewpoints of Mr. Hansen are his own and are not necessarily those of the C.S. Lewis Foundation. We have not edited his writing in any substantial way and have permission from him to post his content.
————————–
Dear Friends:
The Samaritan woman said to him, "How is it that you, a Jew, ask a drink of me, a woman of Samaria (Jews do not share things in common with Samaritans.)" (Jn 4:9).
The problem is presented. This is not a story about the quaint founding of a tourist site in the Holy Land. It isn't reserved for seminar discussions in cross-cultural theology. It is a real story about human needs and the murky doubts that plague our humanity. It is a story of the healing that happens when grace in the person of Jesus Christ confronts the broken-hearted ache of a soul lost in sin. We cannot jump right to the healing. First, we must face the disease and it isn't pretty.
Graphic labels of race and history, religion and gender have been inscribed in flesh and blood long ago. He is a Jew. She is a Samaritan and a woman. Fear and prejudice mix to glue the labels tight.
"(Jews do not share things in common with Samaritans.)" The parentheses in the text give a picture of John putting his hand over his mouth and turning his head to the side for the knowing whisper about bigotry.
Children share their toys and sweets until they attain the shrewdness of experience to understand the harsh concept of loss. This shrewdness is not to be confused with maturity. True maturity is something different. The mature have attained a deeper faith that believes and commits to a truth beyond experience and behave accordingly.
The shrewdness born of loss is about preservation of self in the fear that there will never be more than what one possesses. Against the relentless attrition of sin, the common good is abandoned in a hoarding grasp for competitive survival. The effort to survive grows ever more desperate until one is no longer content to compete, but must start to eliminate competitors in hatred. Hatred means the hater wishes the hated never existed.
The powerful, whose power often is found only in majority status, apply labels to those who are different and weaker to justify their hatred and contempt. Those who are unfortunate in their differences and weakness don't look like we do, believe like we do, talk like we do, or value what we value. Therefore, we are superior and they are inferior and we are justified in what we do to them to protect ourselves from them.
This power reaches its evil strength, when its victim believes it is worthy only to enter by the back door, drink at a different fountain, sit at the back of the bus, suffer abuse and violence in silence, and keep eyes lowered and thoughts in check, while asking a question like, "How is it that you, a Jew, ask a drink of me, a woman of Samaria?"
There is crushing hopelessness in her question to Jesus. It is the oppressive dread of a child who knows no reality beyond the uncertainty and squalor of a refugee camp. It is the despair of a spouse who accepts that the best day is one when she is ignored. It is the drab weariness of a soul reduced to acrid dust by grinding poverty, whether material or spiritual. It is the darkness of a spirit that concludes that God is confined to graceless set-pieces of place, time and rule and there is no gate in the fence through which the distance can be spanned and liberty gained for intimacy and growth. It is the question of a heart that does not know that it is loved.
She asks out of an honest understanding of the facts of her life which, even if hopeless, is where all true prayer must begin–"In the path where I walk, they have hidden a trap for me. Look on my right hand and see–there is no one who takes notice of me; no one cares for me" (Ps 142:3b-4).
As much as we try to dress reality with politically correct platitudes and wishful thinking, there are wells whose waters will always be denied to us by those who apply labels to us and refuse to read anything else about us. There are those of us who, left to our own devices, will never share our blessings in common with others because to do so would admit that we are common and not exceptional. We will not admit that in proud rebellion against the Creator who made us all.
Jesus is there, waiting right at the point, where we make our choices badly and resign ourselves to our fate pathetically. He asks us about the unthinkable, the impossible and irredeemable. Here is the point that we must not miss. If he asks and reaction, however, bitter rises in us, there is the possibility of life and an opportunity for grace that has no relevance to our worthiness or dependence on our strength.
Here is the next question that confronts us if we dare go on with him–Is Christ's grace sufficient for us? If so we can be "content with weaknesses, insults, hardships, persecutions, and calamities for the sake of Christ; for whenever I am weak, I am strong," in him (2 Cor 12:10).
The Samaritan woman doesn't know what she is capable of accepting as she approaches Jesus at the well. She is only reading the labels and going by what they are telling her–"Jews and Samaritans do not share things in common." The path of redeeming grace has to start somewhere. Why not in a challenge to our strongest prejudices and assumptions?
Jesus did not come to confirm us or affirm us in our rightness. None of us can make that claim regardless of our DNA and history (Rom 3:1-18).  He came to give us his glory, Christ in us, as the Father is in Christ, in a continuous, indiscriminate flow of grace so that we may become completely one to prove that the Father's love for the Son and all of us together knows no limits (Jn 17: 22-23).
What this means for us is an end to the arbitrary lines of selfishness that divide Jew and Samaritan, male and female, slave and free for all of us are one in Christ Jesus (Gal 3:28). "For the promise is for you, for your children, and for all who are far away, everyone who the Lord our God calls to him. . . All who believed were together and had all things in common" (Ac 2:39,44). May the grace of the Lord Jesus Christ be with us all.
"O taste and see that the Lord is good. Happy are those who take refuge in him" (Ps 34:8).
Under the mercy of Christ,
Kent
————————–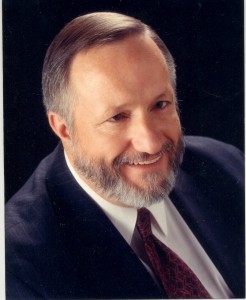 Kent Hansen is a Christian attorney, author and speaker. He practices corporate law and is the managing attorney of the firm of Clayson, Mann, Yaeger & Hansen in Corona, California. Kent also serves as the general counsel of Loma Linda University and Medical Center in Loma Linda, California.
Finding God's grace revealed in the ordinary experiences of life, spiritual renewal in Christ and prayer are Kent's passions. He has written two books, Grace at 30,000 Feet and Other Unexpected Places published by Review & Herald in 2002 and Cleansing Fire, Healing Streams: Experiencing God's Love Through Prayer, published by Pacific Press in spring 2007. Many of his stories and essays about God's encompassing love have been published in magazines and journals. Kent is often found on the hiking trails of the southern California mountains, following major league baseball, playing the piano or writing his weekly email devotional, "A Word of Grace for Your Monday" that is read by men and women from Alaska to Zimbabwe.
Kent and his beloved Patricia are enjoying their 31st year of marriage. They are the proud parents of Andrew, a college student.