Please note that the content and viewpoints of Mr. Hansen are his own and are not necessarily those of the C.S. Lewis Foundation. We have not edited his writing in any substantial way and have permission from him to post his content.
—————————————————————————–
Dear Friends:
This is the thirteenth message in the series on fretting and worry. It is easy to forget the grace that has brought us through. Remembering is an antidote to fretting.
Do you ever have moments of reflection when you realize your puzzle is missing a few pieces? Maybe it's the relationship that hasn't lived up to expectations. How about the income that can't meet the debt? Perhaps your spirit is willing and optimistic, but your body fails the demand you place on it. Then again, you may have committed every resource of intellect, emotion, physical strength, and spiritual knowledge only to find you lack what it takes to meet your goal. You may have many more blanks on your test sheet than answers and you are reduced to chewing on your pencil, paralyzed by fear of the unknown.
What do you remember in those moments of reflection?
Jesus took five loaves of bread and two fish, prayed over them, broke them and fed a crowd of more than 5,000 with twelve baskets of bread and fish left over (Mk. 6:30-44). Later, he took seven loaves and a few fish, blessed them, and fed a crowd of more than 4,000 with seven baskets left over (Mk. 8:1-10).
The Pharisees saw it all and argue with him about it. "Show us a sign from heaven," they say, to test him.
"Nothing doing," Jesus replies with a sigh. "Why does this generation ask for a sign? Truly I tell you, no sign will be given to this generation" (Mk. 8:12).
The Son of Man has nothing to prove. He gets into a boat with his disciples and sails away.
What do you remember when you can't see Jesus on the horizon?
There are thirteen hungry men in the boat this day and they have one loaf of bread among them. The disciples were responsible for packing up the left-overs of the miracle meals–nineteen baskets full. They have already forgotten the bounty of the miracle meal. (Mk. 8:14).
Meanwhile, Jesus' mind is on the relentlessly obtuse Pharisees. There is no faith, no wonder at the mystery of life and love with them. They answer every question, address every issue with a rule or a penumbra of a rule. Instead of faith, they live by guilt and spread it to everyone they can. There is no practical difference between a religion of legalism and a bondage to superstition. Either way, the grip on the soul is terror–terror that you'll do the wrong thing; terror that you will say the wrong words: terror that you will take your cue from the wrong event; terror that you won't measure up to the rest; terror that you won't know what you are supposed to know. Trying to please God by rule-keeping is to enter the spelling bee as a dyslexic.
What do you remember when there are more rules than you can keep?
Jesus ponders the other group dominating his people, the Herodians. They are a party of compromise, blending church and state, looking for power, looking for spectacular accomplishments of the elite to dazzle the masses. Herod reigns by appeasing both secular Rome and the religious establishment. He's rebuilt the Jerusalem temple in great style. He built an entire city and named it after Caesar. Herod and his cohorts offer the solutions of big government, big development, and technology to an oppressed and depressed people in trade for their unquestioning allegiance. Their strategy is to keep the rabble preoccupied with the show while they enjoy the privilege and profit that comes to those who pull the strings and sell the tickets. Bigger is always better to Herodians and the announced goal of public welfare is worth any compromise of personal virtue and conviction
What do you remember when you've tried to please everyone, but they are still asking, "What have you done for me lately?"
Jesus speaks out to his companions in the boat, "Watch out–beware of the yeast of the Pharisees and the yeast of Herod" (Mk. 8:15).
The disciples don't get it. "Yeast…yeast? What is he talking about? It must be the bread we left behind. There must have been something special about the leftovers and we didn't hang on to them and bring them with us. We forgot the miracle bread and he's caught us (Mk. 8:16). Now we're going to pay for our mistake!"
What do you remember when you can't reach back far enough to grab hold of what's worked for you in the past?
Their whining and finger-pointing about the forgotten bread breaks through Jesus' contemplations. He became aware of their obsession with what they had forgotten and what they lacked and he had to ask them, "Why are you talking about having no bread? Don't you get it? Don't you understand what is going on here? Are your arteries so clogged and hard that it cut off the blood flow to your brain? Do you have eyes that see anything? Do you have ears that hear a sound? AND DO YOU NOT REMEMBER?!?" (Mk. 8:17-18).
The disciples are listening now. The only other sounds are the waves splashing on the hull, the flap of the sail and the creak of the mast.
"Jesus asks them, "When I broke the five loaves for five thousand, how many baskets full of leftovers did you collect?"
"They say to him, 'Twelve.'"
"And the seven for the four thousand, how many baskets full did you pick up afterwards?"
"And they say to him, 'seven.'"
"Then Jesus says to them, 'DO YOU NOT YET UNDERSTAND?'" (Mk. 8:19-21). [All quotations are a combination of the NRSV and my paraphrase with emphasis added.]
A beloved client of mine has recently been attacked by a party that thinks technology can solve most everything, and what technology can't solve, the law will intimidate. I was praying for wisdom for the defense on the morning I read this verse and the Holy Spirit transformed these words into peace for my heart and mind.
It is easy in the pressure of catching the boat to forget what is necessary and what has sustained us in the past. It is tempting to say, "If I only had a set of rules to go by, a formula to follow, then it would come out all right." It is seductive to read the motivational and management books and think, "The secret is to keep making deals, achieving bigger scores, and undertaking larger projects. If I stop, I'll drop."
We pursue what we lack in obsessed fury. "If we only had the right consultant, the right balance of equity and venture capital, favorable legislation, the right connection, no one could stop us." Or, "If we only followed the ' blueprint' perfectly, knew the right thing to do and always did it and could pull ourselves together to look good even when we don't feel good"–then we would make it."
We rationalize, "Why be concerned with what ingredient makes the bread rise as long as we always have more bread? Success is memorizing the recipe, kneading harder, buying a better mixer, installing a bigger oven."
We succumb to spiritual anorexia and resist breaking apart the golden symmetry of our hoarded whole loaves even when we are starving.
We fret in prayer, "Jesus, I forgot the bread. Just tell me the recipe and I'll make more." Or, "Jesus, just give me a sign, fire from heaven, a crack in the ground straight through to the middle of the earth, a wet chamois on a dry lawn, a bank error in my favor–anything to tell me you are there and will give me what I need! I'm begging you, Jesus. Please!"
He doesn't respond with an answer, but with tough questions. "Why are you talking about having no bread? Why are you focused on what you are missing or left behind? And do you not remember what I did for you before? Do you really think the secret of the miracle is in the bread and not the Baker? Have you forgotten not only the bread, but that I am right here in the same boat with you? Every time I filled your need before wasn't there more than enough? Don't you understand that I can do it again? Do you understand who I am?"
I ask you again, What do you remember when you contemplate your broken heart and failed dreams?
Hear the remembrance of David: "I have been young, and now I am old, yet I have not seen the righteous forsaken or their children begging bread. They are ever giving liberally and lending, and their children become a blessing" (Ps. 37:25-26). It's all God and it's all grace!
"O taste and see that the Lord is good. Happy are those who take refuge in him" (Ps. 34:8).
Next week we will finish the series with a discussion of what it means when we think the worst, but God has our best in mind.
Under the mercy of Christ,
Kent
—————————————————————————–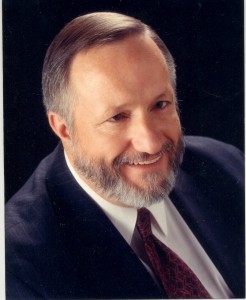 Kent Hansen is a Christian attorney, author and speaker. He practices corporate law and is the managing attorney of the firm of Clayson, Mann, Yaeger & Hansen in Corona, California. Kent also serves as the general counsel of Loma Linda University and Medical Center in Loma Linda, California.
Finding God's grace revealed in the ordinary experiences of life, spiritual renewal in Christ and prayer are Kent's passions. He has written two books, Grace at 30,000 Feet and Other Unexpected Places published by Review & Herald in 2002 and Cleansing Fire, Healing Streams: Experiencing God's Love Through Prayer, published by Pacific Press in spring 2007. Many of his stories and essays about God's encompassing love have been published in magazines and journals.
Kent is often found on the hiking trails of the southern California mountains, following major league baseball, playing the piano or writing his weekly email devotional, "A Word of Grace for Your Monday" that is read by men and women from Alaska to Zimbabwe.
Kent and his beloved Patricia are enjoying their 31st year of marriage. They are the proud parents of Andrew, a college student.