Please note that the content and viewpoints of Mr. Hansen are his own and are not necessarily those of the C.S. Lewis Foundation. We have not edited his writing in any substantial way and have permission from him to post his content.
—————————————————————————–
Dear Friends:
We come to the end of this fourteen-part series on worry and fretting. I've learned a lot writing it. Judging from the responses, many of you found encouragement from these messages.
Our "average" is not God's "normal."  That is to say that it is typical for us to worry and fret some, but it is God's intention that we trust him and live at peace. I have talked in this series about fret-work, picking and pulling until we wear down and wear out. We have looked at the sin of worry and the need for surrender to God.
But there is no formula, no neat, tried-and-true method of stopping worry. It is God taking over and subtracting our will out of the equation. Everything I have said in this series can be boiled down to telling the Lord, "Your will be done."
There is, thankfully, an end to every night of tears. "Joy comes with the morning" (Ps 30:5). I am ending this series with the story of one such night that ended in the shining joy of God's grace for a faithful woman and her family. I firmly believe in the God who brings us through because he loves us.
In shady, green pastures, so rich and so sweet,

God leads His dear children along;

Where the water's cool flow bathes the weary one's feet,

God leads His dear children along.

Some through the waters, some through the flood,

Some through the fire, but all through the blood;

Some through great sorrow, but God gives a song,

In the night season and all the day long.

(George A, Young, 1903)
In the desert you saw how the Lord your God carried you, like one carries a child. And he has brought you safely all the way to this place (Deut 1:31, NCV).
She was in pieces when I met her. The betrayal by her husband and "best friend," a public divorce, and the stresses of raising three children alone shattered her. That was 21 years ago.
We spoke this week as old friends. We remembered some of the times between then and now–some of them dark and harsh places. There were detours and setbacks.
Faith and love brought her through. She never stopped praying even when the light was gone. Some friends stood by her. New ones came along to share and support her.
I've watched her children mature and assume their places as faithful, responsible adults. Her laughter is back. She retired this year with honor. Her civic involvement is stronger than ever.
"You've healed," I told her. "I don't hear the fear, anger, and despairing self-doubt anymore."
"Yes," she said. "I've been thinking these past few weeks about when I had surgery as a little girl and my Dad picked me up in his arms and carried me home across the busy street from the hospital. That's what God has been doing for me all these years."
"You are one of the proofs to me that God is real and grace is true," I told her.
Solomon wrote, "When the tempest passes, the wicked are no more, but the righteous are established forever…The hope of the righteous ends in gladness" (Prov 10:25, 28).
There is nothing more awe-inspiring than seeing God hold the fragments of a broken life in his hand and fit them back together in a new mosaic of his love that he then reveals to view. How he does this is beyond imagining at the time of the breaking. It is his sovereign work of grace to make his something out of our nothing in the dry, empty and chaotic places. "When there were no depths I was brought forth, when there were no springs abounding in water" (Prov 8:24).
There is an old religious myth that "I do my part and then God does his part." This is nonsense. It presupposes our thinking before God's thinking. How is it that we know what our part is to be?
Further, his iron may be added to stiffen our clay, but it is still our clay and it will crumble under pressure. This is why Asaph, the Psalmist, prayed, "Give us life, and we will call on your name" (Ps 80:18) and why the prophet Zechariah proclaimed "This is the word of the Lord…not by might, nor by power, but by my spirit, says the Lord of Hosts" (Zech 4:6).
Christ does not remodel our lives. He starts over like Jeremiah's potter: "He was working at his wheel. The vessel he was making of clay was spoiled in the potter's hand, and he reworked it into another vessel, as seemed good to him" (Jer. 18:3-4). Christ works his salvation for us in the same manner. "So if anyone is in Christ, there is a new creation: everything old has passed away; see, everything has become new! All this is from God, who reconciled us to himself through Christ…." (2 Cor 5:17-18).
We hold out on God, thinking, "This problem is too big! I'll whittle it down to size before I give it to God." Or, "This problem is to small to bother God with. I'll just take care of it myself." We thus focus on ourselves rather than on God and the transformation into his likeness is delayed because it only occurs when we turn our eyes on him (1 Cor 3:18, Col 3:1-4).
Our resistance to surrendering everything to God is at odds with our compulsion to achieve change now! Things like diets, medications, methods, devices are marketed to our desire for magic rather than reformation. They distract us from the completion of Christ in us. He works his will in empty spaces, not in the accumulated clutter of our past that we hang on to in the vain hope that "someday we'll get it together."
If we give ourselves to Christ, he peels us like an onion, spiraling down to our core. There are points when we beg him to stop. "Why can't you leave me alone on this issue? This was always OK before. Can't we just coexist?"
That is our pride talking. It is Cain bringing what didn't cost him much to offer to God when Abel offered life itself (Gen. 4:3). Jesus' offering of himself for our sins on the Cross says that there is no holding back by God for us. "You cannot be my disciple," says Jesus, "unless you give up everything" (Lk 14:33, par.). "For those who want to save their life will lose it, and those who lose their life for my sake will save it" (Lk 9:25).
I have been criticized from time to time for writing so much about brokenness. "Why," I am asked, "make adversity the 'true' path toward knowing and experiencing God? Why not write about the pleasant and beautiful times of life as revealing God?"
If you've been reading my meditations for long, you know that I do write about the good and the beautiful as revelations of God. But I can never lose sight of the fact that "I am a man of unclean lips living among a people of unclean lips"  and it is God the King, the Lord of Hosts who alone is exalted and lifted up (Isa 6:5). We are rebels who have resisted God to the point of wounding and destroying his children and we are capable of putting the Son of God to death.
"Rebellion is as the sin of witchcraft, and stubbornness is like iniquity and idolatry" (1 Sam. 15:3).
We are mesmerized by our own desires and illusions of strength and prowess. We are insistent on our own expectations and methods. It is only when the hard facts of living reveal the truth that we are neither as good or strong as we thought we were that God's spirit gains the opportunity to transform our lives. When the relationship is betrayed, the bank account is drained, the job is lost, the child rejects us, and health proves fragile and our strength ebbs away, we have to ask, "What now?" and Who will help us?" Or, take the suggestion of Job's wife and "Curse God, and die" (Job 2:9).
What my friend now knows in her heart that 21 years ago she only knew in her head, is that "God is for us" when no one else cares and Christ loves us when no one else does (Rom 8:31-39).
I learned many years ago through a tragic accident that brought death to someone I loved and serious injury to me that my expectations and strength of will and body were not adequate to the challenges of living. But I learned that even when I cannot hold on to Christ in my weakness, he holds on to me (Phil 3:12). I found out that whatever I think I know, I don't know enough to protect myself and those I love, but God does know me and love me (1 Cor 8:2-3). My plans and desires do not control the future. I cannot tell what I will be then, but I have learned if my singular hope is my future with Christ, then I will be like him when the future arrives (1 Jn 3:2).
Followers of Christ look to the future while living in the present. They reject the past as the controlling factor of their destiny and live with hope in their future with God. This hope excludes the "grab-all-you-can-get-now-because-this-is-all-there-is" living that exploits others and risks ourselves for the trivial. An assured future means one can live freely and generously in the present. We can love because we are not competing for power and survival.
Hoping in Christ purifies us because he is pure and we are rejecting cheap, adulterating substitutes for love. "Purity of heart is to will one thing," said Kierkegaard. Followers of Christ pray for that purity:
Our Father in heaven,
hallowed be Your name,
Your kingdom come,
Your will be done,
On earth as it is in heaven.

(Mt 6:9-10)
That prayer, taught by Jesus, says that it is by daily living in the sustenance of our Father, forgiving and seeking forgiveness when we cross the line in our human compulsions and frailty, that makes his kingdom a reality for us (Mt 6:11-13).
There is plenty happening in our lives to argue against this faith. We wear out. There are traps for the unwary. We are exposed, and others are indifferent, or, worse yet, attack us or seek to bind us to their schemes. All of this is described by David in Psalm 142 in a "cry to the Lord" (v. 1). But he ends that prayer with this confident statement of trust in God:
The righteous will surround me,
for You will deal bountifully with me.
We walk through such times "by faith, not by sight" (2 Cor 5:7), but God is merciful in sharing human testimony of those who are traversing the darkness. Stories like my friend's 21 year odyssey from shattering to healing remind me that the words of the Apostle John about Christ have substance: "And now, little children, abide in him, so that when he is revealed we may have confidence and not be put to shame before him at his coming" (1 Jn 2:28).
This belief gives me the desire to love and serve when my natural instinct is to take and conserve. It leads me to forgive when vengeance seems the logical and deserved course. It strengthens me to endure when I most want to cut and run. If I make any difference in this world for good it is because I believe in a life after this one because of a God who transcends my time and place and who will come to pull me out of it for no other reason but love.
I wish that I could say that I am completely done with the sins of fretting and stubborn willfulness. but that is not the case. The rebellious spirit in my heart is engrained to the point that I find my surrender to the will of Christ is a daily, hourly, minute-by-minute need. My hope and faith is that Christ has hold of me and his righteousness has me covered in mercy with the Father even as the Holy Spirit works within me to conform me to Christ's likeness (Heb 10:14). This hope and faith are what gets me through the worst times and the best times because Christ is life for me. I pray that he is life for you as well.
The truth is that I have found peace in Christ alone, not through my best efforts at perfection which relentlessly fall short. Christ's grace is sufficient for me because his power is the complete solution to my weakness. I share in the experience and peace of the Apostle Paul who wrote, "For the sake of Christ, then, I am content with weaknesses, insults, hardships, persecutions, and calamities. For when I am weak, then I am strong" (2 Cor 12:9-10).
It sounds absurd, doesn't it, that one could find contentment despite the worst failings of their nature, the rejection and wounds inflicted by others, and the horrific events inevitable in a broken and violent world? The Word of God says that this contentment is not only possible, but necessary. We are incompetent to fix ourselves let alone protect those we love from all harm. This is the bottom line of our existence and salvation. Our worry and fretting are, in the final analysis, premised on the original lie that we can see and know what is good and what is evil every bit as well as God can (Gen 3:5). We can't see and know those things and our pretense that we can is the true absurdity.
We need God, who comes to us as Jesus Christ. Until we confess that need and yield to his power, we will live badly and unhappily. Jesus' words give the benediction to this series on worry and fretting. He said, "With God all things are possible" (Mt 19:26), but apart from me you can do nothing (Jn 15:5).  One of those things that is possible with God is repentance from the functional atheism of worry and fretting.
Trust Jesus, but if you find you do not trust him tell him so honestly. He can handle anything we give him, but he needs our honesty. Ask him to remove the burdens and cares of your soul and teach you to trust. This is a prayer that he will hear and answer because he is the "Prince of Peace," and the government of everything rests on his shoulders, not yours. It is both the goal and power of Christ's reign and rule to establish and maintain permanent peace for you and me. This is the blessed assurance of his grace to us: "Of the increase of his government and of peace there will be no end" (Isa 9:6-7)
"O taste and see that the Lord is good. Happy are those who take refuge in him" (Ps 34:8).
Under the mercy of Christ,
Kent
—————————————————————————–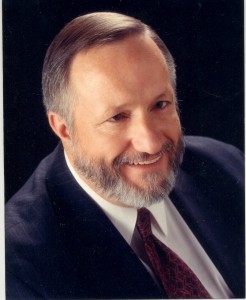 Kent Hansen is a Christian attorney, author and speaker. He practices corporate law and is the managing attorney of the firm of Clayson, Mann, Yaeger & Hansen in Corona, California. Kent also serves as the general counsel of Loma Linda University and Medical Center in Loma Linda, California.
Finding God's grace revealed in the ordinary experiences of life, spiritual renewal in Christ and prayer are Kent's passions. He has written two books, Grace at 30,000 Feet and Other Unexpected Places published by Review & Herald in 2002 and Cleansing Fire, Healing Streams: Experiencing God's Love Through Prayer, published by Pacific Press in spring 2007. Many of his stories and essays about God's encompassing love have been published in magazines and journals.
Kent is often found on the hiking trails of the southern California mountains, following major league baseball, playing the piano or writing his weekly email devotional, "A Word of Grace for Your Monday" that is read by men and women from Alaska to Zimbabwe.
Kent and his beloved Patricia are enjoying their 31st year of marriage. They are the proud parents of Andrew, a college student.