Dear Friends,
On Monday morning, October 5, 1998, I was home getting ready drive over to Newport Beach for the afternoon and evening to be with my sister Judi who had suffered a disabling stroke related to her diagnosis of stage four pancreatic cancer.
That morning I shared a quote with nine friends on the unconditional love of the Father from the German theologian, Hans Theilicke. This is the quote—
Men and women born again are those who take seriously that God is their Father. But to be children of the Father is to know that we are loved by Him and to reflect in our hearts the love received from Him, so that we also love our brothers and sisters. To be children of this Father is to dare to come back to Him as lost sons and daughters because His heart is waiting for us, and then to receive the power in turn to forgive our fellow humans. To be children of this Father is to come to Him with all our cares and requests, saying, 'Abba, dear Father.' To be children of this Father is to trust in His love in hours of darkness and in difficulties, because a Father does not fool His children but always has for them the hidden thought of love (Out of the Depths, (Eerdmans, 1962), p.64).
I called the email "A Word of Grace for Your Week." The persons receiving it liked it.
I followed up with weekly emails of encouragement and the recipient list grew. By Christmas of that year about 200 persons were receiving it. I began to write the messages myself and called them "A Word of Grace for Your Monday."
My hope was to reach busy professionals at the start of their week with thoughts of Christ's love and the encouragement of grace. That is still the plan.
The number of recipients leaped to nearly a 1,000 by the first Monday of April, 1999, after I sent out a story of my experience as a geeky, gawky eighth grade softball player with a bullying teacher. Readers identified with that story and asked for more.
I had enjoyed success as a writer in high school and college. I edited student newspapers and several of my essays and short stories were published. I even won some awards.
Then my heart was broken after an accident in which my fiancée died and I suffered serious leg injuries.
I lost the desire to write anything except legal briefs and articles on the law for the next fifteen years. But Christ became my life and one morning during praise and worship at a spiritual conference, the Holy Spirit spoke to my heart, "You need to start writing." I felt the warm, specific pressure in my heart that I've come to identify with the Lord's instruction. But I did not obey.
A year later, while driving alone to lead worship at a church service, the Lord spoke to my heart, "I told you to start writing." There was no denying his command.
I bowed my head and responded, "Lord, I will write as long as you give me something to write about."
Articles and stories flowed after that and six years later I began to write the email messages to convey the goodness and grace of Jesus. There have been over 1,000 messages to date. This led to the publication of a book on grace and another book on prayer.
A number of subscribers reconnected to Christ. Groups have formed around discussion of the messages. I've received thousands of messages of thanks from Alabama to Zimbabwe.
My muse and proofreader was my wife Patty. She was a rigorous thinker and deeply committed follower of Christ who straightened out my spelling and grammar and helped keep my messages spiritually and intellectually honest.
When Patty died last June 26, I could not bring myself to write a message for a month. It was a time of mourning and prayer. Experiences of grace continued, however, and some of these provided material for subsequent messages.
I continue to write because I want people to know the love of Jesus and the Father. I want them to know that Christ's grace sustains us day by day as well as saves us for eternity.
The desire to write the positive truth about my Lord rises in me like a mountain spring. The messages typically take 8 to 12 hours to write. I have learned many things in researching and writing them.
Expressing my faith strengthens it. I am blessed by the inspiration and the writing process that energizes me.
Going back over the messages this week, I found that what I believed in 1998 is what I believe now. Originally, I only quoted other authors in the messages. Two months in, I began to write them for myself. Here is a quote from the first message authored by me–
Grace challenges us, grace devastates us, because it tells us God is everything and nothing need be added, even our best selves. The German mystic Meister Eckhart wrote: "God is not found in the soul by adding anything, but by a process of subtraction." That is what I have experienced as the devastation of grace. The knowledge received from obedience to the command "Be still and know that I am God" strips away all pretense and self-importance.
.
When I forget this truth, I go back to the false paths of "God helps those who help themselves," or "I do what I can and then Jesus does the rest" or "God and I are partners," and then I am in trouble. What capital contribution do I think that I can bring to a partnership with God?
When the stress comes, his steel will hold but my clay will surely crumble. Then I will cycle back into the guilt and self-flagellation of "When will I ever learn?" or "Why can't I do more?" The real question is why don't I believe "… in Christ Jesus, who became for us wisdom from God, and righteousness and sanctification and redemption" (1 Cor. 1:30) instead of trying to be all those things for myself?
I still believe this and here is a variation on the same them from a message I sent out earlier this year—
Jesus holds on to us even when we don't have a good grip on him (Phil 3:12-13). As we sang as children, we are weak, but He is strong. Yes, Jesus loves me!
We are broken and weak and in varying degrees of wreckage or repair. In our shame, we would curl up in a fetal position, pull the blanket over our heads and hope it would all go away, but how is that working out for us? Or we would expend ourselves in a fruitless search for alternatives.
Every other spiritual alternative, demands of us something we cannot do. With Christ it is done!
My grace is sufficient for you, for my power is made perfect in weakness (2 Cor 12:9).  Are there any more encouraging words than these?
Others criticize us and shame us, and we beat ourselves up over our failings and inadequacies. But Christ says, You can hide in me, and when you are seen again, it will be me they are seeing (See, Col 3:1-4). He shelters us in his love and covers us with his glory.
I began writing these messages when I was grieving my sister's final illness and death. Twenty years later, I am writing when I am in grief over the loss of my life's companion. This world, broken by sin, is a hard place.
Despite the heartaches, over the years of writing these messages, my belief that God is good and loving has deepened and my faith has gained strength and focus.
I have also found that I know a whole lot less than I thought I did when I began writing these messages, but God has grown in immensity in my mind and heart. I thank and praise him with the words of David in Psalm 65:7-8
You have been my help,
                  and in the shadow of your wings I sing for joy.
            My soul clings to you;
                  your right hand upholds me.
As you read these messages, I hope you have discovered the same song of joy and are singing it.
O taste and see that the Lord is good. Happy are those who take refuge in him" (Ps. 34:8).
Under the mercy of Christ,
Kent
Please note that the content and viewpoints of Mr. Hansen are his own and are not necessarily those of the C.S. Lewis Foundation. We have not edited his writing in any substantial way and have permission from him to post his content.
————————–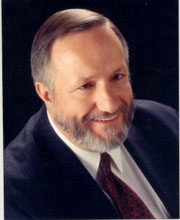 Kent Hansen is a Christian attorney, author and speaker. He practices corporate law and is the managing attorney of the firm of Clayson, Mann, Yaeger & Hansen in Corona, California. Kent also serves as the general counsel of Loma Linda University and Medical Center in Loma Linda, California.
Finding God's grace revealed in the ordinary experiences of life, spiritual renewal in Christ and prayer are Kent's passions. He has written two books, Grace at 30,000 Feet and Other Unexpected Places published by Review & Herald in 2002 and Cleansing Fire, Healing Streams: Experiencing God's Love Through Prayer, published by Pacific Press in spring 2007. Many of his stories and essays about God's encompassing love have been published in magazines and journals. Kent is often found on the hiking trails of the southern California mountains, following major league baseball, playing the piano or writing his weekly email devotional, "A Word of Grace for Your Monday" that is read by men and women from Alaska to Zimbabwe.