Jesus told a story that I love. It's about finding lost things —
Or what woman having ten silver coins, if she loses one of them, does not light a lamp, sweep the house, and search carefully until she finds it, she calls together her friends and neighbors, saying rejoice with me, for I have found the coin that I had lost. Just so, I tell you, there is joy in the presence of God over one sinner who repents (Luke 15:8-10).
The coin amounted to about a day's wage for the household. Going to the expense of lighting the lamp and the effort of sweeping the whole house even extending the search to hard-to-reach places tells us that this would be an intolerable economic loss.
There was likely more going on here. The ten silver coins had to do with a Jewish marriage custom. Girls scrimped and saved to acquire ten coins that were then strung on a cord and worn as a necklace or a headband. This was the woman's sole property and remained so in marriage. It wasn't even available to creditors to satisfy the debts of the household.
These coins on a string signified that the woman was married. It was an equivalent of the modern wedding ring. Its emotional value would exceed its monetary value.
Jesus may have watched this story unfold in his own home as a child. Mary would have prized the certification of her marriage, having endured the questions about her pregnancy before the start of it. The searching light and vigorous sweeping would be memorable to an inquisitive child. He might even have been told to listen for the tell-tale clink or the rustle of the spinning coin across the floor.
It is easy to imagine a child's prayer. "Lord, please help my mother find her lost coin."
There are objects that are precious to me. Pens, books, hats and walking sticks are some of the things that I collect. If one of my items goes missing, I get obsessed about finding it, though, in the interest of full disclosure, there are people close to me who have much better sense then I do about where to look for what I lose.
But those are trivial things; my identity is not wrapped up in them like the woman's would be in her marriage coins. The loss of the coin was more than monetary. It was a loss of the heart stirring memory and desire for restoration.
The relief and joy when the coin was found led to a party for the woman and her friends and neighbors. In this earthly scene, echoes of heaven's excitement sounded and Jesus gained another way of explaining his mission. One lost sheep out of a hundred found again; a lost coin found; a lost son returning home to a heart-broken father–all of these were cause for celebration, Jesus said. In heaven they put on the music, fill the balloons, and break out the cake and ice-cream whenever a child of God, who has wandered off to loss and to shame, comes home again.
The sheep and the boy wandered off on their own stubborn and futile ways. How did the coin become lost? We aren't told, but if it was a marriage coin, a knot slipped or the cord broke. A sinful and broken world is a confusing and dangerous place. Many times the loss is due to overwhelming circumstances for which there is no adequate coping mechanism.
The story here is about the finding, and the God, who like the good shepherd, a woman diligent in seeking the return of what is precious to her, or a heart-broken dad waiting for the return of his child, considers no loss acceptable. He sets every other consideration aside for the search.
His sweep is comprehensive, his light is penetrating, and his search is careful, but his isn't a story about good housekeeping. You can search Luke 15 in vain for any indication that he wants to scrutinize and analyze how the loss occurs and how to prevent it again before moving on. It is a story about the outbreak of joy around God when the lost is found.
You cannot understand this story unless you put yourself in the role of the lost marriage coin. God thinks of you with love and faithfulness for eternity. He is dismayed to lose you and overjoyed to find you. He cares what happens to you. He wants you back. He finds you and puts you back where you belong.
People are fond of saying, "There are two sides to every coin," to caution us not to expect much. That's not what God thinks about you. He's no spoilsport or nitpicking critic. He loves you. He is proud and happy to have you with him. Enjoy the party!
"O taste and see that the Lord is good. Happy are those who take refuge in him" (Ps 34:8).
Under the mercy of Christ,
Kent
Please note that the content and viewpoints of Mr. Hansen are his own and are not necessarily those of the C.S. Lewis Foundation. We have not edited his writing in any substantial way and have permission from him to post his content.
————————–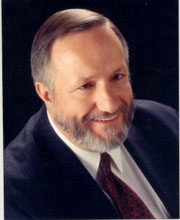 Kent Hansen is a Christian attorney, author and speaker. He practices corporate law and is the managing attorney of the firm of Clayson, Mann, Yaeger & Hansen in Corona, California. Kent also serves as the general counsel of Loma Linda University and Medical Center in Loma Linda, California.
Finding God's grace revealed in the ordinary experiences of life, spiritual renewal in Christ and prayer are Kent's passions. He has written two books, Grace at 30,000 Feet and Other Unexpected Places published by Review & Herald in 2002 and Cleansing Fire, Healing Streams: Experiencing God's Love Through Prayer, published by Pacific Press in spring 2007. Many of his stories and essays about God's encompassing love have been published in magazines and journals. Kent is often found on the hiking trails of the southern California mountains, following major league baseball, playing the piano or writing his weekly email devotional, "A Word of Grace for Your Monday" that is read by men and women from Alaska to Zimbabwe.