Sorry for the delay on posting this message – I've been busy in meetings and working on projects this week.
Enjoy.
Steve Elmore
—————————————————————————–
Please note that the content and viewpoints of Mr. Hansen are his own and are not necessarily those of the C.S. Lewis Foundation.  We have not edited his writing in any substantial way and have permission from him to post his content.
—————————————————————————–
Dear Friends:
This is the ninth message in a series on worry and fretting.
"Fear is useless. What is needed is trust."
(Mark 5:36, paraphrased)
Someone spoke to me this week about trust. "It is hard to acquire," she said.
"Yes it is," I replied. Then I added, "But I have learned to trust more as time goes on and my focus on God has steadied through practice."
We sat in silence for a moment. "Do you know what taught me trust?" I asked her.
"What?"
"Mathematics–subtraction to be specific."
"Really?" was her doubting reply.
"Really. I do not make this up." Taking out my pocket New Testament, I said read Luke 14:25-33 with me."
Now great crowds accompanied him, and he turned and said to them, "If anyone comes to me and does not hate his own father and mother and wife and children and brothers and sisters, yes, and even his own life, he cannot be my disciple.  Whoever does not bear his own cross and come after me cannot be my disciple. For which of you, desiring to build a tower, does not first sit down and count the cost, whether he has enough to complete it? Otherwise, when he has laid a foundation and is not able to finish, all who see it begin to mock him, saying, 'This man began to build and was not able to finish.'Or what king, going out to encounter another king in war, will not sit down first and deliberate whether he is able with ten thousand to meet him who comes against him with twenty thousand? And if not, while the other is yet a great way off, he sends a delegation and asks for terms of peace. So therefore, any one of you who does not renounce all that he has cannot be my disciple.
"People have a hard time with this text because of the word 'hate,'" I told her. But the word "hate" used here means "as if the object never existed in comparison with Christ in our life. Jesus is saying that He needs to be the focus of our thinking rather than our closest relationships, our commitments, our work, our projects, our conflicts, even our living, breathing everyday life–"all" that we have. If you think about it, the things Jesus' lists here are the very things that we worry about and with which we have the hardest time developing trust. I went on to tell her how I came to have trust, which is a relatively new and novel experience for me.
This is not the anti-family statement that it seems at first. That's a shallow and incorrect reading of the text. Jesus is very clear that it is wrong to use God as an excuse for neglecting your family obligations (Mark 7:10-12). Jesus said that the first and greatest commandment was to "Love the Lord our God with every part of our being." I had to ask myself, "If I am devoted to God like that, what will be left for my family and friends?" Jesus said the second commandment is like the first, "Love the one who needs you as your very self" (Matt 22:40, my par). So obviously love for those who needs me flows out of my love relationship with Christ.
Because of certain abilities, I was advanced quickly to leadership as a student and a young lawyer. With leadership comes responsibilities. I used to be anxious that I was doing enough and was adequate to the challenges of relationship and work. I'd look at the situation and think, "No one else is going to do what needs to be done and one else is going to take care of me in this." I would push harder, do more, and force the issues if I had to do so. Rewards, even greater responsibilities, come with that kind of effort, but it does not result in trust.
Perversely, the very relationships I was concerned about were strained by my effort to take care of them. Distrust always leads to distance and distance always leads to distrust and the cycle becomes vicious.
Christ had become a living reality to me, but that added the burden of being "spiritual." I worked hard at that also–studying more, attending more, praying more, always more. But I was the same hard-driver, doing whatever was necessary to get the job done, irritated at anyone and anything that interfered with my objectives, tough on those closest to me who couldn't or wouldn't keep up to my satisfaction. I was the toughest on me. That is always going to be a problem.
Jesus says, "Come to me with your overworked, over-burdened self and I will give you rest," but I thought, "If I stop trying, if I let go, I am going to fall into a bottomless abyss. What if God doesn't catch me? I have to keep my grip." So I flexed my muscles and squeezed harder and tried to ignore the resulting exhaustion and pain.
Then one day, facing a particularly stressful performance, the Holy Spirit led me to the prayer of subtraction inspired by the words of John the Baptist when one of his disciples informed him that his ministry was losing "market share." The fiery John's answer was to surrender. He said:  "A person cannot receive even one thing unless it is given him from heaven. You yourselves bear me witness, that I said, 'I am not the Christ, but I have been sent before him.'The one who has the bride is the bridegroom. The friend of the bridegroom, who stands and hears him, rejoices greatly at the bridegroom's voice. Therefore this joy of mine is now complete. He must increase, but I must decrease' (John 3:27-30).
"Lord Jesus Christ, Son of the Living God," I prayed. "Forgive me for my sin of presumption and my lack of trust. May be glorified in this situation. You must increase and I must decrease. Take me out of it completely. Empty me of my concerns, my ego, and even my thoughts and abilities. Fill me and these circumstances with your holy presence. In Jesus' holy name I pray, Amen." I felt nothing different when I opened my eyes, but throughout the time of performance I had no thought of me.
I often repeat that prayer often. It has been answered with the greater sense of the peace and joy that accompanies Christ's presence.
What I could not have predicted was that Jesus would fill the space that I vacated by my surrendered will with his love. The more I've prayed the prayer of subtraction of self, the more he has increased in my thoughts and actions. What others thought about me became less important as I came to believe and trust Jesus' love for me. He says, 'How can you believe when you accept glory from one another and do not seek the glory that comes from the one who alone is God' (John 5:44).  Stunning as it is, I had to come to the realization that I could not even be counted as a believer unless God alone was the source of my approval. This alone has removed a giant obstacle to trust.
The subtraction of grace is embodied in my favorite text: 'I have been crucified with Christ. It is no longer I who live, but Christ who lives in me. And the life I now live in the flesh I live by faith in the Son of God, who loved me and gave himself for me' (Gal 2:19-20). He is a jealous God, a lover who won't coexist. It is all or nothing with Christ and as I yield, he moves in and the other things that I care about are displaced from my consciousness. As Christ possesses me, I discover more and more that my worth to him is more than the results of my efforts just as I've come to love Christ for himself and not for what he does for me.
Giving myself up to Christ in entirety means that I no longer have to defend my possessions with distrustful defensiveness. I can receive his love and pass it on to others in the reliance on an endless supply.
Please understand, I still have all the physical and emotional chemistry that makes me desire to seize the wheel and drive for myself, but my experience has proved the truth of David's maxim: Delight yourself in the Lord, and he will give you the desires of your heart (Ps 37:8). 'The things of earth [do] grow strangely dim in the light of Jesus' glory and grace,'as the song says. Jesus is who and what I have come to desire. As Oswald Chambers succinctly puts it, "True surrender is a matter of being 'united together with Jesus in the likeness of His death' (Romans 6:5) until nothing ever appeals to you that did not appeal to Him" (My Utmost for His Highest, [Grand Rapids, MI: Discovery House, 1992], entry for September 13).
Trust is a fruit of love. Last summer, I wrote a series of meditations on Psalms 23. The exercise impressed upon me that evil is the absence of God's love. I need have no fear of evil if the Lord is with me (Ps 23:4). There is nothing that "will be able to separate us from the love of God in Christ Jesus our Lord" (Rom 8:37-39). As the truth of Christ's love has dawned with the light of reality in my life, trust has grown.
What this means as a practical matter is that I have come to accept that Christ accepts me even as he restores his likeness in me (Heb 10:14). As every parent knows, unconditional love does not mean unconditional approval. Christ does not approve of my every behavior. The Cross was necessary for my sins, just as Christ's resurrection was necessary for me to have life. "Therefore, if anyone is in Christ, he is a new creation. The old has passed away; behold, the new has come" (2 Cor 5:17). When I embraced this truth as my own, I gave up the right to worry and fret because to continue to do so would deny who Christ is in me (Rom 8).
I place my trust in Christ alone. My desire to pursue any other course has faded away as I have turned over the objects of my love and concern to him. He alone remains as my desire. That is how subtraction has led me to trust and trust has led me to peace in him alone.
The next two messages in the series will discuss obedience, the mark of authentic trust.
"O taste and see that the Lord is good. Happy are those who take refuge in him (Ps 34:8).
Under the mercy of Christ,
Kent
—————————————————————————–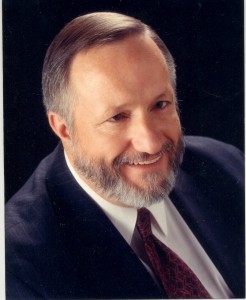 Kent Hansen is a Christian attorney, author and speaker. He practices corporate law and is the managing attorney of the firm of Clayson, Mann, Yaeger & Hansen in Corona, California. Kent also serves as the general counsel of Loma Linda University and Medical Center in Loma Linda, California.
Finding God's grace revealed in the ordinary experiences of life, spiritual renewal in Christ and prayer are Kent's passions. He has written two books, Grace at 30,000 Feet and Other Unexpected Places published by Review & Herald in 2002 and Cleansing Fire, Healing Streams: Experiencing God's Love Through Prayer, published by Pacific Press in spring 2007. Many of his stories and essays about God's encompassing love have been published in magazines and journals.
Kent is often found on the hiking trails of the southern California mountains, following major league baseball, playing the piano or writing his weekly email devotional, "A Word of Grace for Your Monday" that is read by men and women from Alaska to Zimbabwe.
Kent and his beloved Patricia are enjoying their 31st year of marriage. They are the proud parents of Andrew, a college student.