Crystal  Sullivan Hurd kindly gave us permission to repost a blog post she wrote after attending the 2012 C.S. Lewis Retreat in Navasota, Texas.  The original post appeared on her blog and can be found at http://crystalhurd.com/?p=474
At the conclusion of The Voyage of the Dawn Treader, Lucy and Aslan have an important exchange: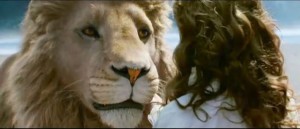 "Oh Aslan," said Lucy. "Will you tell us how to get into your country from our world?"
"I shall be telling you all the time," said Aslan. "But I will not tell you how long or short the way will be; only that it lies across a river. But do not fear that, for I am the great Bridge Builder. And now come; I will open the door in the sky and send you to your own land."
"Please, Aslan," said Lucy. "Before we go, will you tell us when we can come back to Narnia again? Please. And oh, do, do, do make it soon."
"Dearest," said Aslan very gently, "you and your brother will never come back to Narnia."
"Oh, Aslan!!" said Edmund and Lucy both together in despairing voices.
"You are too old, children," said Aslan, "and you must begin to come close to your own world now."
"It isn't Narnia, you know," sobbed Lucy. "It's you. We shan't meet you there. And how can we live, never meeting you?"
"But you shall meet me, dear one," said Aslan.
"Are – are you there too, Sir?" said Edmund.
"I am," said Aslan. "but there I have another name. You must learn to know me by that name. This was the very reason why you were brought to Narnia, that by knowing me here for a little, you may know me better there."
I'm not one to contradict Aslan, but I have discovered a portal to Narnia.  You cannot tarry there long, three or four days perhaps. But it is a world away from this one (figuratively speaking) and full of the whimsical individuals who honor Aslan and Lewis, and most importantly, Christ.
That place is Camp Allen, a retreat center in Navasota, Texas, a short distance from Houston.  Every year, the C.S. Lewis Foundation hosts The C.S. Lewis Retreat there, welcoming writers and readers from all over to discuss, reflect, learn, and share. The Retreat runs from Friday evening to Sunday morning (with early sessions on Thursday evening and Friday morning).  I was excited to attend, but I didn't know the blessing awaiting me there which far exceeded my expectations.
My adventure began on Thursday evening, with a "Sprinklings" meeting during which members shared some of their work. We read together, laughed together, celebrated together, and made deep connections. On Friday, we attended great sessions and concluded the evening with a wonderful time at Bag End, an open mic experience which welcomed artistic expressions from various members of the crowd.  Saturday followed with more great sessions and a performance by the Ad Deum Dance Company, with a return to Bag End for poetry and musical performances.
It is extremely difficult for me to articulate how wonderful the Retreat was. On a practical level, the sessions were incredibly helpful and interesting. I took copious notes about the importance of social media, the writing process, how to rebound after failure, and the importance of writing in community. Diana Glyer, author of The Company They Keep, was a marvelous instructor (among many others), melding faith and art together seamlessly and with great wisdom.
On a social level, I chatted with other aspiring writers about their processes and their obstacles (many of them shared).  I made life-long friends. As a Lewis fan, it is hard to find someone who can chat with you about Lewis and not think you are a raving lunatic. I have Lewis's name on my car tag, Narnia posters in my classroom, Narnia paraphenalia in my home office, and Lewis references littered throughout my conversations.  I have been called "that Lewis lady" and probably names much worse when I was out of earshot.  I have accepted that I'm an "odd bird" who would rather read a novel than scavenge through Pinterest or watch _____________ (Honestly, I watch so little television that I don't even know what popular show to reference here). The Retreat gave me an opportunity to connect with other bookworms and Lewis fans.  It was a surreal experience, and one which reminded me that I am not alone on my journey.
On a creative level, I was challenged and enriched. My phone was silent and my mind and hand were occupied, scribbling various ideas and verses of poetry. It was my Walden, my escape from the shackles of modern culture and responsibilities which characterize our adult lives.  For a few days, I can step away from the heaps of laundry and from dishes which call from the sink to be cleaned.  I don't have to give the dog her thyroid pill. I don't have to pack the lunches or grade essays for work.
I can strip all of that away and just be Crystal for once. Not the lady who runs at a dizzy pace to complete her tasks, but the one who sits patiently and waits for the Muse to arrive, who finds a deep joy and ecstasy as words fill the page. She is the one who grew up reading and wants to return the favor by writing.  Ideas are reciprocal and therefore writing is necessary.  I anticipate these moments, and relish them when they come at long last with great pleasure.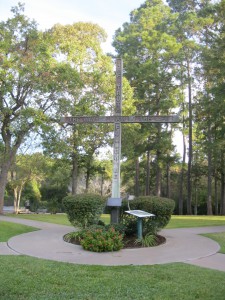 Finally, on a spiritual level, I was blessed beyond measure. If ever there was a place where God is present in art, it is here. There are a multitude of ways to illustrate your love and adoration for God, and art (using pens, paintbrushes, instruments) is a wonderful avenue of expression. A blank page, an empty canvas, measures awaiting notes – all of these are opportunities to praise our Savior. God is indeed the architect of such good things.
In addition, there was a religious plurality there which defies denominations and dogma. The world would benefit greatly by taking a hint from The C.S. Lewis Retreat.  It is proof that when we see ourselves primarily as sons and daughters of Christ before [insert denomination] -ists or -ans, we can erode the layers of discrimination which have haunted the Church for centuries. There is no pretense, no condescension, only appreciation.  The family of God is so wide and so wonderful.  There is beauty in that diversity which we neglect when we scurry to our own church doors and often away from blended brethren. What good could come in the world if we all came together and united under one banner for Christ? It was a time of fellowship that has surpassed any other which I have experienced in my life.
I urge you to attend one of the Foundation's events in the coming months and years. I have found it to be spiritually and creatively nourishing.  Even if you don't "write", but love authors like Lewis or Tolkien (or even books in general), I highly recommend this conference.
The door to the wardrobe stands ajar.  Now is a good time to look beyond the fur coats which block our entranceway, press forward, and arrive at a greater understanding.
–Crystal
Crystal is a writer, reader, public school educator, and adjunct professor.  She is happily married with three beautiful Terriers (adopted from local shelters).  She is a certified book nerd who loves to read and research works involving faith, literature, art, and leadership.  You can visit her webpage  www.crystalhurd.com , friend her on Facebook, (Crystal Sullivan Hurd) and follow her on Twitter:  @DoctorHurd and @hurdofficial.