Dear Friends,
Near Christmas, more than nine years ago, I wrote and sent out the following message.
I will bless them and the places surrounding my hill. I will send down showers in season; there will be showers of blessing (Ezekiel 34:26)
The mountains and the hills surrounding the campus of the Loma Linda University Adventist Health Sciences Center signify God's abiding presence to those if us who serve there.
But God seemed distant to us in late October 2003 when the slopes were ablaze with ravaging wildfire. A long drought had weakened the firs and pines. The trees were vulnerable to an infestation of bark beetles that cut off the flow of their life-giving sap turning the branches into torches for the advancing flames.
The sun shown red in the smoke, then disappeared. Ash fell on the campus streets and lawns in wind-blown drifts of salt and pepper.
Some of our co-workers and hundreds of neighbors lost homes. Many more were evacuated.  The devastation seemed endless on Tuesday afternoon when the Medical Center Department Heads gathered for their regular meeting. Already some of our physicians, nurses and pharmacists were providing volunteer care to the growing horde of evacuees at the old Norton Air Force Base.
I came to the meeting to address an important personnel issue, but such topics seemed insignificant against the mounting losses. Then an impromptu trio of our nurse administrators took the platform of the A-level Amphitheater. Liz Dickinson, Marge Strutt, and Esther Valenzuela sang to God a request to fulfill His ancient, but enduring promise:
There shall be showers of blessing;
This is the promise of love;
There shall be seasons refreshing,
Sent from the Savior above.
Showers of blessing,
Showers of blessing we need;
Mercy drops round us are falling,
But for the showers we plead.
I flew to Phoenix on business after the meeting. When I returned through Ontario Airport on Friday, rain was falling. Through the mist I saw a soft blanket of new snow on the charred mountains.
Waiting for the parking shuttle, I turned my face to the rain remembering my friends and their prayer song. "Thanks," I whispered to the God who refreshes.
We serve in a world-renown, Christian institution. Our graduates advance healthcare and science around the globe. Our clinicians and hospital bring state-of-the-art treatment to the sickest patients.
Yet, the destructive fires around us and the diseases and injuries brought to us for healing reveal the brokenness of this world. The supplication for divine intervention against disaster made in a department head meeting of the Medical Center acknowledges the humbling truth that our healing skills have limits, our resources are finite, and our pride in achievement and place must yield to our constant need for refreshment from the infinite springs of God's mercy.
We do our professional best, but we pray because we need help and we are grateful to receive it. Our prayers and thanksgiving proclaim, "We know and rely on the love that God has for us" (1 John 4:16).
This is the season when we celebrate the arrival of Jesus Christ who came to live with us as one of us because he loves us. He brought new life of grace and truth to our scarred, scorched, overheated world. His offer to heal and renew devastated, fearful hearts is still open to us and to those we love and serve: "Come now, let us reason together," says the Lord, "Though your sins are like scarlet, they shall be white as snow…" (Isaiah 1:18).
. . . .
I made the best of a terrible situation with that message. Several fires were involved, starting in different places. Their flames were wind-whipped to a ridge and canyon-hopping frenzy before merging into a single holocaust with a front extending nearly 60 miles. The property damage toll amounted to billions of dollars . Some veteran firefighters suffered such stress that they retired soon afterwards unable to face another fiery beast.
The next year, I had cause to drive Highway 18 up into the San Bernardino Mountains. I was shocked to see the scorched, barren slopes. Mudslides and flash floods followed extending the destruction. Experts said that it would take more than a century to restore the forest.
Last spring, I attended a retreat in the middle of the mountains. Driving up, I was surprised to find the slopes covered in lush verdure. I attended the same retreat last week and passed through lower slopes covered with bright yellow flowers turning to white and pink lilacs and white dogwoods on the crest even with the meager rain and snow of this drought year. Homes stand again where the flames had left only blackened foundations and chimneys in the fall of 2004.
Loggers have salvaged the dead timber and burned over swatches have been planted with oak, pine, cedar, and fir saplings. Redwing blackbirds are nesting in cattails and willows beside the streams and lakes singing "conk-a-reee." There are enough squirrels and rabbits to bring hawks back to soar overhead.
I open my window to hear frogs croak all night in the creek beside the lodge. Coyotes howl and yap on the opposite mountainside.
These are ancient signs of resurrection, repeated each spring since Creation — nothing extraordinary or unexpected. Yet, why do they breathe gratitude, hope and joy into my prayers? For the same reason, I suppose, that a lost child is comforted by a hug upon being found, someone who has survived a long, life threatening illness savors the warmth of the sun and a simple meal, and the heart stirs at the possibilities of dawn after a tearful night of waiting.
Fire-victims have rebuilt their cabins in the hope that what was before them will continue after them. Hope is the instinct of eternity placed in our hearts by God who knows that his created children are not able to see from the beginning to the end (Ecc 3:11). In his mercy, he gives us hope to bring us back and lead us on. The fiber of hope is the deepened character born of the endurance of suffering (Rom 5:3).
No one can hypothesize or speculate such hope as true. Hope gains its definition in hardship. That's why the pious encouragements of those who have never experienced hardship can be so grating on the sensibilities of those who have. To hear that "it's always darkest before the dawn" from someone who has never spent a sleepless night of distress or grief is like having salt poured into a laceration.
It is the conviction of hope that love is stronger than death (Sg of Sol 8:6). This is the kind of love that is imbued with the Holy Spirit of God himself poured out over earth and hearts devastated by suffering (Rom 5:5). It is the kind of love that returns green vegetation to seared mountainsides and brings thanks to the prayers of those who kneel at midnight.
This is the love of the Creator who does not move away when his creation is desecrated or his grace is rejected. Instead, he returns as Savior to "give beauty for ashes, the oil of gladness instead of mourning, the garment of praise instead of a faint spirit." What he brings forth are called "oaks of righteousness, the planting of the Lord that he may be glorified" (Isa 61:3).
Sometimes it is hard to see, much less understand, how God could possibly be glorified through something that causes us such loss, grief and pain. Even if we can glimpse his glory in such moments, we may wonder what kind of monster this God must be who erects monuments to himself at the site of our desolation?
Then comes the irrefutable evidence of spring — tenderness challenging the cold, hard facts of winter and winning. It turns out that the glory of the Father is what raises his Son from the grave (Rom 6:4). Bringing this home to us, the glory of the living Jesus Christ is the eternal triumph of his light over our darkness so that "We are afflicted in every way, but not crushed; perplexed, but not forsaken; struck down, but not destroyed; always carrying in our body the death of Jesus, so that the life of Jesus may also be made visible in our bodies" (2 Cor 4:6-10).
It is in God's order of things to fill the burned-over glades with yellow bush poppies, baby blue eyes, and pink lunaria. This is what he does — heal the brokenhearted, revive the crushed in spirit, love the unloved, gather in the forsaken, and follow death with life until the fullness of time when a new heaven and a new earth will replace the old ones and death and crying will no more (Rev 21:1-4).
The hands of the Creator were pierced by the spikes that should of pinned us and they are reaching for us still with a Redeemer's love. He's never going to accept weakness and death as our final answer. He is going to keep reaching down to pull lilies out of muck, dogwoods out of cinders, and souls out of shame until he has us right where he wants us — at his side.
"O taste and see that the Lord is good. Happy are those who take refuge in him" (Ps 34:8).
Under the mercy of Christ,
Kent
————————–
Please note that the content and viewpoints of Mr. Hansen are his own and are not necessarily those of the C.S. Lewis Foundation. We have not edited his writing in any substantial way and have permission from him to post his content.
————————–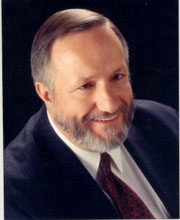 Kent Hansen is a Christian attorney, author and speaker. He practices corporate law and is the managing attorney of the firm of Clayson, Mann, Yaeger & Hansen in Corona, California. Kent also serves as the general counsel of Loma Linda University and Medical Center in Loma Linda, California.
Finding God's grace revealed in the ordinary experiences of life, spiritual renewal in Christ and prayer are Kent's passions. He has written two books, Grace at 30,000 Feet and Other Unexpected Placespublished by Review & Herald in 2002 and Cleansing Fire, Healing Streams: Experiencing God's Love Through Prayer, published by Pacific Press in spring 2007. Many of his stories and essays about God's encompassing love have been published in magazines and journals. Kent is often found on the hiking trails of the southern California mountains, following major league baseball, playing the piano or writing his weekly email devotional, "A Word of Grace for Your Monday" that is read by men and women from Alaska to Zimbabwe.
If you do not wish to receive any more of these messages, please send an email to khansen@claysonlaw.com with the word, "unsubscribe." This only works if you received the message from me directly. If someone else forwards the message to you and you want them to stop, please email them back and tell them to stop sending it. Thanks.