Dear Friends,
I am sorry that there was no message for June 19, 2017, because of the press of an engagement that did not permit me time to write.
. . .
Have you ever set a great goal, assembled an excellent team to accomplish it, set out on the initiative, only to find people you hoped would help refuse to have anything to do with you or your project?
This could happen in a business, profession, or even a family. My old mentor in the law once told me, The thing about clients is they just wont mind. He meant that the most ingenious legal strategy can be undone by clients who fail or refuse to cooperate with the plan.
Sometimes the people who most need your help dont want it because they dont value what you value. And there are people who have been too hurt and traumatized in the past to accept help in the present.
Jesus knew it was time to go up to Jerusalem from Capernaum for His destiny with the cross. He set his face to go to Jerusalem. And he sent messengers ahead of him. On their way they entered a village of the Samaritans to make ready for him; but they did not receive him, because his face was set toward Jerusalem (Luke 9:51-53).
Going up to Jerusalem from the northwestern shore of the Sea of Galilee meant crossing Samaria, hostile territory for a Jew. The enmity between Samaritans and Jews was old. It ran deep. It manifested in both racial and religious hatred.
Jesus sent messengers ahead of him to let a Samaritan village know that he would be passing through on the way to celebrate Passover in Jerusalem with his followers. They would need food and lodging.
But the Samaritans worshiped on Mount Gerizim. Jerusalem was the holy place of the Jews and the Samaritans hated the place and those that worshiped there. They refused hospitality to any Jews headed towards Jerusalem to celebrate Passover.
Jesus and his party arrived only to be met with stony silence and closed doors. When his disciples James and John saw this, they said, Lord, do you want us to command fire to come down from heaven and consume them (Luke 9:54).
To hate is to fervently desire that the object of the hatred never existed or cease to exist. It is an attitude closely aligned with murder. It is not surprising that persons who receive hatred are angered by it and can develop a corresponding hatred. It is outrageous, inhuman and evil that people can resent you enough to want you dead because of your race and religion even though you have never done them harm and they dont even know you.
James and John reacted with anger. They wanted to call down fire-bombs from heaven to wipe out the Samaritan villagers who rejected their Master on his mission. Jesus turned and rebuked them. Then they went on to another village (Luke 9:55).
Jesus had to tell his disciples something to the effect of Stop it! Dont you understand that I came to love and to save people, not to hate and destroy them? One wrong does not justify another. Lets move on.
This was an ugly incident at the start of Jesus final journey to the cross. I have dealt with bigotry of various kinds my whole career and it always leaves a foul stench and stain on the souls of its victims and perpetrators.  It is a rejection of the Creator to whom we owe our human existence and a rejection of our Savior who died for all.
The encounter would have been exponentially uglier if James and Johns scorched-earth prayer had been granted. God is love (1 John 4:19). It would be a denial of Gods identity and character if every time someone rejected his Son, they were annihilated.
Jesus kept going and never altered course from his mission in Jerusalem. The Son of Man . . . came to give his life as a ransom for many (Mark 10:45). The populace of the whole world comprises that many. For God so loved the world that he gave his only Son, so that everyone who believes in him may not perish but may have eternal life (John 3:16).
Jesus finished his mission by dying on the cross. He was raised to life again by the glorious love of his Father (Rom 6:4). After his ascension, the Holy Spirit descended with power on the day of Pentecost and thousands believed in Jesus Christ and were baptized as his followers.
The Jewish religious leaders were outraged that the death of Christ ignited his followers rather than ended his movement. They resorted to threats and intimidation.
Those who seek to eliminate dissent to preserve their power soon escalate to eliminating dissenters. The Deacon Stephen was captured by a mob of zealots. He made one of the greatest speeches recorded in Scripture in defense of Jesus Christ (Acts 6:8-8:1). But the  crowd became enraged at Stephens courage and stoned him to death. This unleashed a violent persecution against the church in Jerusalem.
The Christian believers fled into Judea and Samaria but they took their faith and the good news of Christ with them. The Deacon Philip went to a city of Samaria and began to preach Jesus as the risen Messiah to receptive crowds. Philip conducted exorcisms and healings in Jesus name and many Samaritans received Jesus Christ as their Savior and Lord and were baptized by Philip (Acts 8:4-13).
When the apostles in Jerusalem heard about the spread of the gospel in Samaria they sent Peter and John to preach the gospel to the Samaritans (Acts 8:14). Yes, the very same John that asked Jesus for fire from heaven to eradicate a Samaritan village came to preach Jesus Christ to them as their Savior.
Peter and John prayed for the Samaritans, laid their hands on them, and the Samaritans received the Holy Spirit, not a fireball (Acts 8:15-17). The two apostles returned to Jerusalem preaching Christ to the Samaritan villagers they encountered on the way back (Acts 8:25).
It was a matter of months, no more than a year at most, between the time James and John had wanted to burn up a Samaritan village and Johns return to Samaria with Peter to preach Christ. Things had changed.
In the first encounter, Jesus was no more to the Samaritans than a Jewish rabbi on a mission to Jerusalem. The visit to the Samaritan village was only a drive-by for food and lodging. People resent being used for the advancement of a religion that is not their own.
James and John did not yet comprehend the full implications of Jesus destiny at the cross when they were passing through the Samaritan village. Later on, John stood at the foot of the cross and watched Jesus suffer and die (John 19:26). He outran Peter to arrive at the empty tomb of Jesus on resurrection day (John 20:4). A man who had been known as a son of thunder for his temper learned he was loved and it changed him (Mark 3:17; John 13:23; John 19:26; John 20:2).
John was an observant person and surely it occurred to him that Jesus love come to life in him was what appealed to the Samaritans who once hated him and who he had hated in return. People who know in their hearts that Jesus loves them are transformed. They stop trying to earn his love by proving their worth at the expense of others and instead live out his love as their reality.
John and Peter returned to Samaria with the love of Jesus and the power of the Holy Spirit and the Samaritans responded with open hearts and minds. Instead of arguments over whether Jerusalem or Mount Gerizim was the proper place to worship God, Jesus Christ was at the center of the discussions.
If the prayer of John and James for fire had been answered in the affirmative by Jesus, the opportunity to share the good news of new life in Jesus with the Samaritans would have been lost.
This is worth remembering whenever we seem to be on the right track with the right people, but still face rejection and closed doors from those we encounter on our way. This can happen in congregations, in workplaces, in friendships, and in families.
Jesus rebuked James and John when they proposed nuking the village with fire from heaven. He simply has no desire or time for such things.
Jesus did not come to earth to fight, force acceptance of his Father and his mission, or to settle scores. He came to seek and save the lost, the broken, the hostile and the marginal, by identifying with them, forgiving them, healing them, and restoring them to his family.
We are part of his family also. How are we dealing with people who want nothing to do with our Jesus or our goal of heaven? Do we fight with them or try to destroy them? Or do we pray for our heavenly Father to put the Holy Spirit at work in them and in us until the day we can authentically and gently minister Jesus Christ to them because he is alive in us and loving through us.
This world is a violent and selfish place. Arguments between believers about what Christ-followers should or should not do in response to violence make us seem equivocal, insipid and irrelevant.
The Apostle Paul said that for those who find their life in Christ Jesus neither what we do for religion nor what we do against religion counts for anything; the only thing that counts is faith expressing itself in love (Gal 5:6).
May we give up our pious bluster and demands for vengeance and by the grace of Christ start living the love that will deliver this world from its cycle of violence.
O taste and see that the Lord is good. Happy are those who take refuge in him (Ps 34:8).
Under the mercy of Christ.
Kent
Please note that the content and viewpoints of Mr. Hansen are his own and are not necessarily those of the C.S. Lewis Foundation. We have not edited his writing in any substantial way and have permission from him to post his content.
————————–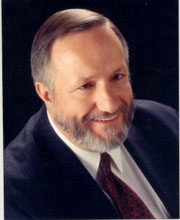 Kent Hansen is a Christian attorney, author and speaker. He practices corporate law and is the managing attorney of the firm of Clayson, Mann, Yaeger & Hansen in Corona, California. Kent also serves as the general counsel of Loma Linda University and Medical Center in Loma Linda, California.
Finding God's grace revealed in the ordinary experiences of life, spiritual renewal in Christ and prayer are Kent's passions. He has written two books, Grace at 30,000 Feet and Other Unexpected Places published by Review & Herald in 2002 and Cleansing Fire, Healing Streams: Experiencing God's Love Through Prayer, published by Pacific Press in spring 2007. Many of his stories and essays about God's encompassing love have been published in magazines and journals. Kent is often found on the hiking trails of the southern California mountains, following major league baseball, playing the piano or writing his weekly email devotional, "A Word of Grace for Your Monday" that is read by men and women from Alaska to Zimbabwe.