Dear Friends,
Winter officially closed out this past week. It failed to do its job in my part of the world, even though Coast Guard ice-breakers are at work opening 300 miles of frozen shipping lanes on Lake Superior.
We are sun-baked and parched here in Southern California's worst drought on record. We drove north into the central part of the state this weekend only to find none of the bright emerald green grass that typically marks the end of winter and the beginning of spring. The too-little, too-late rain that we received left only a mottled olive-drab hue on the coastal hills and headlands.
In the conference room of the Office of the Governor in Sacramento, the grim Secretary of Water Resources informed a group of us that the meager rations of 5% water deliveries to San Joaquin Valley farmers will be cut to nothing. It takes seven years to grow a bearing pistachio, almond, or walnut tree. Entire groves will be reduced to firewood by the end of summer. The richest agricultural region of the nation is withering to a desert and things will not return to the way they were in our lifetimes and maybe ever.
Spring is somehow unsprung, seemingly without life. The cries of desperately-ill and near-death young adults and the pleas of broken children lost in the government bureaucracy echo around me. The wife of a dear friend recently passed away much too soon from the depredations of pancreatic cancer.
Cancer is, bizarrely enough, too much life with cells growing and changing out of control, stealing life and energy to fuel the growth. A winter with too much sunshine and not enough rain is not dissimilar with fruit trees in my neighborhood bursting into full bloom in an early January heat wave.  The old aphorism that "All sunshine makes a desert" proves true.
I watch loved ones struggle with life-threatening genetic diseases right now, while the costs of our family's health care has more than doubled since the passage of the Accountable Care Act with its cruel, hollow promises, You can keep your health insurance" and "You can keep your doctor" have proven bitterly false to our family. The ACA more than doubled the cost of our insurance in the three years since passage. We were notified at the end of the week that the policy that we have purchased for thirty years has been canceled due to a lack of compliance with the ACA.
This is an unrelentingly grim season without personal or environmental respite. People need hope and encouragement. I dig deep into the dry streambeds of pray looking for even a trickle of muddy grace to share. It is a task beyond my strength and wisdom.
Our trip up the coast took us across many canyons that should be running full with water from winter storms. Not this year. Steep gorges carved by epic floods draining thousands of square miles of mountain watershed yield only disappointing vistas of rock and sand with no silver-green flash of life-giving flow.
A waterless canyon always disappoints me. The forces that carved the steep cliffs and moved house-sized boulders seem fraudulent without water. Where do we turn when what we know is necessary to sustain our lives,  even the very things that the Lord has provided us in mercy, evaporate and leave us destitute? Is this not the ultimate question of faith and challenge of prayer?
In my digging, I turn over a memory of Elijah, no stranger to dry and desperate places. He entered the biblical narrative with an announcement of a drought.
Now Elijah the Tishbite of Tishbe in Gilead, said to Ahab, "As the Lord the God of Israel lives, before whom I stand, there shall be neither dew nor rain these years, except by my word. The word of the Lord came to him, saying, Go from here and turn eastward, and hide yourself by the Wadi Cherith, which is east of the Jordan. You shall drink from the wadi, and I have commanded the ravens to feed you there." So he went and did according to the word of the Lord; he went and lived by the Wadi Cherith, which is east of the Jordan. The ravens brought him bread and meat in the morning, and bread and meat in the evening; and he drank from the wadi. But after a while the wadi dried up, because there was no rain in the land (1 Kings 17:1-7).
The man was a settler (that's what "Tishbite" means) from the mountains of Gilead, east of the Jordan. This was a well-watered highland split by the Jabbok River. It was a place of springs and forests with a heavier rainfall than other areas. It was also the eastern frontier of Israel and Elijah was a frontiersman.
Mountain dwellers throughout history have cherished freedom and prized purity. The influence of life lived on rugged slopes gives them a love of independence and a willingness to sacrifice for a worthy goal. Truths learned in solitude give them a plain-spoken expression and an enthusiasm for reform.
Elijah came out of the mountains to confront the sophisticated, compromised monarch, Ahab. Elijah's focus was clear and his speech courageous. Elijah acknowledged his standing with God, but not with Ahab. He delivered the terse message that God was going to send a drought of long duration. He wasted no breath on telling Ahab why this would be.
Ahab was a Baal worshiper who erected shrines and totems in offense to the Lord who had given the children of Israel the land and who watered it. When making the gift, God spoke these words to the Israelites through Moses:
"[T]he land that you are crossing over to occupy is a land of hills and valleys, watered by rain from the sky, a land that the Lord your God looks after…If you will only heed his every commandment…loving the Lord your God, and serving him with all your heart and soul–then he will give the rain for your land in its season…Take care, or you will be seduced into turning away, serving other gods and worshiping them, for then the anger of the Lord will be kindled against you and he will shut up the heavens, so that there will be no rain and the land will yield no fruit; then you will perish quickly off the good land that the Lord is giving you" (Deut. 11:11,13,16-17).
Elijah faithfully spoke the word of the Lord without bluff or condition and left it at that. Then he followed the Lord's direction to go to the Wadi Cherith for his daily sustenance in the harsh season to come. This leading must have pitted Elijah's faith against his knowledge of wilderness survival.
A wadi is a "valley, gully or riverbed that remains dry except during a rainy season." On a topographical map, the Wadi Cherith would look like a trace of brown lines spaced with dots denoting an intermittent, undependable water source, instead of the solid blue line of a perennial stream. God's startling instruction to Elijah was, "Go hide beside a creek that will evaporate in a dry-bones desert in a time of drought. Drink the water there and birds will bring you sandwiches."
Would you trek into the wilderness on guidance like this? Elijah did. God sent the man of the mountains to a low place. He sent the man from a land of forest and springs to live in a desert. The frontiersman who settled the land to domesticate it was instead fed himself by uncontrollable wild creatures. God caused the man who courageously proclaimed God's message of the drought to live in dryness.
It would be a wondrous story if water had flowed through the dry creek all through the drought. We would rejoice with hope if God had given Elijah the vision for an ingenious dam or cistern to conserve the water. Those miraculous things didn't happen.
Eventually the stream dried-up. God then told Elijah to go one hundred miles farther out to a place called Zarephath, meaning "blast furnace," where he lived the next three years in the hand-to-mouth existence of  a survivor in famine.
What do you think Elijah thought about in those hot, listless daylight hours waiting for the ravens to return? What must it be like to see the flow that means life reduced to a trickle then to pools then to damp sand and then to dust? What must Elijah have thought when God told him to move on from acrid dryness into the heat of the blast furnace?
Are you and I living by an evaporating stream and facing even worse? The stream may be the declining health of a loved one or of our own. It may be the dwindling pool of love in a relationship that has gone dry in inattention. It may be revenues that won't equal expenses with reserves draining away.
Are we seeking the miracle of relief and abundance, but receiving no more than the grace of mere survival in the face of the inevitable? God may be telling us to move on to the smelting furnace of a Zarephath for further refinement to eliminate any vestigial self-reliance, independence or pride.
We may be struggling and reduced to begging from those who can scarcely feed themselves. In those moments of withering aridity, it is difficult not to cry out to God in the words of Jeremiah, "Why is my pain unceasing, my wound incurable, refusing to be healed? Truly, you are to me like a deceitful brook, like waters that fail" (Jer. 15:18).
I've come to appreciate these insights about this story from the 19th century commentator F.B. Meyer. His words strike a deep chord in my soul and I share them with you.
"Most of us would have become anxious and worn with planning long before this. And probably, long before the brook was dry, we would have devised some plan, and asking God's blessing on it, would have started off elsewhere. He often extricates us because His mercy endures forever; but if we had only waited first to see the unfolding of His plans, we would never have found ourselves landed in such an inextricable labyrinth. Would that we were content to wait for God to unveil His plan, so that our life might be simply the working out of His thought, the exemplification of His ideal!
….
"Our only need is to inquire if we are at that point in God's pattern where He would have us be. If we are, though it may seem impossible for us to be sustained, the thing impossible will be done. We will be sustained by a miracle, if no ordinary means will suffice. ' Seek first the kingdom of God, and his righteousness, and all these things will be given you'  (Mt. 6:33)" (Great Men of the Bible, Vol. II [Grand Rapids, MI: Zondervan, 1982], p. 72-73).
What the seasonal streams of our existence teach us is to trust the provision of today. God, whose power cut the canyons through the earth and fills them in season, will feed and water us where we stand, or, elsewhere at the place he sends us. David prayed thus, "But I trust in you, O Lord; I say, ' You are my God.'My times are in your hand; deliver me from the hand of my enemies and persecutors. Let your face shine upon your servant; save me in your steadfast love" (Ps. 31:14-16).
Both the waiting and the journey, in their ways, will take us through the drought of the Cross, a place so dry that the Creator himself cried out from it in parched, human agony, "I thirst" (John 19:28) For those willing to stay or move at his word, however, there is a permanent home beside "the river of the water of life, bright as crystal, flowing from the throne of God and of the Lamb through the middle of the street of the city. On either side of the river, is the tree of life with its twelve kinds of fruit, producing its fruit each month, and the leaves of the tree are for the healing of nations…The Spirit and the bride say, 'Come.'And let everyone who hears say, 'Come.'And let everyone  who is thirsty come.  Let anyone who wishes take the water of life as a gift" (Rev. 22:1-2,17).
Thirsty child, waiting out this driest of seasons for a drink of grace, from the bottom of my own spiritual wadi I have dug up a word of hope to share with you: "After many days the word of the Lord came to Elijah, in the third year of the drought, saying ' Go, present yourself to Ahab; I will send rain on the earth' " (1 Ks. 18:1). The Apostle James adds this post-script, "Elijah was a human being like us, and he prayed fervently that it might not rain, and for three years and six months it did not rain on the earth. Then he prayed again, and the heaven gave rain and the earth yielded its harvest" (Js. 5:15-16).
"O taste and see that the Lord is good. Happy are those who take refuge in him" (Ps 34:8).
Under the mercy of Christ,
Kent
————————–
Please note that the content and viewpoints of Mr. Hansen are his own and are not necessarily those of the C.S. Lewis Foundation. We have not edited his writing in any substantial way and have permission from him to post his content.
————————–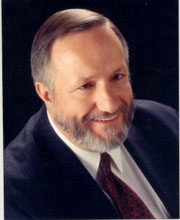 Kent Hansen is a Christian attorney, author and speaker. He practices corporate law and is the managing attorney of the firm of Clayson, Mann, Yaeger & Hansen in Corona, California. Kent also serves as the general counsel of Loma Linda University and Medical Center in Loma Linda, California.
Finding God's grace revealed in the ordinary experiences of life, spiritual renewal in Christ and prayer are Kent's passions. He has written two books, Grace at 30,000 Feet and Other Unexpected Placespublished by Review & Herald in 2002 and Cleansing Fire, Healing Streams: Experiencing God's Love Through Prayer, published by Pacific Press in spring 2007. Many of his stories and essays about God's encompassing love have been published in magazines and journals. Kent is often found on the hiking trails of the southern California mountains, following major league baseball, playing the piano or writing his weekly email devotional, "A Word of Grace for Your Monday" that is read by men and women from Alaska to Zimbabwe.
If you do not wish to receive any more of these messages, please send an email to khansen@claysonlaw.com with the word, "unsubscribe." This only works if you received the message from me directly. If someone else forwards the message to you and you want them to stop, please email them back and tell them to stop sending it. Thanks.