Dear Friends,
Never be rash with your mouth, nor let your heart be quick to utter a word before God, for God is in heaven, and you upon earth; therefore let your words be few (Ecc 5:2).
I stand to speak. My listeners, all of them friends and colleagues from the University and the Medical Center, are attentive. They have come together on this Good Friday to sing hymns, pray, receive communion, and hear the Word of God in remembrance of Jesus' death on the cross.
My homily is outlined on 5×7 cards in my left hand. After a brief introduction, I glance down to begin and the first card isn't there. I quickly shuffle through the cards, but there are three instead of four.
Only a few seconds have passed. I do not really need the notes to give my talk. But I am a writer, more than a speaker, and the sequence of words is very important to what I want to say and how I want to say it.
When I look up again at the audience, they all smile expectantly back at me. With a silent prayer, "Lord, give me words," I begin to tell them about the Father's love that carried his Son all the way through that awful day to new life for us.
Five days later, I prepare to lead worship for the students at the University chapel. It's a special week of chapels on the "Christian life," and Chaplain Dilys, a gifted musician herself, wants hymns for worship instead of the usual contemporary songs.
After a previous chapel, she told me, "I'd like you to play the piano and lead hymns for a chapel next week."
Surprised, I asked her, "How do you know I play?"
"Oh, I know you do."
"Well, I have to warn you, I am no vocalist. I can carry a tune, but that is about it."
She laughed and said it would be fine. I agreed.
Later, it occurred to me there would be hundreds of students at the chapel, some of them talented musicians. They were used to a high standard of contemporary worship. They might not even know the hymns.
Now, it's the morning of the chapel. Slipping out of an administrative council, I walk in to the cavernous, unlighted church for sound check. There is only one student sitting toward the back reading by the light of a window. It is an hour before the service when I walk up on the platform and over to the big ebony concert grand.
I sit down on the piano bench and pull the microphone stand over to where it will pick up my soft baritone voice when the time comes. My fingers slip into the worn-smooth indentations of the ivory keys. This congregation loves music and the piano receives a lot of play. The action is firm, but light, perfect for my touch.
I begin with "When I Survey the Wondrous Cross" in a soft, empathetic descent of minor chords supporting the melody. I make a key change and segue into "My Jesus, I Love Thee." I learned to play this song in childhood. Its passionate confession of love always makes my heart ache with tenderness.
The chaplain asked me for three songs, but I have limited the verses and added the chorus of "I Will Praise Him." It starts with a simple declaration of praise and then soars to an invitation to "Give Him glory all you people, for His blood can wash away each stain."
The sanctuary is still empty. I move on into the rolling 9/8 time of "Blessed Assurance." This is my favorite hymn. I play it in a slow and gentle manner, expressing gratitude that my story and my song is Jesus.
As I finish, Chaplain Dilys approaches with the sound check man. I sing and play through the verse of "Blessed Assurance" for them and they say it sounds good.
"I hope the students know these hymns,'I tell Chaplain Dilys. She says just two days before she led the students in two hymns that both of us know, but the students didn't to her surprise. I am not comforted.
Then she leads me off to the choir rehearsal room where the other chapel participants gather. This is the room where we held the Good Friday service and the first card of my talk went missing.
Chaplain Dilys gives us last minute instructions as I check in my folder to see that the lyric sheets that I carefully typed out are there. I will set them before me on the music rack as I play. I know the words by heart, but I don't want to forget them in the moment. They will also be displayed on two big overhead screens for the congregation, but I will not be looking up,
I play the melody and chords by ear cued by the familiar words. But there is a problem this morning, the first page of my lyrics is missing. I shuffle through the other pages, but it is not there. I must have left it beside the piano at home. I will have to rely on memory. "What is the Lord trying to tell me with these missing first sheets," I wonder, although I doubt my forgetfulness is divine.
The Chaplain prays over the participants that God will be glorified in the chapel. I pray the prayer in my heart I always pray before leading worship. "Lord, empty me of everything–pride, anxiety, self-consciousness, the thoughts of "should" and "must"–everything. Let Your Spirit fill the worshipers and me and have its way with us." Then I walk back out to the piano, set out the other two lyric sheets, then walk to a front pew and sit as the service begins.
When the time comes, I sit down at the piano adjust the mic and turn to face the students. "You may wonder why a cranky old lawyer is leading your worship this morning. It's because I am a cranky old lawyer and I need grace. I learned these hymns in my family's living room as a child. They are songs best sung in a living room because Jesus said, "I have come that you may have life, and have it abundantly" (John 10:10). His grace is the very power by which we live. So consider this sanctuary a living room and let's have family worship."
With a brief introduction, I lean into the mic and sing–
.
When I survey the wondrous cross
On which the Prince of glory died,
My richest gain I count but loss
and pour contempt on all my pride.
.
My heart flows into my fingers. My voice sings in praise. Many a night, I have played these songs in the darkness. The printed lyrics aren't necessary. My eyes are closed as they usually are when I worship at the piano. This is prayer for me.
It is thrilling to hear the students' voices rise and swell in song until we come to a quietly joyful end with "This is my story, this is my song, praising my Savior all the day long." I say a prayer in the hush and return to the pew.
These are uncommonly busy and stressful times. I am involved in negotiating and structuring complex, but delicate transactions and working through some rough employment conflicts. I leave home early and return late craving sleep. I had prayed with two colleagues seeking a resolution of a particularly distressing situation, but it seemed to worsen. I questioned the time I was spending in preparation and participation in the Good Friday and chapel services.
The Lord lives in the praises of his people (Ps 22:3). Our souls are in peril when anyone or anything takes priority over worship. A wise friend told me long ago, "You take care of the King's business, and he'll take care of yours."
Two nights before the chapel service, I crawled into bed exhausted and discouraged. I was making every effort to be faithful to what I believed to be right, but the problem was worsening. "Lord, I don't know what to do. I need wisdom," I prayed before falling asleep. On the way to an early morning appointment, a plan began to form in my mind to deal with confusion and misunderstandings. Two conversations later, the obstacles cleared and a way forward was reached.
The missing card and lyric sheet were a message to me–
.
Trust in the Lord with all your heart,
and do not lean on your own
understanding.
(Pr 3:5)
.
I live by my words. I choose them carefully and speak and sing them from my heart. But my heart belongs to the Lord. When I prayed for him to take over and prayed for wisdom, he stripped me of my words, even those I prepared in praise of him. He took control.
After the first good night's sleep I received since the chapel worship, I awoke to a startling impression. "I don't seek your faithfulness," the Lord spoke to me. "I want you to trust me."
I am convicted. Striving to be faithful depends on my energy and keeps the focus on me. I am inadequate to the task. And what can our efforts to be right in our own wisdom and do right in our own strength be called except "self-righteousness."
Trusting the Lord depends on his grace and keeps our focus on him. It's his faithfulness to us that will fulfill our callings. The Apostle Paul wrote: "He who calls you is faithful; he will surely do it" (1 Thess 5:24).
When I remember his faithfulness and trust him to do what needs to be done, whether through me or someone else, I live well. When I forge on without him in pride or passion, I do badly. This dynamic never changes. It is the divine balance and it never changes. Jesus says, "Apart from me you can do nothing" (John 15:5). But "I can do all things through him who strengthens me" (Phil 4:13).
It can take a lot to get through to a cranky old lawyer, but I've received the message.
"O taste and see that the Lord is good. Happy are those who take
refuge in him" (Ps 34:8).
Under the mercy of Christ,
Kent
————————–
Please note that the content and viewpoints of Mr. Hansen are his own and are not necessarily those of the C.S. Lewis Foundation. We have not edited his writing in any substantial way and have permission from him to post his content.
————————–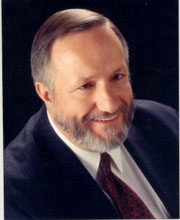 Kent Hansen is a Christian attorney, author and speaker. He practices corporate law and is the managing attorney of the firm of Clayson, Mann, Yaeger & Hansen in Corona, California. Kent also serves as the general counsel of Loma Linda University and Medical Center in Loma Linda, California.
Finding God's grace revealed in the ordinary experiences of life, spiritual renewal in Christ and prayer are Kent's passions. He has written two books, Grace at 30,000 Feet and Other Unexpected Placespublished by Review & Herald in 2002 and Cleansing Fire, Healing Streams: Experiencing God's Love Through Prayer, published by Pacific Press in spring 2007. Many of his stories and essays about God's encompassing love have been published in magazines and journals. Kent is often found on the hiking trails of the southern California mountains, following major league baseball, playing the piano or writing his weekly email devotional, "A Word of Grace for Your Monday" that is read by men and women from Alaska to Zimbabwe.
If you do not wish to receive any more of these messages, please send an email to khansen@claysonlaw.com with the word, "unsubscribe." This only works if you received the message from me directly. If someone else forwards the message to you and you want them to stop, please email them back and tell them to stop sending it. Thanks.