Dear Friends,
My colleague and brother in Christ, Chris, was taking a break in my office, sitting with me and reading social media on his phone, while I reviewed contracts.
He described to me a post in which the blogger tells what he wants people to know about him as a member of our Christian denomination. I looked up at Chris in bemusement and say, "What everybody ought to know is who Jesus is."
I went on, "We sang the song with that title as kids, but it is true, everybody ought to know who Jesus is. What should people want to know about us as believers unless Jesus lives in us and through us?
"Chris, our church is divided. Members are comparing themselves to each other about who is 'most compliant' with the policies and standards of the denomination. This guy writes about what he wants people to know about him, and I ask, 'Why don't we invite Jesus into our lives and get to know him better?'"
Chris and I talk a lot about Jesus for two guys working in a law office. It's a blessing to have that encouragement. As Solomon observed, "Iron sharpens iron, as one friend sharpens another" (Prov 27:17).
Followers of Christ are supposed to get together to encourage each other (Heb 10:25). In fact, we are to make every effort with gentleness, humility and love, to follow the lead of the Holy Spirit in keeping the body of Christ unified (Eph 4:1-4). To do that, we need to keep our whole focus on Jesus.
"Comparison is the enemy of grace," is a warning I have written many times in these messages. When our eyes are on others it feeds our critical judgmental spirits because comparison arises from our sinful flesh whose "works" include "enmities, strife, jealousy, anger, quarrels, dissensions, factions, envy . . . ." (Gal 5:19).
Every fight I have ever known between Christians has originated in works of the flesh. Whenever we think in self-righteousness, "I am better than that person," or think in self-loathing, "I am worse than others," we are acting in the flesh, not the Spirit, and we most likely are headed for conflict (Js 4:1-3).
If we live and are guided by the Holy Spirit, its fruit manifested in our lives is "love, joy, peace, patience, kindness, generosity, faithfulness, gentleness, and self-control" (Gal 5:22-23). The Apostle Paul blessedly says, "There is no law against such things" (v 23), meaning no rule, regulation, policy, self-appointed enforcer, or self-righteous religious sergeant-at-arms can deprive us of the fruit of the Holy Spirit.
If someone mars our peace and steals our fruit, it is because we let them into the garden the Holy Spirit plants in our soul. As the old spiritual says, "This peace that I have, the world didn't give it to me; the world didn't give it and the world can't take it away."
The Letter to the Hebrews contains this counsel – "Let us run with perseverance the race that is set before us, looking to Jesus, the author and finisher of our faith" (Heb 12:1b-2a). Looking to Jesus is the advice we need.
When we keep our eyes on Jesus, he supplies the power to unify us. The Holy Spirit is his agent to transmit his love and keep us together in one accord. The old chorus says this well—
Turn your eyes upon Jesus,
Look full in his wonderful face,
And the things of earth will grow strangely dim
In the light of his glory and grace.
Every time I play that song for a worship service, I look up from the piano to see tears streaming from the faces of worshipers. We long for his glory and grace to prevail in our lives and in the shared life of our communion.
Can any believer honestly say they can focus on Jesus while battling their brother or sister? The need for power and vindication fades as we fix our eyes on the gentle Lamb of God that takes away the sins of the world.
Jesus' love and grace can reach through the most stridently critical, self-righteous mindset to his glory. I read a story recently about two prominent eighteenth century Christian leaders that shows that Jesus' glory can outshine deep doctrinal differences expressed in vitriolic attacks.
Augustus Toplady was a prominent Anglican priest, preacher and essayist. He was also a staunch Calvinist who despised John Wesley's Arminian theology of free will. Toplady repeatedly attacked the great Methodist founder.
Toplady wrote of Wesley, "I believe him to be the most rancorous hater of the gospel-system that ever appeared on this island (England)." On another occasion, Toplady said, "Wesley is guilty of satanic shamelessness . . . of acting the ignoble part of a lurking, shy assassin."
In 1776, Toplady wrote an article about God's forgiveness he intended as a rebuke to Wesley. Toplady ended his article with an original poem—
Rock of Ages, cleft for me,
Let me hide myself in Thee;
Let the water and the blood
From Thy riven side which flowed,
Be of sin the double cure,
Save from wrath and make me pure.
Toplady died two years later, but his poem became the lyric of the beloved and popular hymn, "Rock of Ages."
Toplady's poem is surprisingly similar to something Wesley had written 30 years before in a preface for a book of hymns for the Lord's Supper. Wesley penned, "O Rock of Salvation, Rock struck and cleft for me, let those two Streams of Blood and Water which gushed from Thy side, bring down Pardon and Holiness into my soul."
(This story is told by Robert J. Morgan, Then Sings My Soul, [W Publishing: Nashville, TN, 2011], p 75).
Plagiarism doesn't explain the similarity. Toplady would never have copied Wesley.
The two men, flawed though their humanity might have been, both looked to Jesus. He brought them to unity in thought and expression that their incompatibility in the flesh would never have achieved.
I say again, everybody ought to know who Jesus is.
O taste and see that the Lord is good. Happy are those who take refuge in him" (Ps. 34:8).
Under the mercy of Christ,
Kent
Please note that the content and viewpoints of Mr. Hansen are his own and are not necessarily those of the C.S. Lewis Foundation. We have not edited his writing in any substantial way and have permission from him to post his content.
————————–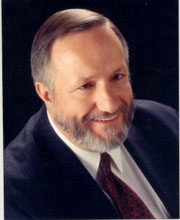 Kent Hansen is a Christian attorney, author and speaker. He practices corporate law and is the managing attorney of the firm of Clayson, Mann, Yaeger & Hansen in Corona, California. Kent also serves as the general counsel of Loma Linda University and Medical Center in Loma Linda, California.
Finding God's grace revealed in the ordinary experiences of life, spiritual renewal in Christ and prayer are Kent's passions. He has written two books, Grace at 30,000 Feet and Other Unexpected Places published by Review & Herald in 2002 and Cleansing Fire, Healing Streams: Experiencing God's Love Through Prayer, published by Pacific Press in spring 2007. Many of his stories and essays about God's encompassing love have been published in magazines and journals. Kent is often found on the hiking trails of the southern California mountains, following major league baseball, playing the piano or writing his weekly email devotional, "A Word of Grace for Your Monday" that is read by men and women from Alaska to Zimbabwe.