Dear Friends,
It was cold, but there was little snow on the mountains, the January day in 2001 that I first drove the Peak to Peak Highway between Central City and Estes Park, Colorado. I was speaking at a pastors' retreat and had some time to go exploring.
I was enjoying the good road and the sunlit peaks when I rounded a curve near Allenspark and saw something that caused me to take a sharp intake of breath. There on a massive rock boulder was a stone church with beautiful neo-gothic architecture of perfect proportions. Behind the church, under the snowy mass of 13,916 foot Mount Meeker, was a long dormitory-like retreat center.
I had never seen a church this beautiful and when I returned home I searched for it on line. It is the St. Catherine of Siena Chapel, aka "the Chapel on the Rock" at, what was then, the St. Malo's Conference Center, a facility of the Roman Catholic Arch-Diocese of Denver.
A priest, Monsignor Joseph Bosetti, was visiting the area in 1916. He was inspired to build a church on the large table rock formation which reminded him of Jesus' phrase, "upon this rock I will build this church" (Matthew 16:18).
Bosetti struggled for years to raise funds to build the Chapel on the Rock. He also had to fend off the Colorado Highway Department that wanted to run State Highway 7's right-of-way too close to the rock.
Finally, the family that owned the land donated it. A Denver architect, Jacques Benedict, designed the Chapel. It was completed in 1936.
Pope John Paul II stayed at the St. Malo Conference Center and prayed in the Chapel in 1993. The Center was irreparably damaged by a fire in 2011. Rock slides triggered by torrential rains on the slopes of Mount Meeker swept across the property in 2013, but the Chapel on the Rock was spared.
My friend Chris and I drove the Peak to Peak Highway in April of this year and we came to the Chapel. It is even more breathtaking now that it is surrounded by evergreen forest, meadow and the soft murmuring of a brook flowing past. Chris and I walked around the grounds and took pictures.
We were moved by the beauty of the stone-hewn Chapel on the rugged rock and the dramatic mountain setting. We drove on, but it is a place that inscribes itself in memory with a sense of the sacred.
———-
I attended a conference in Denver last week. I had a free afternoon to drive the scenic byway to Estes Park under the peaks of the Front Range gleaming white from early fall snow storms.
When I reached Allenspark, I told the friend riding with me, "Look to the left in about a mile and you will see something amazingly beautiful."
And there it was — the warm yellow sandstone of the chapel against the deep blue October sky and dark green woods. Snow and icicles from the weekend storm were hanging on to the gables.
My friend said, "Absolutely beautiful!"
"I replied, "It really is perfect. The snow makes it look like a Christmas scene."
We began to snap pictures with our iPhones and walked the path along the creek to the front of the Chapel. Ice was melting on that side of the rock so rapidly that it sounded like a faucet running.
I noticed people go into the door of the Chapel. As my friend snapped pictures in the little parking lot, I mounted the steps carved in the rock and opened the big oak door for myself.
The afternoon sun streamed through three stained glass windows that diffused it to a soft warm glow on the on the wooden pews. The interior was simple with a crucifix on the wall behind a stone altar with three silver candlesticks on it.
Two caretakers, a man and a woman, were chatting in the back. I said, "Thank you for taking care of this beautiful church. I first came upon it seventeen years ago and just seeing it here filled me with a spirit of worship."
I asked about replacement of the former retreat center. The woman told me the County deemed the streams too wild and the mountain slopes too unstable to allow the center to be rebuilt.
As we talked, I looked around and I saw a small spinet piano with a banged-up case. A piano is a rarity in Catholic sanctuaries in my limited experience. Catholic liturgical singing favors organ or guitar accompaniment.
The piano must be for weddings, I thought. The soloist would be sing from the rear of the chapel next to the piano accompanist.
Seeing the piano in that setting made my soul ache with a hunger for worship. It had been a long time since I'd experienced that feeling.
I haven't played the piano much since Patty died four months ago. Sometimes late at night I will play a lonely cry to God, but that's about it.
I asked the caretaker, "If I assure you I know what I am doing and respect this sacred place, may I play the piano?"
She looked at me surprised. I repeated, "I assure you that I know what I am doing with the piano. May I play it, please?"
She said, "You can play the piano. Just don't play ragtime or anything like that."
I chuckled and said, "I won't play ragtime."
I opened the battered lid. I was surprised to see the keys all had their ivories and were clean. I played some chords softly and was pleased that the piano was in tune despite the cold and the dry mountain air.
My heart guided my fingers to the melody of "Amazing Grace." What else? I played it slowly with rich chords as a prayer of thanksgiving to the God who reigns over my grief with tender grace.
I improvised a variation for the second verse, my gratitude flowing through my fingers. The stone walls and glass under the tall vaulted ceiling yielded warm acoustical dynamics.
I transitioned into "You Lift Me Up," an inspirational song I don't perform often, but I have frequently played "O Danny Boy" from which the melody is derived. I didn't plan this — the music just came out of me.
This Josh Groban song can soar in the chorus, but I played it with reverent restraint. I could do little else through the tears pouring down my cheeks.
When I opened my eyes again, I saw my friend had come inside and taken a seat across the aisle with closed eyes.
Two young men came in while I was playing. They looked around and signed the visitor's log. On the way out my friend heard one of them say to the other, "That is the most beautiful thing I have heard in a long time."
I came down from the heights of "You Lift Me Up" through a key change. I began to play the worship chorus "Holy Ground," in mind of the glowing light through the western windows.
The verses are rarely sung, but they were fitting for the moment.
When I walked through the doors
I sensed His presence
And I knew this was the place
Where love abounds
For this is a temple
Jehovah, God abides here
And we are standing in His presence
On holy ground
(Chorus)
We are standing on holy ground
And I know there are
angels all around
Let us praise
Jesus now
For we are standing in His presence
On holy ground
In His presence I know there is joy
Beyond all measure
And at His feet
Sweet peace of mind
Can still be found
For when we have a need
He is still the answer
Oh, reach out and claim it
For we are standing on holy ground.
(Second Chorus)
Let us praise
Let us praise Jesus now
For we are standing in His presence
We are standing in His wonderful holy presence
He loves us in our hour of sorrow
He's our hope, our hope for tomorrow
For we are standing in His presence on holy ground.
(Geron Davis, ©1983, Meadowgreen Music Company)
The variation on the second time through ascended out of the anguish of my broken, but hopeful heart. Then I played "Amazing Grace" one more time as a benediction and I was finished.
I looked at the golden light flooding the sanctuary through tear-washed eyes and remembered the lines of an old hymn.
Sometimes a light surprises the Christian while he sings,
It is the Lord who rises with healing in His wings.
It could not have been more than nine or ten minutes, but it was time enough for Christ to surge a cleansing, healing river of mercy through my wounded soul.
I closed the lid on the piano and tucked the bench back under the keyboard. There was nothing else for me to say or do. I said, "Thank You, Lord" in my heart and walked out.
Grief can crack open a soul like ice can split solid rock. The grief stricken can fall into that crack and descend into darkness.
But something good and beautiful can grow from it like a pine in the crevices of a mountain crag or a dandelion springing up with soft yellow cheer out of cracked cement. "It is the Lord who rises with healing in His wings." I tell you with tears that I know this to be true.
O taste and see that the Lord is good. Happy are those who take refuge in him" (Ps. 34:8).
Under the mercy of Christ,
Kent
Please note that the content and viewpoints of Mr. Hansen are his own and are not necessarily those of the C.S. Lewis Foundation. We have not edited his writing in any substantial way and have permission from him to post his content.
————————–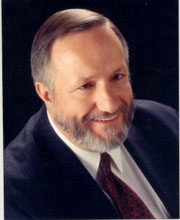 Kent Hansen is a Christian attorney, author and speaker. He practices corporate law and is the managing attorney of the firm of Clayson, Mann, Yaeger & Hansen in Corona, California. Kent also serves as the general counsel of Loma Linda University and Medical Center in Loma Linda, California.
Finding God's grace revealed in the ordinary experiences of life, spiritual renewal in Christ and prayer are Kent's passions. He has written two books, Grace at 30,000 Feet and Other Unexpected Places published by Review & Herald in 2002 and Cleansing Fire, Healing Streams: Experiencing God's Love Through Prayer, published by Pacific Press in spring 2007. Many of his stories and essays about God's encompassing love have been published in magazines and journals. Kent is often found on the hiking trails of the southern California mountains, following major league baseball, playing the piano or writing his weekly email devotional, "A Word of Grace for Your Monday" that is read by men and women from Alaska to Zimbabwe.