Dear Friends,
I had a conversation this week with a pregnant friend about the night feeding of infants. It can be a struggle for tired parents, but it can also be a unique pathway to knowing God's love as I describe in this message. I wrote it nearly thirty years ago after experiencing the intimacy of feeding my son in the early morning hours.
This little essay was chapter two of my first book. It has been republished a couple of times as a magazine devotional. I'd forgotten it until the conversation with my friend brought it to mind.
I learned God is a loving and kind Father from my own Dad. In all kinds of seasons and circumstances, the truth that has persisted and grown in my mind and heart is that our Heavenly Father loves me and won't quit.
It is the same for you. Your Heavenly Father loves you, specifically you. Human parents and friends will fail you. You will fail yourself. But he knows this and has grace for you in your time of need.
As a Father's Day message, I offer this testimony of thanks and praise to the Father who loves us best and most.
. . .
I hear Andrew's hungry cry. Patricia is asleep. I am awake now. This is a kind of natural selection.
So I go to the refrigerator for a bottle. I put it into the warmer.
Andrew expects more than me when I pick him up. He wails when he doesn't get it right away. We head for the kitchen.
Patricia stirs in the bedroom. "It's OK. I have him," I call out to her.
The details are hazy this time of night: grab the bottle with one hand and test its warmth by dribbling some milk on the other wrist – too hot! Fumble to turn the faucet on; run cool water over the bottle.  Then, another wrist splash (I feel the liquid is warm and just right), and on with the bottle into his mouth.
Andrew's face screws up to make a fitted coupling for the nipple. The connection is everything, and his little sucking noises say, "It's a go!"
Back in his room, I turn out the light and sit in the rocker. I glance at my watch – 3:00 a.m. I'll be in court in just five and half hours. And what about the contract due before the end of the day?
I have a million racing thoughts in the dark. I am confused and disoriented. I cannot serve both God and mammon, be in two places at once; be both a father and a lawyer at 3:00 a.m. on a Monday morning.
Andrew turns in towards my chest and wriggles down in my arms. He is a round bundle to my dark-adjusted eyes. But he is much more than a bundle. He is my boy and he depends on me.
My consciousness focuses on him. His soft little ear and cheek are pressed against my naked chest. It is very dark. Life here and now amounts to three things­supporting arms, warm milk, and a steady heartbeat.
In this moment, I know that I am loved even as I love. The Lord speaks to my heart­-
.
Can a woman forget her nursing child,

   or show no compassion for the child of her womb?

Even she may forget,

   yet I will not forget you.

            (Isa 49:15)
 .

Thank you, dear Father. The love flows from you through me to my son the way it did from my Dad to me. May my son know he is loved as the basic fact of his life. May his Mom and I be faithful to your love for Andrew. May he grow to be good and strong in your love. Amen
"O taste and see that the Lord is good. Happy are those who take refuge in him" (Ps 34:8).
Under the mercy of Christ,
Kent
Please note that the content and viewpoints of Mr. Hansen are his own and are not necessarily those of the C.S. Lewis Foundation. We have not edited his writing in any substantial way and have permission from him to post his content.
————————–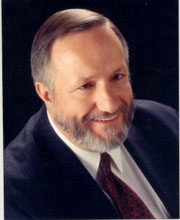 Kent Hansen is a Christian attorney, author and speaker. He practices corporate law and is the managing attorney of the firm of Clayson, Mann, Yaeger & Hansen in Corona, California. Kent also serves as the general counsel of Loma Linda University and Medical Center in Loma Linda, California.
Finding God's grace revealed in the ordinary experiences of life, spiritual renewal in Christ and prayer are Kent's passions. He has written two books, Grace at 30,000 Feet and Other Unexpected Places published by Review & Herald in 2002 and Cleansing Fire, Healing Streams: Experiencing God's Love Through Prayer, published by Pacific Press in spring 2007. Many of his stories and essays about God's encompassing love have been published in magazines and journals. Kent is often found on the hiking trails of the southern California mountains, following major league baseball, playing the piano or writing his weekly email devotional, "A Word of Grace for Your Monday" that is read by men and women from Alaska to Zimbabwe.